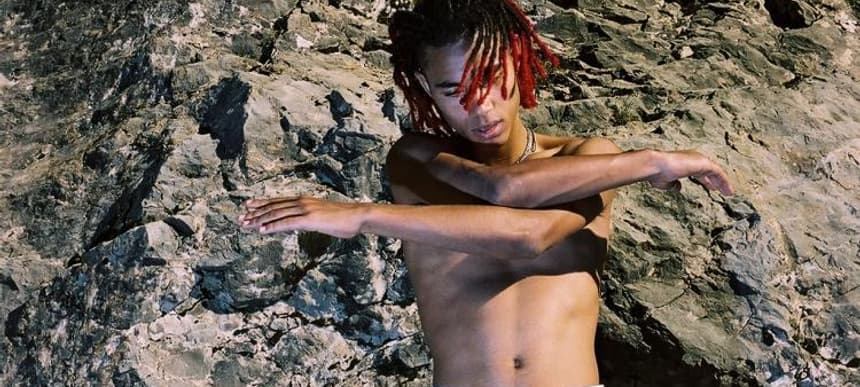 05.12.2018, Words by Daniel Laxness
From Basel to Berlin: Dummy meets Naim
The Swiss-Angolan artist shares his coming-of-aged themed video for 'Road'
Basel-born, Berlin-based vocalist, rapper and producer Naim is one of those creatives who grew up in an environment objectively different and quite contradictory to his interests and art. However, his geographical location didn't stop the 19-year-old artist from pursuing music – quite the opposite in fact. From his early teenage years up until now, the Swiss/Angolan artist has been releasing a number of DIY projects. From genre-bending EPs, tasteful music videos to multi-disciplinary collaborations and even an award-winning album, Naim has been satisfying all of his creative urges despite being confined to a city that doesn't understand him.
He recently moved to Berlin where he begins a fresh chapter, not only as an up-and-coming artist but also as a human being who's simply growing and understanding himself. To mark this event, he shares the debut single and music video from his forthcoming 11-track mixtape 'Lost in Permission'.
We caught up with him in a bid to understand more about this rather unknown artist and his music that can only be described as coming-of-age-themed. Read the exchange and watch the video below.
–
For the people who don't know you, tell us about yourself, where are you from, who are you?
I'm a singer, rapper and producer born and raised in Basel, Switzerland, now based in Berlin. My dad is Angolan and my mom is Swiss!
How was it growing up there?
Good! I grew up with my mom in an apartment of a huge block. There were loads of kids from different backgrounds, we were all exposed to each other's cultures and it was quite easy to make friends. I met my best friend or more my big brother in these streets! His dad introduced us both to Djembe and we used to travel to different afro-festivals and play shows together. It was really nice for me to get to know my African roots in such a natural way, since my dad wasn't really with me.
How did you get into music and how was it to be creative in this particular city?
Music was always with me, my dad made African-music and I was drawn to playing guitar from a young age. I think rock music was the first kind of genre i was really hooked to, I religiously looked into each artist and tried to understand them. Later on though, I started listening to a lot of hip hop but I was always writing songs. In 2014, my friends and I started this label called 'La Main', it was made up of four DJ's, three visual artists' and i was rapping and producing. We used to throw parties and people started to remember our name. It was at this time that we met a lot of people from the underground club scene in Basel and it felt like we became part of the city's scene really fast. I think it was at that moment a lot of us realised 'ok this is what i want to do in my life'.
So yeah, in a sense Basel is cool because you end up in this super concentrated creative scene very fast but you also know you're not in the appropriate hotspot, it's not somewhere you can really do what you want to do. It's kind of like being a snowboarder in the Sahara.
There's a number of talent in Basel but it rarely reaches the rest of the world, do you think this will change in the future?
Honestly not really. I think it's hard since we haven't had much of a musical history in Switzerland and when artist's do eventually break out they'll either sing in English or in French and then it kind of looses the sense of it being Swiss. I hope more kids in the future will feel the need to create and follow what they want to do, there will always be some people that will have an impact worldwide.
Conservative city? Has it affected the way people think in terms of the audience and scene ?
Basel is not too conservative by Swiss standards (laughs) but yeah I guess a lot of people don't feel like music or art is too important. It's still a very pressured society where kids have to fit in. Me and my homies never fucked with that, we were always disgusted by all these robots in suits and big mercedes.
You've got a strong visual aesthetic, who influences you?
I'm changing all the time and get inspired by a number of things. Like I said, I grew up on rock and punk music and later got into guys like Travis Scott and A$AP Rocky when they first came up. It's nice for me to see established artist's of the same age with similar inspirations, like Trippie Redd. I've recently moved to Berlin and the people inspire me, so many cool styles here for real!
How do you stay in key with everything going on musically ?
I'm just a very curious person generally. When I discover someone's music I instantly check what they do, I can sit there for hours on end listening to shit. I think Youtube is one of the best platforms to find new music or at least the things i'm in to.
You mentioned above that you recently moved to Berlin, how's that change been ? What motivated you to move?
It's wild. Really so much is going on here, just in the first few weeks i've seen so much. I haven't moved all my gear here so i'm freaking out a little because I can't make music but I just hope I can get some good contacts and make some good memories really.
You're young, but throughout the years you've dabbled in various projects and made a number of different stuff, is this new project more mature in your eyes ?
Yeah I think it sounds a lot better especially mixing wise and all. I think all my three tapes from before tell different stories. This one is more about being myself and realising who I am and who I want to be, while the last one was more about wondering what this world is about.
Tell us about 'Road' and the meaning behind it ?
It was summer 2017 and me and a couple of friends were on a trip throughout Europe. We went to Amsterdam first and on my flight to Paris I started writing on road. I had already made the beat a few months prior and the lyrics just came quite naturally. I was just writing about shit we'd been living the past week. It is about the general experience of exploring, finding and enjoying life in a global world. Being with people I love and grew up with on this trip was amazing, I made so many memories that summer and this track will be a reminder forever.
What can we expect from you? What are you hoping to achieve in the next couple of years ?
I don't know man, that's a hard one! I want to be happier with myself, my vision, make better music, play bigger shows, fall in love (laughs). I think it's hard sometimes for music that isn't entirely definable to build a fanbase, but I hope to build one throughout Europe with people who really fuck with my music and me as a person.
I'm always working on new projects, got so many ideas, some smaller concept EP's but for now my 13-track mixtape 'Spiritual Trap Vol.1' and some shows and music videos alongside the release. Hopefully some in the UK as well!
Watch the video for his debut single 'Road' now.
Stream 'Road' on all platforms, listen here.