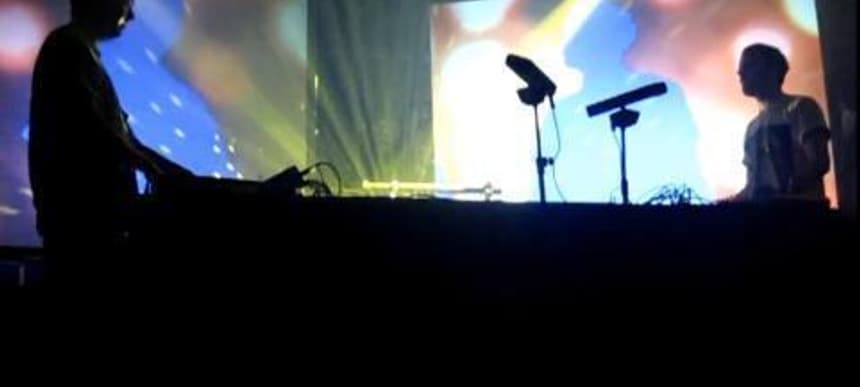 23.09.2013, Words by Anthony Walker
Fuck Buttons at Electric Ballroom, 17/09/13
Camden's Electric Ballroom hosted a show of extrmemly loud, dark electronic music on a suitably dank Tuesday evening last week with Fuck Buttons, who described their latest album 'Slow Focus' as having an "overall malevolent feel" to Dummy in an interview recently, playing with special guest support from The Haxan Cloak. The Tri-Angle-signed artist has the air of an executioner on stage and his live show is much more confrontational than his recorded work, with huge beds of noise and bass slowly laid, then maintained, then cut through with scythe-like samples to a tearing crescendo. Bright white lights were flashed at the audience during the most intense moments – a visual attack to match his desire to push audio, literally, to the threshold of pain.
The headline set, on the other hand, felt more like exercise than an assault, with Andrew Hung and Benjamin John Power's familiar set-up – standing across a table from one another – immediately offering a new dynamism to the night. Their silhouettes were enlarged and projected on dual screens behind them either floating in the air, under the ocean or sprawling amongst random tessellating patterns. It was an effect that is essentially the same as audio player visualisation or screensaver but did translate a central fascination of seeing the group live – which is, basically: how can a sound so large and expansive come from just these two people?
Another interesting thing about Fuck Buttons live is how relatively conventional they are. Their show often feels like a standard rock or dance show, just radically stretched and mauled. Hung screams into his mic, Power drums, solid rhythms and melodies develop albiet in slow motion and, despite most of their songs being ten minutes plus, they have definite hits. Particular crowd pleasers were Olympians and Surf Solar from 2009's 'Tarot Sport', but also new ones like Hidden XS – which served as a europhic closer – and The Red Wing – a track I actually heard a guy doing a vocal interpretation of as he made his way to the front for their set. The most deeply hypnotic side of the duo was also represented and, whilst these moments don't inspire movement in the same way, they were met with warm rounds of applause and a collective exhale delivered with a mixture of emotional awe and relief. After they raised their bottles in cheers and left the stage they were coaxed back for an encore and played the murky but momentous Space Mountain. The sound system lost some of its grace but the main thrust was still there, emphasising the feeling of mental – even spiritual – scrubbing and cleansing that marked the whole night.
Fuck Button's new album 'Slow Focus' is out now on ATP Recordings.