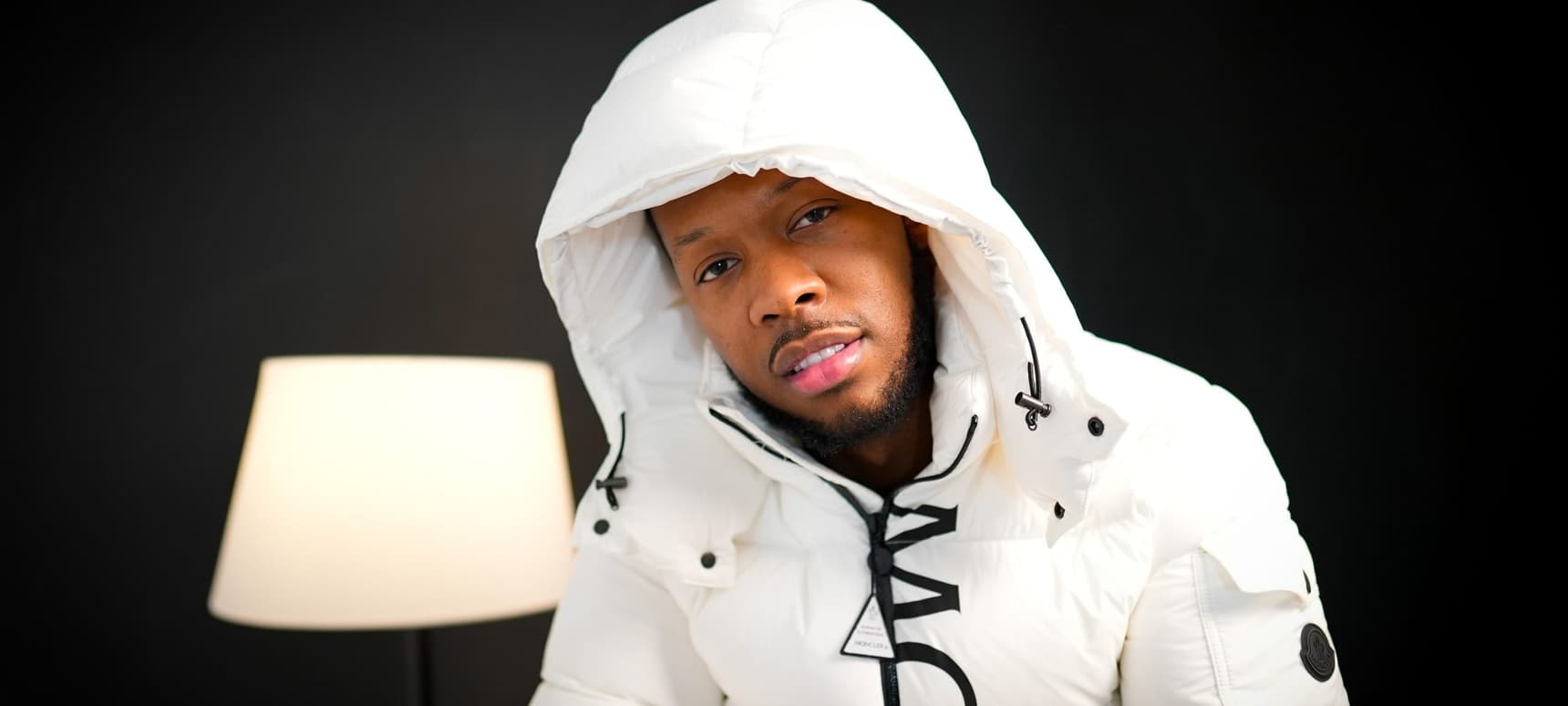 20.10.2021, Words by Maisie Goulsbra
Fumez the Engineer on Plugged In, West London rappers and his favourite films
"We're one and the same, he's like my alter ego if that makes sense."
One of the most prominent characters in the drill scene right now, Fumez The Engineer, is known for his influential freestyle platform Plugged In, and for altering what it means to be an engineer by adding his own tag on everything he touches. Plugged In is now four series deep and Fumez just released a documentary style vlog 'In The Mix' where fans get a look into the life of the entrepreneur, who has more recently found mainstream attention with his remix of the smash hit Ed Sheeran single 'Bad Habits' featuring Central Cee & Tion Wayne.
Alongside music, he just became the face of the Hoodrich x JD campaign and is revving up for his headline shows on 12th November at the 02 Islington Academy and Green Room Dublin on the 20th November. Most recent episodes of Plugged In have been with French Drill artist Malty 2BZ, and reverting back to a grassroots London sound, Snoop revisited the studio for his second session. Dummy caught up with Fumez to hear about what he's up to and how he got to where he is today; "You literally caught me in the middle of doing an interview with someone else but it's fine, let's ball through."
Is there a man behind the Fumez that we see onscreen?
I don't know. I don't know who they think I am, so they've got to tell me who they think I am before I can tell them who I am not.
What are you like to work with?
I'm real to the core. I want the best and if the best is not happening today, then we'll get the best tomorrow, but in order to determine if the best is going to happen today we have to have exhausted all options.
In your vlog 'In The Mix' before you play Leeds you're quite nervous, is nervousness something you have to deal with?
That was my first time performing and it was to 20,000 people. It was the first time that I've hosted, performed, DJ'd, anything – and it was a very crazy experience. When I got there, I heard the crowd, walked out to the side and everyone started to be like 'Oh My God, it's Fumez' and I'm like rar, they actually want to see that that's mad. But then I was cool – everyone was there, and it was dope but the nerves are real.
Is there anything you do that helps to get you into your zone?
There's nothing, I'll be real, I just hoped.
What do you bring to a track, musically?
I just put the song together. I make sure I get the best out of every part of the song, you get what I'm saying; the balance – even down to song writing, I play it real. When you're telling someone no; if it needs to be redone, I'll tell someone they need to reword this or rewrite this – change this line or that thing for this. I'm very hands on with making sure everything works perfect.
What music did you grow up on?
I grew up on 50 Cent basically, but I grew up on movies more, like '8 Mile', 'Get Rich or Die Tryin" – those songs from those movies are the ones that motivated me to keep pushing and keep going and that's where I started. In West London I used to listen to oldskool stuff like Twizzle from MDP, Frostar, and loads of West London guys like Beluga Ice who was Icey back in the day.
What was it like growing up in West London?
Probably the same as everyone to be fair, you've got your money men, you've got your drug dealers, you got your homeless guys, then you've got the kids who just wanna have fun and the kids who look like they've got a point to prove. It's the same as every area. For me it was just as simple as… getting it right. You've got to know what you want to do in life. For me I knew that I didn't really want to go down a dark road and start doing all of the things that a lot of people are doing now. It's nonsense for me but for them it might be the only life that they see. I needed to find a pocket and sit in it, and when I did that, I was glad.
Do you think there was anything that stopped you from going down the dark route?
I watch a lot of movies! For some reason, I feel like I'm a person that doesn't need to make my own mistakes. When you make your own mistakes, you learn from them, but I feel like I've been blessed with a gift where I can watch other people make mistakes and know that I don't wanna be them. I can also see that in movies and know that's not what I want to implement in my life.
What's your favourite movie?
Music orientated favourites would probably be between 'Get Rich or Die Tryin" and '8 Mile', and then if you're just talking about a normal movie that I'd watch with a message I like, it would be 'Coach Carter'. Those movies do a lot for me.
What would you be doing if you weren't doing music?
Property or forex or something in shared investments. I'd be in that kind of world. I always said I had an ability to do what I needed to do. I had a mindset like I believe I'd succeed in any world that you put me in. I'm just a natural born go-getter, and I believe in myself. I can make things happen. So even if I wasn't doing music, I'd be killing it in another world. It's just a mindset that I have and the way that I like to get stuff done.
Can you name any artists or producers that you're really excited about right now?
Producer-wise I've got a few right now that are doing a lot. I'm excited about the people that I'm working with. We just worked together on the Ed Sheeran single 'Bad Habits' so what me and him are doing is very exciting and obviously we're working forward.
What was it like working with someone like Ed Sheeran?
It was great. Very calm. He's an amazing person. He's got his head screwed on and he knows what he wants.
Do you think we need more venues to support drill as a genre in London?
You see me, I don't think about what we need more of. I just think about what I can do to help the scene.. I don't think about if we need more youth coming out, or more studios or this or that. That's all irrelevant to me.
What happened with the SD and Young Dizz Plugged In videos?
The SD video has gone and that won't be re-uploaded. He spoke about stuff that was too explicit according to the police. The Young Dizz Plugged In is up for now. The police are going to come back with comments and threats but the reason that they made us take it down in the first place was because they said that he said something that he didn't say. Once I asked him about it, he said 'Bro, listen to it again, that's not what I said.' And I said alright cool, and the police listened to it and they've come back with a million other reasons as to why it shouldn't be up. But none of the reasons that they're saying it shouldn't be up for are relevant to that song because he's not talking about any of that in this song.
You're playing Dublin for one of your headline shows, what's the scene like there?
There's like A92, AV9, INK all those guys.
You were initially a rapper, but took up engineering because you felt it was something that was appreciated purely for talent. Would you ever quit being Fumez The Engineer?
I can't quit being Fumez the engineer – Fumez is me. We're one and the same, he's like my alter ego if that makes sense.
Buy tickets to Fumez' headline shows here.
Watch Plugged In via Pressplay Media here.
Read next: The 10 Best French Hip Hop Songs, according to French The Kid.