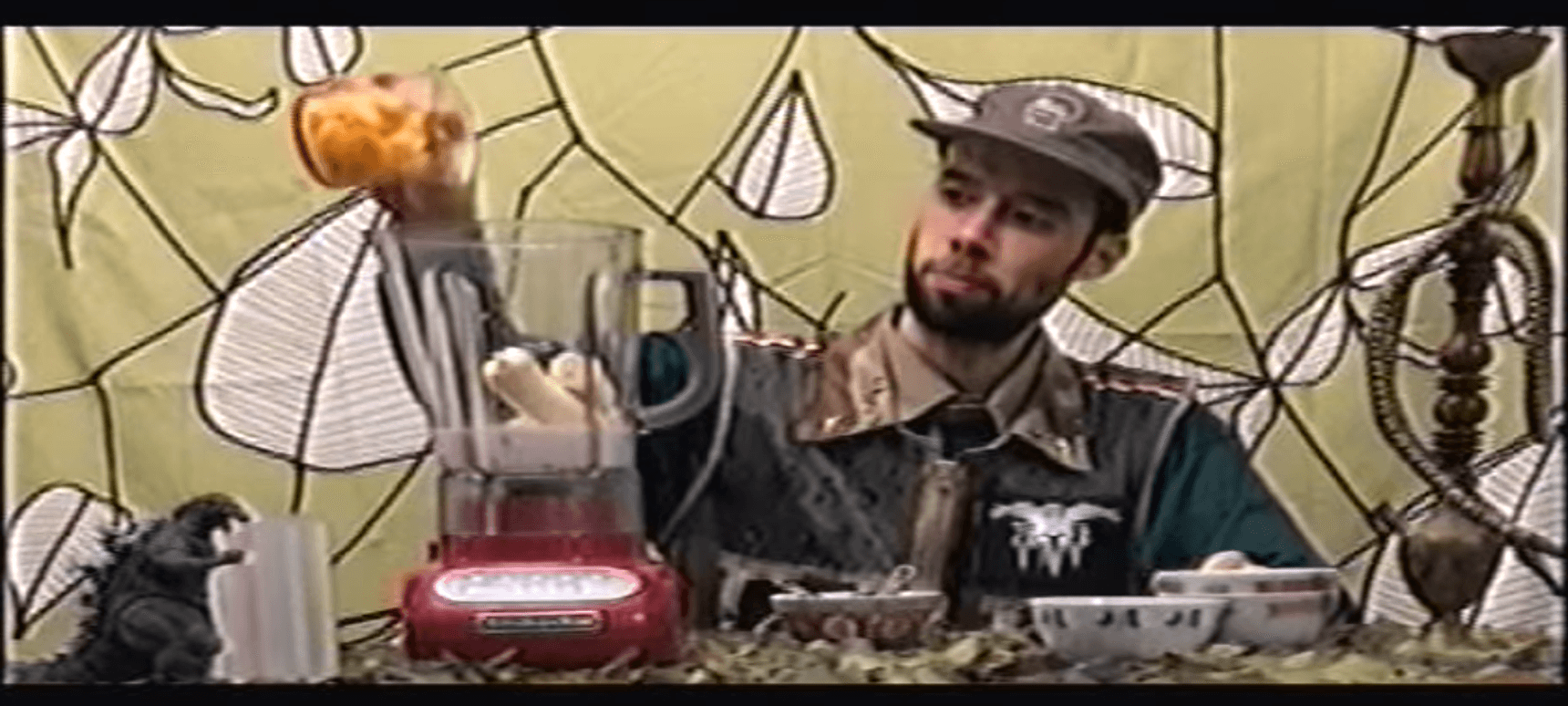 08.09.2016, Words by dummymag
Geng's guide to the perfect green mango maca smoothie
Everybody loves food, so we thought, why not explore the culinary world alongside some of our favourite DJs and producers? Bucking the vein of our usual music features, we dived deep in to the world of baking to share techno DJ Prosumer's ultimate winter warmer – his prized apple pie recipe.
Following on the trend with our second food based guide is PTP boss Geng, who it seems can pretty much put his hand to everything – whether it's laying down beats for Dipset and Papoose, running a label and educating the world with his CELL series, making catastrophically ethereal noise with WWWINGS and Bobby Johnson, or dusting down a milkshake with cayenne and pink Himalayan.
So whether you're dead broke and unhealthy on the quest to lose a couple of pounds, or your glass is already half full with optimism on the road to getting the sort of six-pack you've seen in Women's Health over a crate of PBR, then you're pretty much guaranteed to love Geng's smoothie recipe. Packed full of fruits and superfoods, it's the perfect way to start your day the way you mean to go on (and we reckon it probably tastes pretty good, too).
Follow the recipe on via Geng's Public Broadcasting Service style video above (complete with expert ginger root preparation), or read through the step-by-step guide with photographs below.
Over to you Geng…
Food is crazy these days. It is worrying to see how difficult they make it to escape the processed bullshit. Even the things deemed healthy from a non-vegan perspective, such as fish, can be corn-fed and altered through inhumane conditions in a farmed environment (note: buy "wild," not "farmed," when getting fish).
A smoothie is an ideal way to introduce some raw nutrition into your daily routine. I've been trying my hand at it for years and the experience has generated noticeable improvements to my health (i.e. immune system, energy, skin, brain function, recovery after a workout, etc.).
Making a smoothie is a simple and quick task which involves little clean-up and maintenance – get a standard blender and quality ingredients (quality does not necessarily mean "expensive"), then learn how to use on Google, and you're good to go. After some time, you'll have a better grasp on the interplay between each element in a recipe and soon your own concoctions will spring forth.
This particular recipe is something I came up with as a quick day-starter. Not only is it easy to prepare, but it's rich in vitamins A, B (the many forms), C, D and E, plus calcium, copper, iron, magnesium, phosphorous, zinc, and amino acids. Maca provides energy and noteworthy effects for hormonal regulation (plus helps with libido and menstrual issues). Walnuts are just incredible – they're packed with minerals, contain melatonin (sleep regulation), help with cardiovascular and bone health, and can stimulate weight loss, plus they stand as one of the most potent sources of Omega-3 fatty acid. Hemp hearts mingle in with a high amount of Omega-6 (you are good if you balance your intake between the 3s and 6s), plus plant-based protein, and aids cellular health, digestion, energy, etc. Spirulina is a detoxifier of harmful metallic agents (i.e. arsenic), anti-microbial (i.e. candida), lowers blood pressure and reduces cholesterol, and has a ton of other beneficial traits.
Ingredients (in order of application):
1 cup almond milk, unsweetened/unflavoured
A large nub of peeled ginger, fresh
14 walnut halves, raw (or 23 almonds, raw + pinch sea salt)
1 large banana, fresh and ripe (or 2 small bananas)
1 cup mango, frozen
1 tsp spirulina powder
2 tsp maca root powder
3 tbsp shelled hemp hearts
Optional:
2-3 tsp chia seeds (if you are not using walnuts – for omega 3s)
Field Notes…
On spirulina and its worthy replacement:
Some people develop a pre-aversion to spirulina and its unique flavour (it actually tastes sweet to me), but the other ingredients (esp. banana, maca, ginger, mango) do a fine job in masking and meshing with those "green Earth" notes. Even so, if the idea of a sea moss being a superfood still hits a nerve, my choice replacement would be 2 cups of fresh kale.
Simply clean the kale by tearing pinches of the leafy portions from the stem and running your thumb(s) over/through the surface and curled edges, under water (running or in a bowl). Shake to dry and remove excess water, then throw it into your blender pitcher.
Note: kale is rather fibrous by nature thus you will only be using the leafy parts. The stems are very hard for a blender to grind up and lack the nutritional gold that is housed within the leaves (unless they are yellowed). For this reason, you should probably add the kale as the second ingredient, after you pour in the almond milk.
On frozen ingredients, nutrient loss, and proper measurement:
Always be sure to have a frozen ingredient in your smoothie. This will counteract the heat that is generated from the spinning blades – which can actually kill off the nutrients within the blend. I lean toward having one of the fruit ingredients (and only one) in frozen form, otherwise, 4 to 5 ice cubes will do. Be sure to use a combined total of 1 cup of the frozen ingredients* – otherwise you get a damn slushie before your blender can finish breaking everything down. Annoying. Do not deny the science of this (highlighted more in the video).
*though a frozen nub of ginger or frozen leaves of kale will not negatively affect things
On smoothies vs. juices and the key to natural sweetness:
A smoothie and a juice (made from "juicing") are not the same. Smoothies, in my opinion, are a far more superior form of nourishment due to the fact that no fibre is being filtered out in the process of turning from solid to liquid. Juicing disposes of the pulp and the other parts of the food which harbor this vital means to proper nutrient absorption. What you are left with, especially in most "non-green" juice cases, is a fair amount of sugar (albeit, natural) with much less fibre by which to properly break it down. You can certainly oversaturate a smoothie with natural sugar (i.e. grapes, honey, agave, maple syrup), but if you're simply just relying on a banana and perhaps a cup of frozen berries or teaspoon of cinnamon (Ceylon, ideally), you are effectively creating that sweetness while leveling out the sugar to fibre ratio by default. Most fruit contains enough fibre to successfully cancel out the negative properties of its own sugar content (i.e. lessening the chances of a crash and less sugar being converted into stored fat).
Why fuck with nature's balance?
And yes, to me, the key ingredient to a smoothie texture and overall sweetness is a ripened banana – nothing comes close in terms of natural flavour boost and benefit.
Tune in to PTP's CELL series for more nutritional goodness (info). Release wise, 0comeups's EP 'One Deep' is out September 23rd (pre-order).