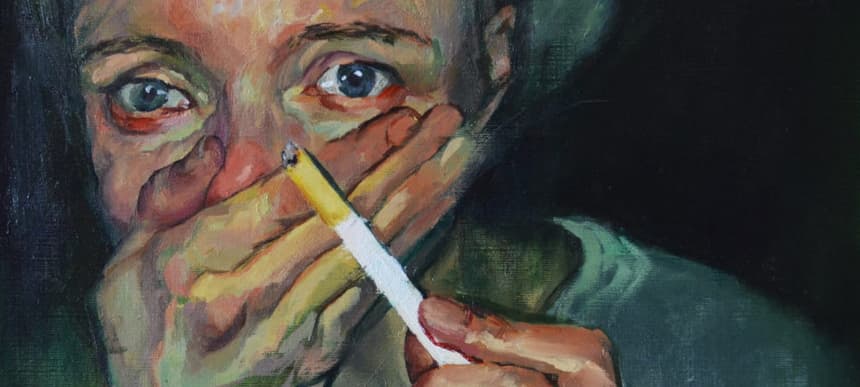 12.11.2019, Words by Esme Bennett
'Giant Swan' is the Bristol duo's most bewildering, visceral outing yet
Their debut album beckons us into a place beyond limitations...
On Giant Swan's debut, self-titled album, Bristol-born Robin Stewart and Harry Wright draw a feverish line between techno and mutated hardcore, in turn inventing a pulsating industrial new sound.
Originally beginning as a side project for the boys while performing in experimental band The Naturals who drew influences from shoegazers My Bloody Valentine and Lightning Bolt, Giant Swan's reputation has grown steadily to become one of the most exciting projects at the forefront of leftfield techno, although their music doesn't fall neatly into any category. Setting the scene ablaze with their amplified live performances, their incredible energy has been propelled into the making of this raw emblem of their unique sound.
Comprised in an experimental fashion, confessedly more in tune with the making of a rock album than a floor-filler, Giant Swan are fiercely original. From the bizarrely captivating album artwork – an oil painting of an iPhone photo of Harry's girlfriend after a night out, cigarette lit the wrong way round – we're beckoned into a place beyond limitations. Even the Stewart and Wright's decision to release this album on their own new label, Keck, is indicative of their aim to fully introduce a new concept, and invite friends along the way with them.
Harsh and addictive opener '55 Year Old Daughter' combines avant-garde sound design with the presence of clipped vocal samples and thrashing bass, a distressing yet fun piece of chaos. We're immediately thrown off our chairs. While some tracks like 'YFPHNT' and 'Pandaemonium' employ brutal, stomping techno fit for darkness, some interesting surprises lay in wait. On 'Peace Fort 9', Stewart's contorted, heavily reverberated vocals resemble Gregorian chant, creating a deeply unsettling feeling. The mystifying gloom in both this and 'Not A Crossing' throw us off kilter again, reinforcing the duo's complete non-genre.
Closing track 'Spisbah' is a soundscape of reverb and density, the vocals growing increasingly haunting as the percussion rings like alarm bells towards the close. Feeling like the soundtrack to a scene in Suspiria, Giant Swan end the swarming glory they have created on a contemplative, spooky note. Full of intoxicating energy, 'Giant Swan' is an offering to the noise gods, but also a significant contribution to the sea of experimental dance music to emerge this year. In the press release, Wright says: "This record is a conversation between aesthetics. A dialogue where a question is answered by another question until everyone in the room is left scratching their heads, or moving their feet." And there you have it, Giant Swan have released some of the most enjoyable head-scratching moments of music we could have ever imagined.
The 10 Best Bloghouse Remixes No-one Asked For, according to Giant Swan
'Giant Swan' is out now via Keck.