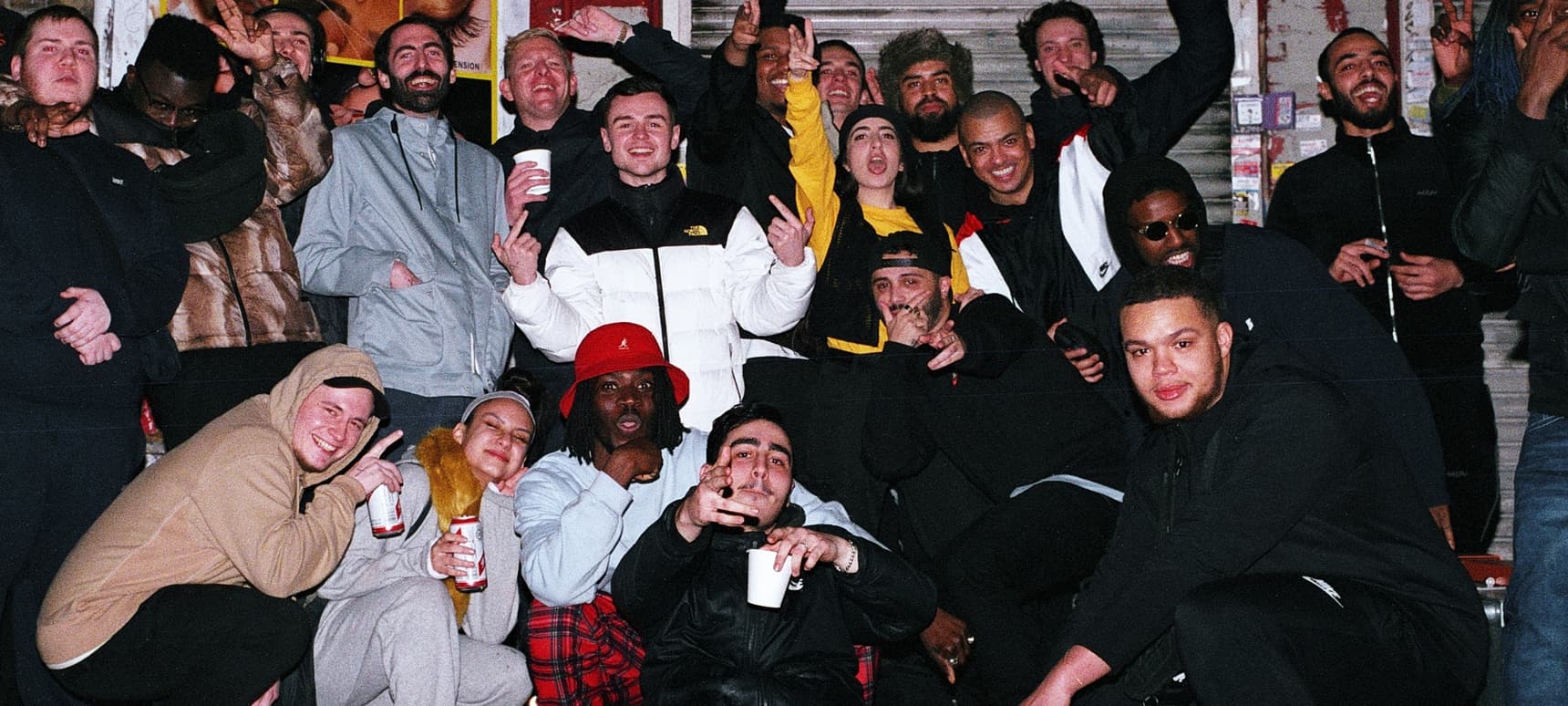 10.06.2019, Words by Felicity Martin
Inside Keep Hush: the UK's number one music member's club
From small beginnings, the music platform is now broadcasting worldwide, and releasing its own EP...
Big love, Fred and Freddy x – is written at the bottom of each invite to Keep Hush, the music platform known for broadcasting streams of bleeding-edge line-ups curated by its members. It's the brainchild of Fred Conybeare and Freddy Masters, two passionate music fans with one goal in mind: to build that tight-knit community up even further.
Keep Hush was initially an underground music, streetwear and art blog – set up by Fred, before Freddy (working from Amsterdam) came on board, taking the reins on the music side of things. With Fred running clubnights under the Keep Hush name in the UK and Freddy in Holland, they eventually met in person after university. "By this point I was running the YouTube channel, which was a kind of Majestic Casual format, but less bikinis," says Freddy. The pair both moved to London, which for them "felt like a fertile place to do stuff – it was just this mutual feeling of, we want to create something different, and special."
"We both felt like, there's loads of club nights, but we really wanted somewhere to hang out and meet other music fans. There's a lot of nostalgia for the days of record stores, places like Big Apple Records where everyone hung out. As people our age, we never really got to experience that. We wanted to create events that harked back to that community feeling," Freddy continues. Attempting to replicate nights that boasted a strong community – V.I.V.E.K's System nights being one example – Keep Hush's own community began with a concrete space.
While working as a painter at an office in Soho, Fred discovered that the office manager was stressing himself out by cleaning up in the evenings, so asked if the pair could have free desk space in return for cleaning and locking the building at night ("It was a strange time, we were caretakers," says Freddy). The company had built a music studio downstairs, flirting with the idea of starting a record label and, because the pair were in charge of the building, they could use it. Inviting DJs down to record mixes as an extension of their mix series on the blog, the first Keep Hush live stream was just three people. "It was a really nice space, like bring your own booze," Freddy says. "We invited people and it just grew and grew from there, basically."
It was a win-win: the company based there didn't mind because it ticked boxes as an 'events programme' for them, but eventually it outgrew its home: "We were doing a grimey one with White Peach Records and P Money, Flowdan, Irah, Killa P all came down to this tiny spot in Soho. The next morning, the whole building just stunk of a house party and cannabis."
What ensued was a "polite kicking-out," says Freddy. "People were paying so much money for the offices upstairs and it just wasn't on, we were really taking the piss by that point."
"We literally thought that was it, we're ruined," Fred says, "and luckily Tom from Rye Wax took us in." With a proper venue hosting the nights, the whole thing became more legit – something they were worried their audience wouldn't be on board with. But, aided by Facebook's live streaming (something they can't do now thanks to the social network amending its copyright laws), they amassed an online audience as well as a physical one. "It was just a feeling of like, holy shit like this might actually turn into a thing. Rather than just being us pissing about in a basement."
Keep Hush retain their community spirit by putting their members at the heart of everything they do: the line-ups are all proposed by their members (recently overseen by Oblig, Emerald, Virgil Hawkins & KISH!) Which can sometimes "snowball in a ridiculous way," admits Freddy. "Like the one in February, I think we had 30 names for that one, and we still got a text saying Slimzee wants to be involved as well, can we put him on? And it's like well, yeah, obviously!" They handle last-minute requests, too – they recently put on a spontaneous show for Ryan Hemsworth and Yurufuwa Gang, who were in London at the same time.
Fred cites his favourite Keep Hush moment to date as the Sherelle and Fauzia b2b at the night curated by L U C Y. "That whole night teed itself up to that final set and they smashed it like no other person basically that I've seen, everyone was just losing their shit," says Freddy. "It was just before Christmas as well, so everyone's on that vibe, of like, fuck it, let's do this."
"It was a nice layout as well," says Fred, "Rye Wax won't let us do it like that any more – it got destroyed. It's a history of us getting in trouble with venues," he laughs.
Their latest project is a continuation of Keep Hush's community-minded spirit: a project in collaboration with Nando's creating an EP by producers and vocalists from their member base: '100% Heat'. "Nando's hit us up a few months ago saying they want to work with us," explains Freddy. "And then we heard all about their studio, which we hadn't actually heard about before – a lot of Octavian's EP was mixed in there, which they don't really shout about which is very noble of them, I guess. We thought it was cool that they had this space, and it's something we'd love to have one day in the future, somewhere the Keep Hush community could come in and record tracks and do whatever they wanted with it."
"We never really wanted to work with brands," admits Fred, "but then we suddenly realised that if we can work with a brand who wants to give our members an amazing experience, then we're happy to work with them. And Nando's were the first people that actually listened to that." Over 160 Keep Hush members applied to be on the project, and after a "lot of shortlisting and a lot of passionate chats," they selected twelve artists, from MC JoSoSick to KISH! to producers DJ Tess and Felix. "The quality was ridiculous," nods Freddy. "We had some people applying that have produced for really prominent hip-hop artists that we didn't even end up getting to come down."
Branded with artwork recalling 'Pure Garage' compilations and an old skool trailer to boot, it's got a throwback aesthetic going on, while the sounds inside are strictly UK funky, garage and grime. "Before the tape I was like unsure about slapping artists together and and seeing what they did? And then about three hours into the very first session which was Mind of a Dragon, I walked in and he'd made this really nice minimal garage beat that's really dark. I was like 'Wow, I can't wait to hear an MC on this'. And then Capo Lee turned up, sat for 20 minutes writing bars and then went in the studio and laid it down. Four hours later and it was just this absolute banger."
To launch the EP, they're throwing three parties in Nando's basements across London, Manchester and Bristol, which will be getting its first taste of a Funktion-One – and all will be streamed online, boasting sets from all the artists featured on the release.
Talk turns to blue-sky Keep Hush line-ups, with Freddy offering: "I think it'd be Skepta. I just followed his whole career – I was obsessed with his music when I was a teenager, I still really like his music now. I think he's got a lot of integrity as an artist." For Fred, Mala would be the ultimate booking. "He's my idol," he says. "Yeah, Skepta and Mala, that'll do…"
The '100% Heat' EP comes out on June 14th 2019.
Tune into Keep Hush's live broadcasts (including the London, Bristol and Manchester parties) via www.keephush.net.