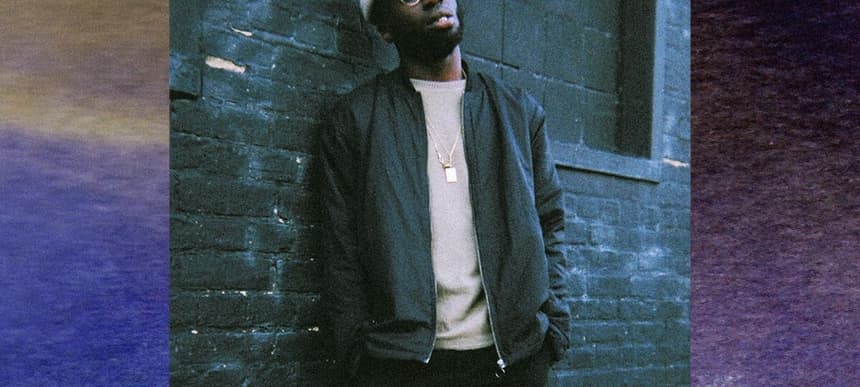 07.03.2017, Words by dummymag
Kojey Radical Isn't Here For Your Preconceptions
"I watch New Girl, ok." Not a statement people familiar with the music of Kojey Radical would expect the man himself to utter. It's a crisp, winters day when I arrive to interview him in his East London studio. He's been hard at work ever since dropping his last project 23 Winters, and he hasn't stopped working since. We've just pulled him out of a studio session for a photoshoot in the street outside his studio.
Kojey's demeanour when we meet is instantly amiable and humorous for someone whose music has previously seemed to incite revolution and reflected evocatively on the Black Lives Matter movement. Undine, our photographer, uses a disposable camera for the shoot, but instead of raised eyebrows and worried looks, Kojey rolls with it, flashing his grills nonchalantly – as you can see below, the resulting photos are clean, (follow Undine on Insta).
"I've had to sack off other interviews or hijack them to get my point across in the past. People keep asking me the same shit. I'm not on that anymore."
Alongside his easy-going nature, Kojey is actually fiercely intimidating – just through his eloquence alone. This eloquence has matured through his initial forays into poetry, to now being regarded as one of the most naturally lyrically gifted artists emerging out of the UK at present. When he speaks, it carries weight – just like his tracks. He weaves a vivid tapestry of regular everyday goings-on through to societal movements in his choice of words with complete and utter ease.
As we head back into his studio to conduct the rest of the interview, Kojey is eager to play us the tracks he's been working on, and outline that we're lucky to be even doing the interview – "I've had to sack off other interviews or hijack them to get my point across in the past. People keep asking me the same shit. I'm not on that anymore."
We sit in his studio with a couple of his other friends in his creative collective, PUSHCRAYONS, and listen to his new music. "I've always wanted to make music that sounded like a few things – old Neptunes records, early Daft Punk and family friendly R-Rated rom-coms and songs about love – I made one of them songs last night" He's talking about this new track – influenced equally by the aforementioned New Girl as it is early Pharrell. It's sounding sumptuous and funk-fuelled, yet distinctly different from what most people would expect from him. Kojey spoke at length on why he's focussed on outlining his transition away from the previous labels given to him by the scene.
"I've come into this as this people's person, political spokesman or whatever…. And it's great – but the realities are that I don't play around with the shit I'm saying. I make music predominantly focussed on educating my people, which was picked up by an audience way more diverse than I expected – and I was appreciative of that. But then the dialogue that came around my projects always came back to the songs like "Bambu", "Open Hand" etc for their political weight."
It's definitely true that the weight of those tracks carried because of the contemporary climate they were released in for the Black community. Releasing
23 Winters
just days before the third anniversary of the fatal shooting of Trayvon Martin and just months before the Black Lives Matter movement crossed the pond with UK protests that lead the likes of Novelist to hold
"Stop Killing The Mandem" posters
, Kojey recognises that whilst it was imperative that someone did this, he is eager to move away from being typecast into a certain figure.
"If you're asking me to be the spokesperson for all of that, you're asking me to tap into very emotional and long-lasting ailments. And to constantly go back there and make that my dialogue.. it's depressing! (Laughs) It's great that its out there, and I'm never going to take that out of my songs."
"I still have to go back through Hackney to the ends. I have to make music for the people around me, they have to feel what I feel. It has to feel a part of their day to day life. There has to be a song about getting up and move as well as sitting down and thinking. There's songs for people to feel boastful. That's all part of your day to day life."
People listening to Kojey's music will be quick to jump to the assumption that he's going to carry on producing the same, politically charged music. He immediately felt he needed to switch shit up.
"It got to a stage for me where I was like, I could either stay here and get delusions of grandeur, or travel and actually humble myself." So Kojey travelled to New York. If there's anywhere in the world to make someone humbled, New York is probably that place, "I remember walking around and feeling like New York was made to make you feel like a pebble. Looking up at the buildings… for you to actually walk around and feel like you own the place yeah, you've got to be on some mad shit."
Travelling there made him reflect on what got him into music in the first place, "I remember when I first got into Hip-Hop… it was through collaborations like Jay Z and Linkin Park and like N.E.R.D – that kind of era. Music didn't matter at that point. You'd see your favourite, lyrical rapper doing whatever he wanted at that period of time."
"I don't play around with the shit I'm saying. I make music predominantly focussed on educating my people."
Kojey begins rattling off a variety of influences, both past and present, which include everything from Jamie T's Panic Prevention through to Gil Scott Heron's The Revolution Will Not Be Televised. Both those albums give a candid insight into the artist's day-to-day lives, and that's something Kojey is aspiring to do with his next release.
"So I'm here like – don't worry, I'm gonna do it both ways. Instead of me, kicking down the door running in with a ski mask on going "give me everything" – I'm still going to kick down the door – but I'm gonna run in holding some flowers. And I'm offering a handshake and a conversation. That's my approach to this next project."
There's certain people you can just tell are going to be a star. Kojey is one of those people. Perpetually focussed on the future, he refuses to dwell on his past and wants to continue to surprise people with his music going forward.
"I don't give two shades of fuck about what the industry or other people think. If this music speaks to you, then it speaks to you. I'm just doing this for the love of it."
"I didn't want a project that was going to sound the same all the way through – I wanted it to continually surprise people."
Kojey will consistently do what he wants, and he is utterly assured with that fact. "I'm not making songs for singles sake. I'm making it for the project's sake. The Neptune's-sounding track he played us in the studio is reflective of "the project as a whole." Kojey is keen to point out that if you're listening to the record for the single's sake like previous tracks such as "Gallons" or "Bambu" then "you're lost."
"You can't go into stuff thinking you're gone make a hit out of every concept. This upcoming material is the most sonically sounding commercial record. But at the same time, you have to think of integrity man. If i'm crossing over into that world – all I'm doing is continuing to talk about love, still. A) I'm performing it for me, as an independent artist outside of the genres I'm involved. B) I want to shift the focus away from being typecast into strictly representing politics, race, class whatever."
Kojey has little time for the industry he's found himself involved in, "I don't give two shades of fuck about what the industry or other people think. If this music speaks to you, then it speaks to you. I'm just doing this for the love of it."
He also had some choice words on the UK's favourite current viral sensation, The Chicken Connoissuer, and how looking at his rapid come-up resonates with his own, "It's like when people try and say the Chicken Connoisseur should go to a Michelin Star Restaurant and review that. Nah… Just let him do his own thing, he should sit on YouTube and eat chicken. That's him being himself. I make music to be myself."
So are his lesser known creative team PUSHCRAYONS instrumental to where he got to?
"So this is the thing. People really see the Kojey Radical thing as one person. For the sake of the media and shit, they want it to seem like I did everything. My team is so skilled individually. They give me the confidence to do Colors Berlin. Kojey Radical isn't one person standing on a mountain. I wouldn't have had an eye to film if it wasn't for Lewis. If it wasn't for Charlie, I wouldn't be able to be as productive." This being said, Kojey is an excellent case in point for surrounding yourself with great people to make great things happen.
Kojey has already set the bar very high when it comes to his lyricism. With this next project, he's set to break down people's preconceptions of him as an artist, whilst simultaneously keeping expectations of his next moves mad high.
Follow Jacob Davey on Twitter