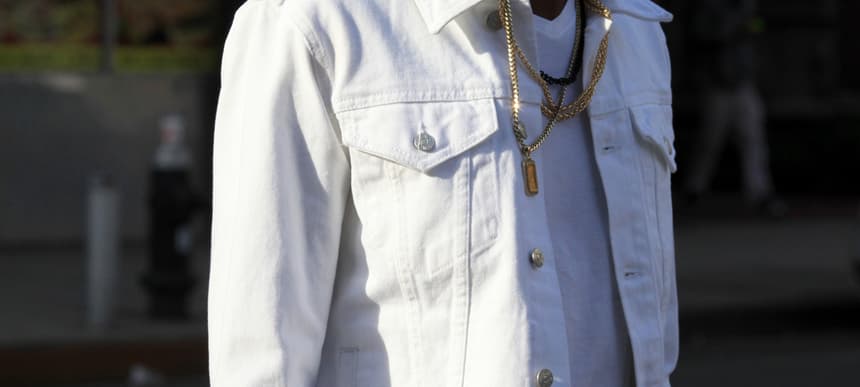 11.09.2015, Words by Aurora Mitchell
Kranium interview: "We need something fresh"
It's the day after Notting Hill Carnival and it's drizzling. Red Stripe cans are still littering the streets of West London and everyone is hung-over. I'm in the lobby of a hotel waiting for Kranium, the dancehall artist from Jamaica responsible for the hit song, Nobody Has to Know, which has transcended its genre's airwaves into the (somewhat) mainstream.
The faces in the hotel lobby are gloomy, a lot like the weather, but then just like a scene from a movie where someone smiles and a thunderstorm suddenly turns into clear skies, Kranium waltzes in, expression glowing, and the gloom is lifted.
He's been in the UK on tour for the last couple of days, with his last performance being at Carnival. "I walked a lot, my God!" he exclaimed as I asked him what he thought of the bank holiday celebrations. "We stopped at about six different sound systems, it reminded me of real Caribbean vibes, sound systems in the middle of the street and everybody dancing. But in the Caribbean the weather is way better, I haven't seen the sun since I've been here!" Sadly he is unaware that summers in London on the whole have very little to do with to the sun.
Kranium is Jamaican by way of New York City, he moved to America with his family when he was 12, this means he is as relaxed as any other Caribbean boy but not so much so that he couldn't swiftly dodge incoming traffic on 5th Avenue. The song that gave Kranium his rise to dancehall fame was officially realised in May on Atlantic Records, but like the majority of dancehall anthems it had been playing a long time before then. The records success was largely due to it being played repeatedly on probably the most listened to urban radio station in America, Hot 97 FM.
"The first time I heard the song on the radio it was my mother who called me." Kranium explained. "She rang and said 'I heard this song, 'Nobody Has to Know', and it's so dirty!' I asked her what station it was on, thinking it would have been a pirate station or something like that, but she said '97.1'. I asked her if she liked it and she said 'it's so rude but it sound like you' and then I had to tell her it was me."
Although Kranium no longer resides in the Dancehall capital of the world he assures me that the scene is just as strong in New York, and specifically in Queens. "It feels like you're in Jamaica…Monday thru to Sunday." A feeling that is probably cemented by the fact that he lived in Jamaica Queens, on Jamaica Avenue and went to Jamaica High School. Kranium's success proves that Dancehall resides outside the borders of a small Caribbean island, and artists such as Sean Paul, Beanie Man, Shaggy and Popcaan have been making waves internationally for years. So why is it still a headline when a dancehall track makes it into the charts?
"The appetite for Dancehall music in America is big but it's not commercial. Kranium says plainly. "Dancehall music is huge, widely spread but it just needs a bit of structure. If you think about it the majority of hits that are coming out of America are dancehall hits, they are all using dancehall rhythms." (Nicki Minaj, Beyonce, Chris Brown, Rihanna have all flirted with the genre). "It's not America to blame, we as reggae and dancehall artists move on to quickly, whenever there is a hit song in dancehall they just jump to the next record, they don't realise that there is a bigger box than dancehall and we need to get it outside of it."
Some out of the box action is definitely happening; Popcaan for example, now has his name on the back of Drake's new album cover. But for Kranium this is all still a learning process, "I've been collaborating with a lot of American artists and as time goes by you need to do that but I feel like the most important thing is to master the art of being a dancehall artist. That is how you make an impact, so when you do collaborate it makes sense." He is determined to 'stay in his lane'; after all he's only been on the scene for just over a year.
As well as his commitment to championing the Dancehall scene, I think it is also important to mention that Kranium is a great fan of Bollywood music. He got into it when he was at school and a friend from India, who played on the same football team, gave him a copy of a Bollywood film and from the moment he watched it he was hooked. "It's all about the melodies, I don't understand much but its fun, its different" he says.
He is fascinated by anything he calls 'different'. For years now Hip-Hop has been dominant in the charts and dancehall is still another genre that justifies a phone call when heard on mainstream radio, but for how long? "We need something fresh man you hear the same thing every day." Says Kranium. "When 'Nobody has to Know' came on the radio people listened because it was refreshing. It was different."