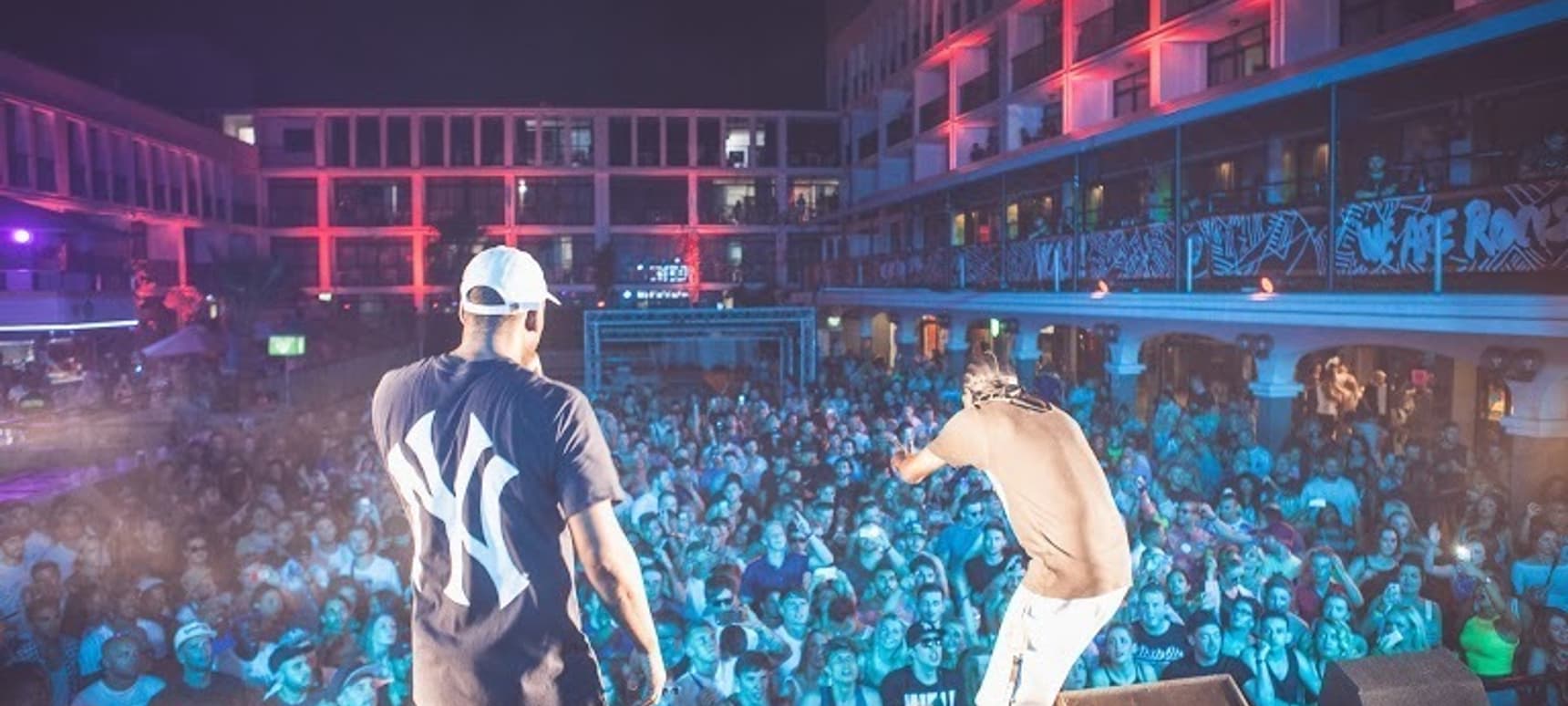 25.06.2015, Words by dummymag
Live report: Boy Better Know in Ibiza
Click on any of the images above to launch the gallery
Before embarking on a whirlwind 48 hour trip to Ibiza last weekend, I'd always been puzzled about the island's relationship with grime. Were people into it? Did MCs enjoy performing there? In fact, aside from Dizzee Rascal's yearly appearances, did any relationship really exist at all?
The answer to my questions invariably lay on the stage of Ibiza Rocks Hotel on a Friday night in June – a bustling, compact setting for Boy Better Know's first ever headline show on the island. Supported by influential DJ and Terrorhythm boss Plastician, the crew on the night – consisting of JME, Skepta, Shorty, Frisco, Jammer and DJ, Maximum – are of course well-versed in the art of live performance, but even for them, this must have felt a little surreal.
For all Ibiza's beauty, the island has remained insurmountable territory for a swathe of harder, bass-orientated UK sub-genres for years, with it's position as the spiritual heartbeat of European club culture making it a difficult place for new ideas to grow and take shape. "I really wanted to get my head around what grime was about at the moment," explained Jordan Hallpike, Head of Programming at Ibiza Rocks, as we sat and ate lunch before the show. "We're the first to really be pushing it on the island, and I think that it's an exciting scene to explore away from house and techno." Indeed, the fact that Boy Better Know were not only booked to perform but booked to headline says a lot about the strength of grime's resurgence away from Ibiza and also reinforces Ibiza Rocks' willingness to make a statement in 2015 – their 10th year on the island.
The gig itself was due to kick off at around 8pm, with established resident party-starters Danny Beck and Patrick Nazemi belting out grime classics like Tinie Tempah's Wifey Riddim and Ruff Sqwad's Functions On The Low from the stage as small batches of people started to congregate on the dancefloor, while the majority watched from their balconies. Plastician was due on just before 10pm and, having seen him tweet about finding it difficult to gauge his sets when he plays before MCs, I was intrigued as to exactly what he'd play. Although a legendary figure in both grime and dubstep, his focus now seems to rest with exploring the global roots of club music – as evidenced by the sterling work he's done with Terrorhythm – but tasked with whipping up an Ibiza Rocks crowd, his early exchanges were dominated by UK garage.
First, he opted to ease the crowd in with The MD-Xpress' '95 classic God Made Me Funky before cutting into Scott Garcia's garage anthem It's A London Thing (much to the delight of a watching JME) before slowly starting to move into his darker, heavier remit. Slicing through a slew of US grime-bass hybrids, the crowd seemed a little lost for periods, although were quickly won round whenever Plastician decided to draw for more seminal material, with the reaction to Zed Bias's Neighbourhood a case in point.
By the time his set drew to an end, the crowd – now defined by a fair splattering of Boy Better Know t-shirts – were significantly amped up, although still you got the sense that the gig was an entirely new experience to some. The stage itself, set in the middle of the hotel complex overlooking an Ibiza Rocks' branded pool, was empty for only a matter of minutes before Boy Better Know entered to a chorus of Skepta's 2014 anthem That's Not Me as the sun started to set – a fitting way to announce their arrival on the island.
Having seen Boy Better Know perform a lot over the years, I'd always been impressed by how they'd retained a level of kinship that was at loggerheads with the collective ego that defined them as such a powerful force – and they showed no signs of that wavering in Ibiza. Skepta, now a global personality and arguably the face of grime in 2015, was no more impressive than fellow crew members Shorty, Frisco, and Jammer, while JME – in my opinion, one of the best performers in UK music – was a mainstay throughout. Each took their place as the focal point on the stage in short bursts, with Frisco and JME both performing solo tracks (JME's Serious was a particular standout) backed up by the rest, with the latter even reaching down off the stage to offer up a few selfies with those packed in at the front.
It was a performance full of energy, wit, and togetherness, and despite some issues with the sound, the crowd were overwhelmingly receptive, if a little timid for BBK's liking. Aside from a large group towards the front, some seemed overawed, or maybe just a little unaccustomed to experiencing grime in such a large-scale live setting. I, on the other hand, had turned into my 15-year-old self, reciting tracks bar-for-bar on the sidelines after using up all my drink tokens in a little over an hour. With the crowd still holding out for more, it was only right that Boy Better Know then finished on Skepta's Shutdown – the performance of which was undoubtedly the highlight of the gig. The crew moved together, the crowd moved back and for that one moment, everything made perfect sense.
With a strict sound curfew, there was no prospect of an encore and as the crowd started to disperse, I was left a little dazed as to what I'd just witnessed. 'Boy Better Know headlining in Ibiza?', I thought to myself. While the relationship between the two may still not have been forged completely, the gig did enough to suggest that there was room for it to develop in the long-term – the foundations certainly felt as though they had been laid. As for Ibiza Rocks, a brand rarely mentioned at the sharp end of island life, they must be applauded for taking a risk and actively challenging their audience – something the majority of Ibiza clubbing brands have failed to do for years.