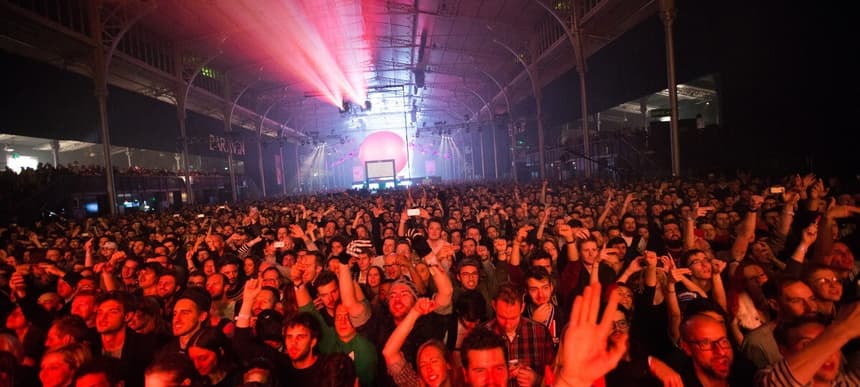 06.11.2015, Words by Sean Murray
Live report: Pitchfork Paris Festival
Before Deerhunter take to the stage on the first night of Pitchfork's Paris Festival, Bradford Cox is backstage telling his company of well-wishers that he needs to throw up. It doesn't come as a surprise – less than three hours earlier, Cox was in the lobby of our hotel lamenting the effects of a gruelling tour he and the group have taken in support of their recent album 'Fading Frontier'. The Atlanta quartet walks on stage with Cox dressed braving a winter, and Lockett Pundt leans into a microphone to announce their opening song, Desire Lines. The crowd are visibly unaware of Cox's state of nausea.
The show became a jubilant set, avoiding the darkened shades of their previous album 'Monomania' for the genial sides of their chamber-pop repertoire. Deerhunter has the luxury of an enormous crowd for their performance – locals inform me that European festivals don't place the "headliner" as the last act, and the multitude of people warrants the same belief. They are selfless as the group extend a song beyond recording time or standard length. Every note they play is of their accord, yet the fandom besieged on them is appreciated and joyous. At a later point, Cox acknowledges the fact and calls the spectacle a "fucked up prom", with him as the homecoming king.
At this stage in their career, Beach House can equally hold a gaze whether they're "headliners" or not. Playing a week after the release of their second(!) album of the year, Victoria Legrand and Alex Scally stretch out highlights of their six albums in a set that needs little embellishment or theatrics. What makes Beach House a perfect closing act is their ability to give their audience a swooning performance and the weightless required to carry them to sleep once they finish.
One of the most impressive and welcomed sets of the weekend came courtesy of Rhye on Friday. Mike Milosh and Robin Hannibal were joined by a group of orchestra players and the result was an ornate and sensuous rendition of their debut album 'Woman'. Whether their aim was to subjugate the room or not, Milosh's androgynous vocals and note-perfect delivery aided the seduction hours before the watershed. Ruder things were ahead, not least in the company of Father John Misty on the final day.
One of the only complaints of the weekend arrived during Kurt Vile's set. The only time that the sound didn't seem "right" was during the Philadelphian's performance. Vile's set suited the more introspective and laconic tracks (Dust Bunnies, Wild Imagination) than expansive (Wakin On A Pretty Day) and cocksure (Pretty Pimpin') playing. Nobody was at fault, of course, but such factors disappoint the players more than the punters.
Following Vile's set, a tripartite of IDM big hitters assembled to capture the collective Friday feeling. Before ushering Björk's replacement Thom Yorke, Battles were charged with fixing the tone for melodic electronica, with the New York trio exercising their power and noodling footwork fancy into Ice Cream, before offering a lesson in restraint in the highlights of their all-instrumental La Di Da Di. The feeling of pregame excitement was palpable though many people I spoke to felt like Yorke owed his fans something after a poorly received surprise set at Latitude. My experience wasn't as tentative, and when Yorke entered the hall bastardising a Stephen Hawking's speech, his performance was one of the few fractured, multicoloured experiences I've ever witnessed. You can't help but wish that Radiohead would be as outré – even if it's to see Yorke bound a stage with the same glee as a mad scientist giving life to his latest creation.
As sad as it was that Bjork pulled out, Yorke's inclusion on the bill complemented the programme as he passed the baton to friend and collaborator Kieran Hebden. Four Tet played along to his reputation for eclecticism, mixing noted floor-fillers with some of his work, tracks from friends (Jamie xx, Floating Points), as well as his remix of Cheryl Cole's Fight For This Love. The highlight? Hearing Where Are Ü Now in a former abattoir, with Hebden and 5,000 people in agreement that Bieber stole the summer of 2015.
Of course, solely writing about a festival means that you can't cover everyone possible even if the start time is at 5 PM. After a second night of free alcohol (shoutout to Deezer), NAO was the first act on my final day and a personal must see. She benefitted from an early pull to see Hinds, and for her first show outside of the U.K. the Londoner made power moves. Before she played, she spent 45 minutes arranging her band on stage, surveying the landscape for the first act of a mesmerising display. Rubbery synths met head on with urban blues guitar, and NAO's presence proved her reputation as a born performer. If before she was a little-known entity on the continent, then her faultlessness will have arguably excited many – even Pitchfork's editor-in-chief was impressed by her show.
Between Run The Ghouls (yes) and Hudson Mohawke as the final live acts, there was little to separate or pinpoint the boundless energy running the last night, which fell on Halloween (it was refreshing to see no fancy dress). And that's the festival in a nutshell – it's hard to pick out a highlight when there is so much beauty, fun, and excitement in this small mile of the 19th arrondissement. It's a place for music lovers to experience a stunning venue, perfect sound, and a strong line-up in a cultural capital. If the expense of Le Trabendo's official after-parties doesn't appeal to you, go to the tabac and the off-licence outside the venue and you've sorted your after party for next to nothing. If you can drink a lot of Heineken beer and not act like a tit, then the banter-free, affable Parisians will welcome you as an equal rather than a windy stag-do of a piss artist back from Prague. Most importantly, on the Sunday morning when you have to hit the Eurostar back home, if you're not crying in your suite wishing you were there longer then it hasn't been worth it.