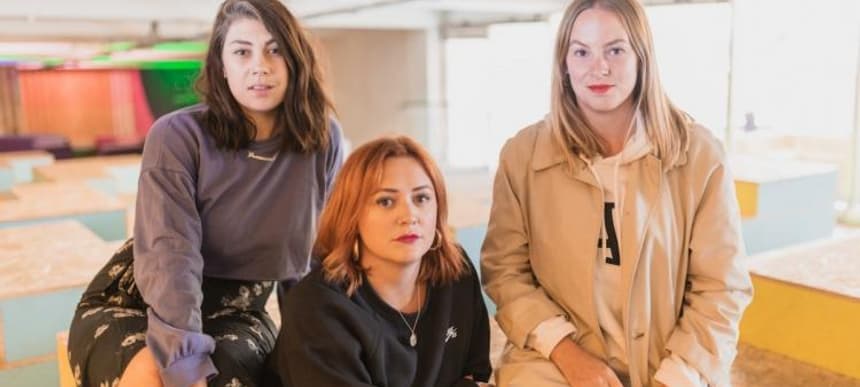 01.11.2018, Words by Felicity Martin
Meet the women heading up London's new female-fronted radio station, foundation.fm
Peckham's new station is tearing up traditional radio templates and championing diversity
From the glut of pirate stations that cropped up in the '90s to the proliferation of stations like NTS, Balamii, Reprezent and Worldwide FM that have spidered across the city, London's underground music scene has always thrived off radio. Now, a brand new community venture is focusing on bringing female and diverse talent to the airwaves – foundation.fm.
It's the brainchild of three women who cut their teeth on radio – Becky Richardson, Ami Bennett and Frankie Wells. Becky is an artist manager who runs her own national radio plugging company and met Frankie last year, who'd been plugging and producing radio for some time. "We started discussing how there's a gap in the market to do something a bit differently," says Becky. It was only when she ran into ex-BBC producer Ami at a train station that she clocked she was the missing piece of the puzzle.
Operating out of Peckham Levels, a car park-turned-multi level venue containing workspaces, restaurants and bars for young creatives, the studio is being prepped for its live date, November 5th, when Dummy visits. The recording room has just had a coat of black paint, courtesy of Frankie, and soundproofing boards fitted. A mural of the station's logo – a pair of lips walking around the globe – is about to be painted over the white walls, and the trio debate which door to put the on-air sign on ("or we could just get two?!" suggests Ami).
Though the founders have felt the need for a female-led platform for some time, the venture was prompted by the downfall of Radar Radio, the London station which terminated broadcasting after allegations of assault and appropriation. Frankie used to work there as a producer and, while the trio don't directly mention the series of events (jokingly referring to it as a "little blip"), it's no coincidence that foundation.fm is putting so much emphasis on female talent and inclusivity.
Where Radar's finances were a point of contention for many listeners – with money being funneled in from Sports Direct via founder Ollie Ashley's dad, foundation.fm's funding source is something they hope will achieve a positive impact on the industry. Coda Music Agency, their first investor, is a strategic partner: as the brand builds, something they're keen to do is combat the problem of the lack of women being booked for live events.

"There's some amazing female DJs and they deserve platforms where they can show they're great tastemakers, and can pick something out of the underground and make it a hit," says Frankie, on the station's decision to programme largely female DJs. They're keen to stress that it's not a no-boys zone, though: "We've got boys on the schedule – but it is very much female first," explains Ami, adding that the ethos is inclusivity of all communities, including those within LGBQTI+ and QTPOC. They've even decided that the first track played on the station won't be that of a woman, but 'Ladies' by slowthai – as a cut which joyfully champions women.
"It's absolutely not tokenism," she continues, "like, 'You're a woman! You'll do!' These are people who are incredibly talented, so it's nice to make a platform for that." Some of the confirmed DJs include Martha, Henry, Sistren, Zooey, Tayylor Made, K4cie, and many more. The 'Brunch Show' will be hosted by Boiler Room's Kamilla, while The Beat FM's Ellie Prohan will take charge of the 'Happy Hour Show', and other names on board are L U C Y, Becky Tong, Born N Bread and Femme Culture.
"With some people it's like, why haven't you got a show already?!," says Frankie. "Like, why are we the people giving you a show?! There's a lot of DJs especially I'm a big fan of that I'm like, 'Oh my gosh! Come to foundation.fm!'"
The station's aim is to rip up current radio templates that might not suit the typical 9-5 worker. "We wanted to change up the traditional radio schedule a bit, 'cos we felt maybe our audience aren't awake for a 6am breakfast show," explains Becky. "So we're rebranding that as a 'Brunch Show' that starts at 10. And we're doing a similar thing with the traditional drivetime show which is called the 'Happy Hour Show', so it's that last two hours when you're either on the bus home from school or in your office and you just want some really good tunes to get you through the last couple of hours". They're introducing shows that cover sport, tech ("ones that are traditionally associated with men") as well as fashion, mental health and what it is to be a woman in 2018.
Where commercial and more established stations don't offer training or career progression, foundation.fm was built on the desire to support and hone new talent. "This is an opportunity to come and create stuff in a safe environment – you can try stuff out if it doesn't work, we can work on it and develop it," Ami says. Frankie and an Assistant Producer will be working full time at the station, offering production support to every show, while there's plans in the pipeline to host panels and workshops to assist aspiring radio presenters.
"We want to say to people, what is the end goal? What's the dream? It can be as far out as you want it to be, and it's like – how can we help you to get there? So if that's national radio, amazing, we'll absolutely help you, if it's TV, we can help you," says Ami.
"Everybody brings something to this table at which there are many seats," she finishes. "We just can't wait to get going, and hopefully make some waves, and make a bit of change where change is necessary!"
foundation.fm starts broadcasting on November 5th, from 10am to 10pm every day, and can be found here: http://foundation.fm/