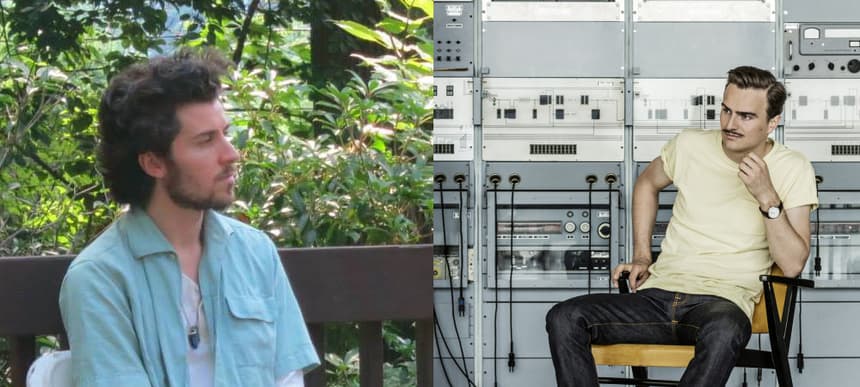 24.09.2013, Words by dummymag
Mike Slott in conversation with Cid Rim
Mike Slott originally hails from Dublin, although for the past five years or so he has been living in New York. Before that, he lived in Glasgow, and along with Dominic Flannigan, Martyn Flyn and Hudson Mohake, Slott was one of the founders of LuckyMe, and has seen its rise from its modest origins to one of the most cutting edge artistic outlets operating today.
Cid Rim is the alias of Clemens Bacher, a free jazz drummer, tutor and multi-instrumentalist from Vienna who debuted on LuckyMe with a self-titled mini-LP in 2012 and following it up with the 'Mute City' EP last week. Both Cid Rim and Mike Slott come from similar backgrounds, routed in jazz and classical as well as hip hop and modern electronic music.
Slott's production history is relatively modest – he has released numerous EPs both solo and as one half of Heralds Of Change (alongside Hudson Mohawke), as well as mini-LP 'Lucky 9Teen' for LuckyMe back in 2009. The past few years have been quite quiet for him, but this remix of Cid Rim's Extend Ranges – premiering exclusively here at Dummy – marks a steady return to releasing his music, as well as the first time he has sung on a piece of music.
Coming off the back of this remix, the two artists sat down together for an inspiring chat about each other's working processes, the scenes in their respective cities and their musings on the nature of music-making.
FIRST MEETINGS
Cid Rim: "If I'm right, we've only met once, in Vienna."
Mike Slott: "Yeah! A few years back."
Cid Rim: "I was looking for this one video that I thought would still exist somewhere out on the internet and I found it. It's a little video of a jam session we had there at the end of the night."
Mike Slott: "That's right – I think I have a photo somewhere."
Cid Rim: "The lineup was Dimlite, Mike Slott, Dorian Concept, The Clonious, and in the end, for this jam session, me. A fun night it was."
Mike Slott: "It was a fun night. A lot of energy, I remember. The room was full. When was that? 2010?"
Cid Rim: "I think so, yeah. September 2010."
Mike Slott: "So were you doing the Cid Rim thing back then?"
Cid Rim: "Yes, just a couple of moths later my first official release came out. A split EP with the Clonious, where I had three tracks on one side, his three on the other."
Mike Slott: "Ah, was that on Affine? I'll need to check it out, I think I missed that one. I've only heard the LuckyMe stuff, but it's some of my fave stuff on the label, I've got to say."
HISTORY WITH LUCKYME
Mike Slott: "Essentially, LuckyMe started as a kind of open deck/open mic thing in Glasgow/Edinburgh. I was living in Glasgow at the time and because it's a small enough city – and even smaller if you're into something like hip hop or electronic music, or jazz, or whatever – you tend to bump into the same faces at gigs and around the West End. So that's how I met Dom and Martyn, who run LuckyMe, and also Hudson Mohawke. But yeah, we've all kinda watched this LuckyMe thing grow from bedroom recording and open decks in little bars in Glasgow to the guy behind the counter in Guitar Center in NYC saying 'I love that label!' – which happened just yesterday. It's exciting."
Cid Rim: "So I met Mike at this gig. Before that, I met HudMo and Machinedrum at their gigs in Vienna (also the Loud Minority parties btw). And then in late 2011 I was in London with Dorian Concept and after a rehearsal we had we went to dinner with HudMo, his girlfriend, and Dom from LuckyMe. That's where I first met Dom. After that I had the opportunity to send stuff through directly, and after a couple of months he wrote me back saying 'let's do something on LuckyMe And all that communication with Dom led to my first release on LuckyMe, which was the self-titled mini-LP in August last year. I have been following the label since HudMo's Ooops remix though. Also I have been a fan of the old Heralds Of Change EPs and it was quite obvious for me that musically, if I ever got the opportunity, I'd feel very comfortable in this surrounding. So I'm glad that that all really happened!"
MUSICAL BACKGROUNDS
Mike Slott: "I guess we are quite aligned musically, yeah."
Cid Rim: "For me, it had a lot to do with what my parents listened to when I was a kid. My father used to be a big band trumpet player while he was studying, and a big fan of funk music in general. So he would have Buddy Rich or Stan Kenton records in his car, lots of JBs stuff as well. So as soon as I found out how to use the record player, I was listening to his Blood, Sweat & Tears records as well. Then later you inevitably find the sample connection between hip hop and jazz, and that basically opened up the whole world of jazz for me."
Mike Slott: "Really? Same as my dad – jazz trumpeter."
Cid Rim: "What?! Amazing."
Mike Slott: "Yeah! That's funny."
Cid Rim: "What did he listen to in his car or at home?"
Mike Slott: "I still have a lot of his old cassettes. A lot of Blood, Sweat & Tears if remember correctly. A lot of Miles, a lot of Chick Corea, Dizzy Gillespie. And yeah that's it, you start investigating the samples and connections to the music you're discovering as a kid and start drawing this big circle."
Cid Rim: "And you are actually piano player, right? Is that your main instrument these days?"
Mike Slott: "I wish I was, but I'm not. I took lessons as a kid along with drums, but I never had the dedication. Everything is by ear for me, so it's a bit haphazard. But I guess even that has its benefits."
Cid Rim: "Definitely. It all starts and ends with the ears when you're making music."
Mike Slott: "That's a nice way of putting it."
"It all starts and ends with the ears when you're making music." – Cid Rim
LIVING IN NEW YORK
Cid Rim: "So you've been living in the hub of the world for five years now. It's the same as you described Glasgow, I know almost everybody in Vienna that is on the same page musically. Did NYC open up any new possibilities when it comes to collaborations?"
Mike Slott: "Yeah, it definitely did, but I think it was more about me being open to those possibilities and seeing them. There are maybe the collaborations within a city that you might expect between people who are in a similar genre, or at least perceived to be because you are gigging together, and that was definitely the case at the beginning in New York, but the past couple of years I feel I've opened up to a whole other world of recording and musicians and just various different people who have a completely different musical background, but who just want to collaborate. That's been the most fulfilling thing, I think, trying to create something new and different and learning from other musicians rather than being in a bubble.
"But in saying that, I still hold Glasgow very dear to my heart, because there are so many pros to living in a place that is not the hub of the world, especially in terms of creativity. Less distraction and less pressure, so it works both ways and I wouldn't change it. I look back at Glasgow and things like LuckyMe and realize that that kind of scene can't grow just anywhere – I think there has to be certain conditions to allow it to flourish. New York is a different thing and maybe serves a different purpose."
Cid Rim: "It's always about the ratio between inspiration:distraction and pressure:discipline. Too much of one thing can be hard to handle. Too little of one thing, too."
Mike Slott: "That's true, I think. I'm in Southern Jersey right now, taking a break from New York for a couple of days, being in the country. It's a different energy and sometimes its good to have that contrast, it just refreshes things."
LIVING IN VIENNA
Mike Slott: "What about Vienna? How is it living there, musically?"
Cid Rim: "Vienna has a great jazz scene that has come up over the last 10 years. Loads of talented people, and loads of inspiration in listening to what they do and sometimes being part of that scene. Yet it's also very comfortable – everybody knows each other and it's quite easy making a living out of what you do. The best thing that happened to me was getting more and more connected to London and everything else outside of Austria, because it just made me a bit faster and more disciplined. People say Vienna is the island of the blessed – lots of people are doing what they want musically, there's not too much pressure on the individual, but that freedom also has the flipside that you have to be a bit more disciplined yourself if you want to get out of that bubble."
Mike Slott: "Yeah, I remember meeting an old school friend in Vienna the morning after that gig. He had been living there for a while and he loved it, but he also used that word – 'comfortable'. I dunno, it's a tough one because on the one hand no one wants to be stressed out all the time, but you don't wanna become lazy. It's about finding some balance for yourself I guess, and everybody's different."
"I hold Glasgow very dear to my heart, because there are so many pros to living in a place that is not the hub of the world, especially in terms of creativity." – Mike Slott
WORKING DAYS
Mike Slott: "So do you work at home, or do you go to a room to work? What are your days like?"
Cid Rim: "I've got a small studio room in my flat. That's where I work most of the time. I have a rehearsal room as well, shared between a couple of friends – a classic, dirty, punky basement room. That's where my drum set is, so I go there to practise drums. Most production happens at home, though – I'm happy with that constellation right now, but sooner or later I'll get myself my own studio room. Without the internet."
Mike Slott: "Yeah, that's kind of key isn't it? The world is brought directly to your instrument. Nightmare."
Cid Rim: "But because you asked how my days are: when I'm making music, the first thing I do in the morning is play piano for a bit, just trying to find new chords or melodies. That's always the most important part that I get the initial ideas from. If I find something that I like, it goes into the computer and everything else happens from there."
Mike Slott: "That's lovely. I often forget about that myself and will start at the computer, but sometimes it's when I'm just fiddling at the piano that I'll need to press record and unwittingly it's the start of something."
Cid Rim: "You recorded piano at the end of the remix, right?"
Mike Slott: "Well, I wish it was a real piano – but yeah, it's me playing."
Cid Rim: "Sounds so dope though."
Mike Slott: "I enjoyed working on that tune a lot. I love the chords that you come up with, that's what drew me to your music the first time I heard it."
Cid Rim: "Thanks so much. Without throwing flowers around too much, I still have to say here that your remix is the best thing I've heard this year."
Mike Slott: "That's really great to hear, because I feel it kind of represents some of the ideas of been working with over the past few years and have really for the most part kept to myself."
Cid Rim: "I immediately answered Martyn when he sent me the track that I'd love to hear a whole album like this. I basically listened to it and nothing else for three days straight!"
Mike Slott: "I was a little nervous because I've never committed my voice to a record outside my own little studio before, so that's a bit nerve-wracking in itself. But I feel like your tunes are quite like journeys, and I love that in music, and I'm quite into the idea of being able to create a journey with music but within a structure that isn't completely rambling all over the place for five minutes, you know? So, like, cool, interesting ideas, within a somewhat definite structure, if that makes sense. Anyways, that's what I like about that original tune, is that I feel it really lent itself to that."
Cid Rim: "It does make sense."
Mike Slott: "I just love melody and chords and musical music, and it's a pleasure to work on anything that brings up the opportunity to come up with things like that. It's a good feeling."
THE FUTURE
Mike Slott: "So are you gonna be touring now, or working on more stuff?"
Cid Rim: "A couple of gigs here and there on the weekends, within Europe. Then in October I'm gonna go to Mali in Africa, on a crazy week of meeting musicians there and maybe making music together, or record and sample them – don't really know how it's gonna be, but definitely an interesting experience. I'm really happy to have a constant work flow at home with making an album in the back of my head. Same question to you?"
Mike Slott: "Mali sounds amazing. Well, it's been a little while since I've released any music, so I'm getting ready to get back into things. I've been remixing a fair bit and doing additional production work on the more pop end of things with Paul Epworth, which has been a great experience. I've got a few remixes to come out before the end of the year and also a little EP. I've worked a long time on my own LP, which has been a huge learning experience, both musically and personally, so I'll be really happy to be able to share that soon because I'm very happy how it's come together."
Cid Rim: "Can't wait to hear!"
LuckyMe will release Cid Rim's 'Mute City (Remixes)', featuring reworks by Mike Slott, Autre Ne Veut and Joseph Marinetti, on October 1st. Pre-order it here.