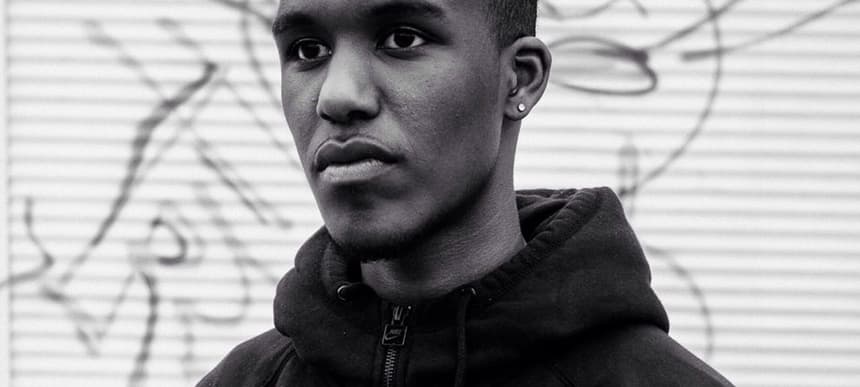 28.08.2014, Words by dummymag
Mumdance introduces Novelist
As a producer and DJ, Mumdance has been able to skilfully turn his hand to all sorts of genres: grime, dubstep, hardcore, even Egyptian Mahraganat music. Novelist is a young MC from Lewisham who, along with his crew The Square, have been vocalling the wave of new grime instrumentals coming through right now. The two artists have worked together a lot: Novelist has MC'd over Mumdance's sets, he's been a guest on his radio shows, and he's appeared on Mumdance's smasher of a single, Take Time. On September 6th they'll play together again on the rooftop of Netil360 for Boxfresh's High Rise event series. Before that, Mumdance tells you why you should really be paying attention to what Novelist and his crew are doing.
Mumdance: "I first saw Novelist when I was over at Tim & Barry TV about a year back; he caught my attention at once. His flow and lyrics stood out to me as they sounded very fresh and progressive, but also paid a homage to the first wave of foundation grime MCs. I didn't actually speak to him at the time, but he'd made enough of an impression that I went and checked out a load of his freestyles on Youtube – and I highly recommend you do the same!
"Then, a few months later, I saw him again at NTS Radio, where he was hosting a set for Slackk. It was then when I got his contact details, reached out to him a few days later, and organised a studio session. He came over with his manager Aaron, and we wrote Take Time in about three hours. This was about nine months ago, and even in this small space of time, I've seen Nov's talent and presence increase tenfold.
"Novelist is a pleasure to work with with. He has an acute understanding of how a song works and an acute understanding of the history of grime. But more than anything, he has a great attitude. I've seen countless young MCs and producers get a bit of attention within a microsphere of a scene, let it all go to their head, and end up burning a lot of bridges and squandering all their opportunities. Novelist isn't like that, and to me thats what separates an amateur from a professional.
"Since Take Time, we have started working on another EP, which is halfway through. Alongside this, Novelist and his crew The Square are just about to put out a new mixtape on No Hats No Hoods called 'The Formula', which I listened to the other day and it bangs. Novelist is showering down raves left right and centre, and we have also started doing some shows together. Some of which are DJ/MC shows, and we have also started doing a live show, where I build grime live with a 909, a 303, and a groove box sampler, while Novelist freestyles over the top. It's fully improvised on both of our parts, and no two shows are the same.
"All this aside though, when it comes to grime, Novelist is one of the best in the country right now. Be it studio, radio, or rave, Novelist excels – and I really get the feeling that he is just getting started…"
Mumdance and Novelist play Boxfresh's High Rise event at Netil360, London on September 6th 2014 (more information).