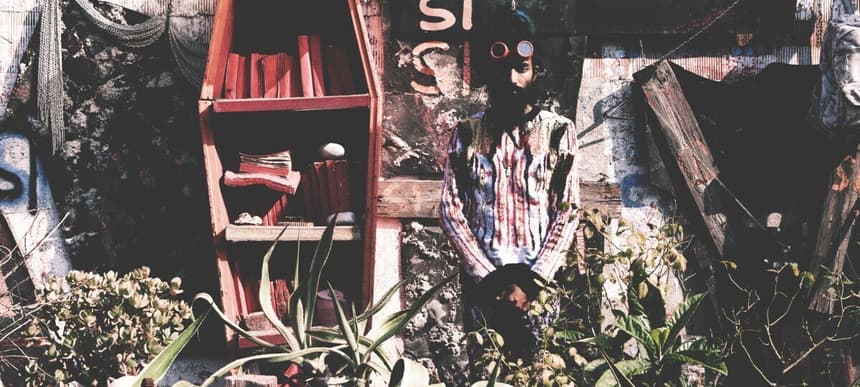 07.04.2015, Words by dummymag
My Panda Shall Fly introduces his long-time-coming debut album
Suren Seneviratne always knew that he was going to make an album, but it's taken him a while to get there. Since 2012, Seneviratne has released dozens upon dozens of tracks into the world as My Panda Shall Fly, taking the form of vinyl records, cassettes, and online mixtapes. Yet an Official Debut Album has eluded him – up until now. 'Too' sees My Panda Shall Fly balancing his experimental, garage-inflected instrumental compositions with, for the first time, vocal collaborations from the likes of Deptford Goth, Rudi Zygadlo, and Katherine Joyce.
"I'm not really sure why it took so long," Seneviratne says, "It's like how I took so long to come out with my debut EP – I am a hardcore tweak freak and perfectionist. It has to be 100% before it leaves my studio."
Born "in a small rural town called Lyakibirizi, in Central Uganda", Seneviratne insists that he had no real grasp of music – "or at least anything that tickled my cerebrum" – until his early teenage years at school in South London. Discovering UK garage led him on to grime and dubstep, "then to whatever it's called that came after that", where he started to produce his own tracks on an early version of Fruity Loops. "I suppose [I was] trying to imitate the raw, hard, club-focused sound I was hearing," he says, "But soon realized that wasn't what I enjoyed so much and began exploring more leftfield stuff, clearly where my brain was trying to take me."
Seneviratne was originally one of four members of My Panda Shall Fly, with the band making "improv-acouostic-electronica" and gigging at least once a week, and sometimes even more than once a night. But the group shed members like fur: Isaah, whose father was a property tycoon, moved to the US and was never heard from again, Finn joined an intense Hatha Yoga Pradipika teaching course in Uttarakhand, India, and Theo enrolled at the Union Mexicana de Picadores y Banderilleros bull-fighting school, Mexico… so the story goes, anyway. As with anything to do with My Panda Shall Fly's biography, it's hard to know what's fact and what's fiction – but it's far more fun to just go along with it.
Whether appearing on the bill or in the crowd, Seneviratne is a familiar face in London's eternally-vibrant underground music community, having witnessed the explosion of various movements – Night Slugs, PC Music, NTS Radio, and so on – firsthand. But My Panda Shall Fly has never been associated with any one crew or scene in particular. Maybe that's why he's such a prolific collaborator. "A point that was recently brought to my attention was that my regular collaborations are possibly a way of helping to fill the gap left by my former bandmates and me desperately trying to avoid working alone," he says, "This is most certainly true, though everyone I've worked with I truly respect and admire for what they do."
For 'Too's vocal collaborations, Seneviratne only approached singers he knew already – friends, or people whose work he'd been keeping up with for a while – who would complement his songwriting, rather than finding a generic voice to front some beats. "Finding amazing singers was not difficult at all," he says, "All the talent that I had the pleasure of working with, I had known in some capacity before. It was exciting to have recruited talent from different countries and see what would come of it all. Apart from remixes for other artists, I had never worked with singers on my own material. The challenge was certainly real – I had to learn new arrangement and production techniques and find out how to mix vocals alongside instrumental music."
All of the vocals were recorded in different places, fitting around the individual singers' own setups. "This way I also knew they would have been comfortable recording in their own personal environments and thus their performance were as real, genuine, and heartfelt as could be," says Seneviratne, "I liked that there was an element of complexity in that the recordings already had a character to them in how/where they were recorded before they were sent to me." There were other mooted collaborations that, for time reasons, didn't make it to the album – Perera Elsewhere, Josh Idehen, and Spoek Mathambo among them. "I can only imagine what these works would have sounded like," Seneviratne says.
So, what's next in the world of My Panda Shall Fly? "I am building a pneumatic, remote-controlled five foot metal turtle sculpture to install at my album launch shows that will function as a Golden Oldies karaoke machine and a Japanese import soft-drink dispenser," he says, "I've not been writing any new music, although there are some other projects that have been completed recently that will see release soon."
Project:Mooncircle released 'Too' on April 7th 2015 (buy).