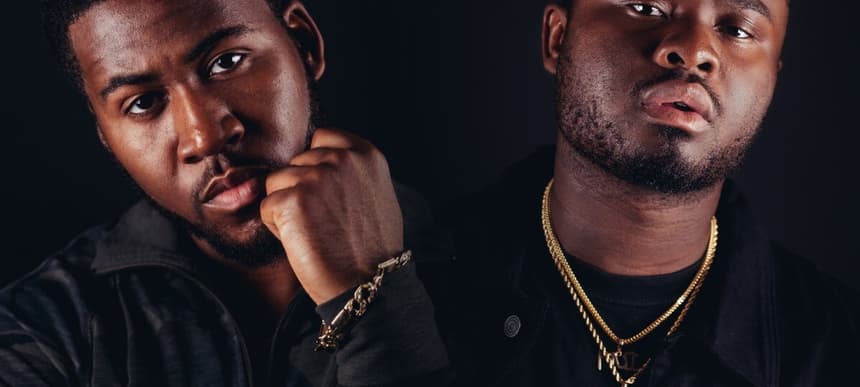 09.10.2017, Words by dummymag
Next: 808INK
In a music scene as vast and varied as the UK's is right now, you won't find a harder act out than 808INK. The south London duo of rapper Mumblez Black Ink and producer/rapper 808Charmer are a mean combination channelling a punk attitude and eclectic, wide-ranging influences, to create an endless supply of bangers. Genre does not exist to them, and there is no one out there making music like them, that caters to the thinkers but also to the ravers in equal measure.
There is a duality to the group and, since their 2013 debut project, An Artistic Piece, they have shown across three projects their thematic leanings (through a number of immaculately executed visuals – check out 'Q'd Up,' 'Suede Jaw' and 'Crooked Bad' immediately) and supreme ability to create thought provoking music portraying the ferocity and rawness of their Deptford ends, but that also gets you moving. They refuse to be boxed into the sphere of UK hip-hop, and you can hear everything from house to funk, via heavy metal throughout their evolving catalogue. Clearly, it is so much bigger than genre.
With a new single out now, the irrepressibly groovy 'Flexing,' 808 season is well and truly on the way. A truly exciting prospect, because 808INK are continuing to push boundaries and redefine what is seen and heard throughout the country. We spoke to the duo about their link up, what they bring to the scene and possessing the musical sauce…
…on how 808INK was born
808Charmer: We actually started after I saw Mumblez freestyling on set of a video shoot that was being shot in ends, for a track that I produced at the time. I was very impressed with his flow and pocket. All of a sudden I turned around and realised he was no longer where I last saw him, but was half way up the road going home, I ran down the road literally chasing him and said, "Yo man, we should work." From there he started featuring on my beats. Fast forward a few years we bumped into each other at Tesco and said "Yo we should do a joint project" That was when Artistic Piece landed.
…on what they bring to UK music scene
808Charmer: We bring high energy, we make people dance and feel like they're THE shit. That's what it's about, the feel-good factor and overall SAUCE.
Mumblez: We bring a new take on British rap!
…on what the scene is lacking
808Charmer: The scene generally is probably in the best state its ever been to be fair. As I've always said, more diversity would be great because, sometimes it feels like particularly in London, that you can only like one thing at a time.
Mumblez Black Ink: The scene lacks a sound that everyone regardless of their path of life can enjoy together…and that's definitely what we're bringing now and will definitely be dominant soon.
…on south London
Mumblez Black Ink: Being from South London has given any style we venture into a touch of harshness, that has carried throughout and given our sound extra appeal.
808Charmer: I agree with Mumblez on that one. South brings out the rough edges in the sound, so even with a song like 'Smile' which is arguably our most 'happy' song, there's still a serious step in it and the drums still have a "you can never chat shit" groove to it.
…on Mumblez Black Ink's rap style
Mumblez Black Ink: It's like water, for the most part it's quite wild and wacky, but at the same time soothing. I'd say it's the perfect mix of smoothness and just pure flames!
…on 808Charmer's production style
808Charmer: Humbly I say my production firstly is undeniably wavey! My style is very groove based, you can always guarantee the drums will have your head moving first, it has Funk, Reggae and Psychedelic undertones and is limitless. I named my sound "TripFunk" which describes overall sound and rap style.
…on their first three projects
Mumblez Black Ink: Artistic Piece is a series of dream sequences, Billy's Home displays passion and immense hunger, and Hungry just has mad burners!
808Charmer: Artistic Piece is escapism, Billy's Home is reality, Hungry is complete autonomy and exploration.
…on what's next
808Charmer: LOL there's always more burners in the cannon!
Mumblez Black Ink: LOL all will be revealed!
Watch 808INK's new visual, 'Flexing,' below.