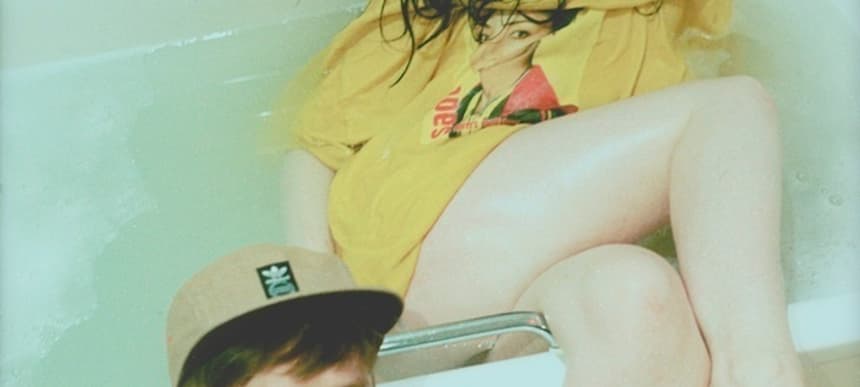 18.04.2014, Words by dummymag
Next: Bernard + Edith
Bernard + Edith are a duo from Manchester who make contorted electronic pop music, characterised by Nick 'Bernard' Delap's slow crawl drum programming, murky basslines, and opium den soundscapes, and singer Greta 'Edith' Caroll's unconventional, archetype-defying vocal. A staple of Manchester's live music scene, Bernard + Edith recently released a spellbinding debut single, Poppy, through the city's defiant independent label SWAYS Records.
It's a clear and bright day when we speak over webcam. They're sat in the kitchen of Greta's parent's house, interrupted occasionally by her dad coming into the room. Greta is wide-eyed and animated, occasionally stumbling over her words as her voice tries to keep up with her enthusiasm. Nick is the more passive of the two, but no less forthcoming when asked a question directly. After a few minutes in their company it becomes obvious that they're totally on the same wavelength, finishing each other's sentences and never showing signs of uncertainty or disagreement.
Although Nick and Greta go way back, it's only in the last couple of years that they started working together. Greta had been making her own music, but was finding it difficult to finish. "I'm really dyslexic – like, really dyslexic – so I found it hard getting my ideas out of my head," she says, "Nick started helping me with that, and we started jamming out all the time, making loads of songs."
The music came quickly, arriving on a finished product almost as soon as they started making it – the first song that they completed together was Spell On You, which appears on the b-side to Poppy. Both talk freely about their musical influences – they share a mutual love for Fever Ray, Portishead, and Brian Eno – but the thing that's had the biggest impact on their sound is Twin Peaks. "I know it sounds stupid, but we just fell in love with Twin Peaks," Greta says, "The music, the atmosphere, and everything, everything, about it, really." Like David Lynch's cult TV show, Bernard + Edith marry their weirder, experimental tendencies to a more conventional format (Lynch used the soap opera, they use the pop song). And like in the town of Twin Peaks, there's definitely the suggestion that something dark lies unseen and unheard beneath the surface of Bernard + Edith's music.
But maybe the most obvious comparison is the way that that show uses jazz to punctuate its scenes. Greta is a jazz singer, obsessed with Julie London and Billie Holiday, and these jazzier inflections come across in the vocal and melodies of songs like Spell On You and Stormy Weather. "I feel like I can't sing very well," Greta insists, despite Nick's protestations, "And I think that it's because I can't sing that I can sing, if that makes sense. With a lot of jazz singers, you listen to the recordings and it's just bare. They're not doing all this stupid stuff, like—", she starts singing, putting on an affected diva wail, "—like, it's not a competition. They're just singing their feelings. A lot of the singers, like Billie Holiday, they had so much pain in their life, and you can hear it in their voice. All of the best singers are people that had, like, emotional problems – and I did, for a very long time."
Although Greta spent years trying to marry her jazz singing to contemporary music styles, few musicians seemed interested in the idea. Nick, however, was always receptive. "People always want to draw boxes around things," he sighs, "Even down to the way you record – people seem to think that you can only use really expensive mics or something, else it won't sound proper. But there are no rules around that sort of thing." Bernard + Edith's own recording setup is fairly no frills, using a laptop and a cheap microphone along with a couple of synthesizers that Nick acquired over the years playing with his other bands. "We were trying to get some of our songs mixed, and the guys were like, 'Oh no, this recording of your vocal is too low quality…' And we were like, 'It sounds good, what's wrong with it?'" Field recordings also play a large role in their sound design – at one point Nick demonstrates how they got one of the main sounds used on Eyes On You by knocking on two cups.
Currently, the two are just making music – they never really stop – but are also continuing to make visual art, like their self-directed video to Poppy, and a forthcoming video for Spell On You. "We like to make little films and soundtrack them," Greta says, "We like to do things ourselves." Following that, they plan to put out a low-key cassette of sketches, ambient passages, and beats, showcasing a side to them that the single doesn't, with a view to releasing an album that might loosely resemble a pop record. "We want the album to be weird and experimental," Nick says, "But like a pop thing."
SWAYS Records released Poppy on March 31st 2014. Bernard + Edith play Birthdays in Dalston, London, on May 9th 2014 (more information).