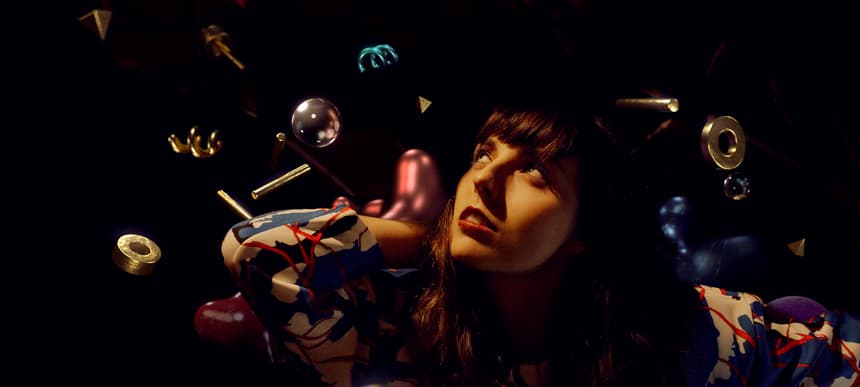 23.09.2015, Words by Natalie /
Next: Funktionslust
There's a lot to be said for limitations: when every potential musical influence has been uploaded to YouTube and a cracked copy of Ableton is a quick Google search away, it's no surprise that bands are choosing to impose creative restrictions on their music. For Funktionslust, it took two years to reach this realisation. "We were sat there in our headphones making this one song, and it was an absolute pain the arse," recalls Joe Gillick, one half of the electronic pop duo, as we sit in the band's living room-cum-studio in New Cross, South East London. "The samples, the time-stretching, the filtering – we just said, 'Are we having fun anymore?' It had been a year and a half, two years. We just wanted to play music again." Joe ditched the laptop, instead using an 808-esque drum machine he'd bought previously while his partner in the band, Sage Redman, used her Nord Wave synthesizer, and they ended up writing a new song within a couple of hours. "It was better than anything we'd written before," Joe says.
Funktionslust formed in London, when Sage and Joe met in their first year of university. Originally, Sage grew up in Seattle – her parents were "super unmusical", but her uncle had connections to the grunge scene. For her 13th birthday he burnt her a set of CDs titled 'Sage's Songwriting Series', featuring classic rock songs like Life On Mars. Joe, on the other hand, grew up in London, where he was exposed to the music of grime crews like Ruff Sqwad and Roll Deep pretty early on. He didn't really appreciate its importance at the time, though. "At that age, you just follow the crowd," he says, "I was quite impressionable."
Still, grime's futuristic impulses – and its continued relevance in 2015 – remain an important touchstone for the band. You can pick up hints of all sorts of diverse sounds in Funktionslust's music, from technoid rhythms to glacial coldwave-esque atmospheres, but they bring these styles into a hyper-modern sound world that is distinctly their own. At heart, Sage and Joe are classicists, writing traditional melodic pop songs, but there's an experimental bent to their production informed by artists like Four Tet, Mumdance, and Oneohtrix Point Never. "All the stuff I grew up listening to has been really melody-driven," says Sage, "But all of a sudden, you acquire this experimental side…"
"Our biggest objective was to have an ever-evolving sound world, and have the focus on a pop melody to draw it back to something that everyone can recognise," says Joe, "We did loads of research and picked a couple of instruments, and we decided we'd just create sound worlds from those." The cost of this gear added an extra incentive to learn it inside out: "That was a year's saving to be able to afford that," Joe says, pointing to a synthesizer in the corner of the room, "You can't just fiddle with it for a bit and then decide 'I can't be bothered anymore.'"
At university, Sage dedicated a chunk of her research to musicians who push solo instruments into new, experimental directions – artists like Colin Stetson with the saxophone, Squarepusher with the bass guitar, and Elizabeth Fraser with her voice. "People who really focus on one side of their practise," Sage says, "Out of that focus, you get different perspectives." It's an approach that translates into the band's own practise, albeit in a way that's perhaps less obvious. At one point, Joe plays a new song from a huge pool of demos, an instrumental built around a simple repeated bass tone. "It's about exploiting one sound and working around that sound," he says. "How far can you take this bass sound and build a pop song out of it?"
"Before we even record, that's pretty much how a song will sound when it's finished," Sage adds, "The sounds really dictate what we do with them. I used to write the opposite way – I used to write songs on pianos and take it to the studio – but I haven't done that in five years now."
Dummy presents: Wet, Rudi Zygadlo, and Funktionslust at Ace Hotel, London on September 25th 2015 (RSVP for free entry).