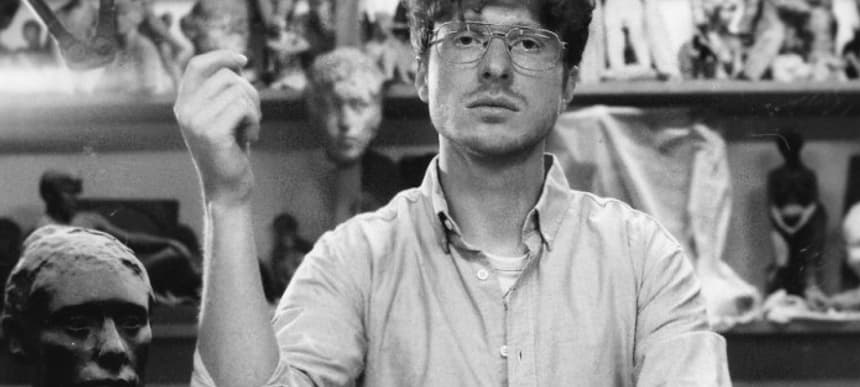 25.10.2013, Words by dummymag
Next: Claude Speeed
Despite a discography that barely stretches beyond a few remixes and some free downloads, Claude Speeed has been steadily building a reputation for a couple of years now. A close affiliation with both LuckyMe (they released Speeed's mathy post-rock band American Men's debut EP 'Cool World' back in 2010) and Red Bull Music Academy (Speeed took part in their 2011 season in Madrid) has meant that a slow but steady stream of tracks have made it out into the world. What's available is remarkable in its scope – and it's scale. Make no mistake, Speeed's music is big. Whether it's widescreen, orchestral synthesizer vistas (Prove You Exist), enveloping drones (What Is Sleep) or expansive, hallowed techno (Crushed Rave), Speeed's music consumes you.
Yet for all these descriptions, his music is non-prescriptive – it doesn't use its size as a way to evoke a particular emotion. It's something that Speeed tacitly acknowledges with his adopted alias, which is adapted from the silent protagonist of top-down view video game Grand Theft Auto 2. "I had this flatmate who was a video game designer," Speeed says of the name, "He liked games where the character you play as isn't fleshed out – maybe they don't have a name, or you never see their face, or they don't speak. It means that that the player can project themselves onto it more easily. I liked that as an idea – I was making beatless music [at the time], there was no singing on it. You project yourself onto it."
Originally hailing from Edinburgh but currently based in Berlin, Speeed's path from post-rock guitarist to instrumental solo musician started with a love of Boards of Canada, a band that informed his both his textural sound palette and his musical tone. "I think it was hard to be my age and into electronic music in Scotland and not into them," he says of their formative influence. When Speeed found that American Men, at that point his primary musical outlet, were becoming increasingly less of a going concern, he dived into solo work, inspired by BoC, his post-rock roots, and an interest in American minimalism – "but first level minimalism, like Philip Glass and Steve Reich." Speeed describes his production process as "a fairly typical drone artist approach", whereby he combines sample processing, live instrumentation, layering, and post-production, eschewing the gear fetishism and lo-fi that a lot of ambient music favours and working with the most modern tools at his disposal. Speeed draws spiritual connections to artists like Tim Hecker, James Holden, and more recently, Roly Porter.
With American Men effectively on hiatus right now (Speeed himself seems as uncertain of the state of the band as anyone else: "I met one of the drummers lunch last week, and he said 'I take it we're finished, then?' And I was like… 'well, I don't know!'"), Speeed's solo work is beginning to gather momentum. An album is being prepared for release through LuckyMe, while a second is already being prepared. "Originally the difference [between the two albums] was really sharp. The second one was a lot of washy pads and arpeggiated basslines; very synthy, basically, with no drums. And the LuckyMe one, at that point, was pretty much all orchestral stuff. But now the LuckyMe one is finished, the new one might go more in that direction – I think they're getting a bit closer [together] now."