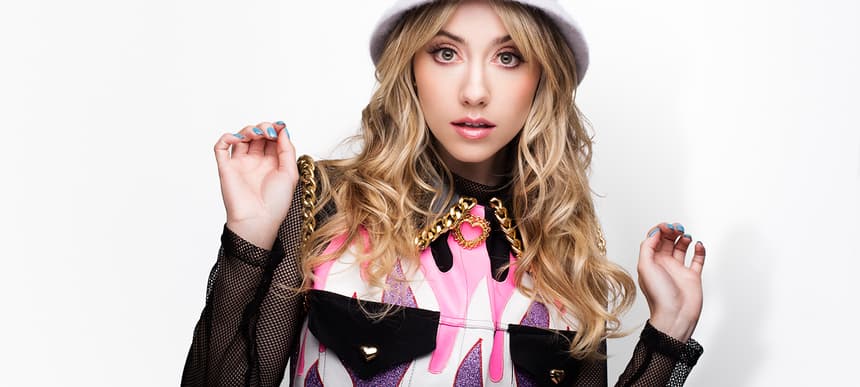 24.08.2015, Words by dummymag
Next: LIZ
S&M is hardly new territory for pop music, but if you're only listening to the infectious melodies and sing-a-long choruses of LIZ's superb new single When I Rule The World – or watching its bratty, candy-coloured video – you might not notice just how explicit most of its lyrics are. When I rule the world, then I'm gonna make you sweat / Dog collar 'round your neck, on your knees and scrub the deck, LIZ sings. When I'm on the throne, it's a total freak zone / You can call me mommy and I'll throw a dog a bone / Better bite on that bone or you're never going home / So bite it, break it, hit it, lick it, 'til I tell you to stop.
Maybe this shouldn't come as a surprise. On her Instagram, LIZ declares her "motto" to be "Creepy/Cute", while the song's producer and co-writer, SOPHIE, has expressed his fascination with the other side of cuteness before. It's pretty funny that it got picked up for a fairly innocuous Samsung campaign.
"I've definitely had that juxtaposition in my music since I was younger," LIZ says over the phone from her home in L.A. "I used to have this little logo that was a heart with devil horns – I put it on my Myspace page. There's always light and dark. SOPHIE is an artist who I connect with in the sense that I feel like he isn't what you think he is – it goes deeper."
It might seem like When I Rule The World appeared out of the blue, but LIZ is no newcomer. She first started to appear as a guest vocalist – sometimes under the name Betty Trouble – on tracks by Zedd and Rusko around the time that EDM was beginning to explode across the States. "I never really wanted to be a feature artist on EDM tracks," LIZ explains, "It just kind of happened. I was toplining and writing things, so the people I was working with asked me to stay on them. At the time, it was a foot into putting out my own stuff."
Eventually she hooked up with Mad Decent, who released some of her more straight-up R&B songs (with sideways explorations into UK garage and Jersey Club rhythms) through their Jeffree's sublabel. "I played some of the Mad Decent Block Parties last year and the reaction was always polarizing. People either didn't get it at all and wanted to hear aggressive drops, or people were like, 'Woah, this is really kinda weird and I kinda like it but I don't know why.' I'm grateful for the fans from that world, but I align myself more with pop stars and alternative pop artists."
For LIZ, those pop stars are the Britneys, the Brandys, the Madonnas, and the Mariahs of the world (and Gwen Stefani, who she refers to simply as "Gwen"). Although these are all childhood heroes, LIZ is no throwback artist. "I like uncovering what's bubbling in the underground and collaborating with those producers, making something kind of pop and mainstream out of it," she says, "That's what Madonna did, right? It's always important to put a 'future' twist on whatever you're doing. It's got to be modern."
There's one connecting thread that draws LIZ to all those artists. "The thing I appreciate most from that time was just how hardworking those people were," she says, "There was a much higher threshold for talent. Nowadays people get away with murder, but back then you had to work so hard. You'd be in the dance studio rehearsing your butt off every day. You had to be with a vocal coach." Speaking to LIZ, this doesn't come as a big surprise. She's been working tirelessly behind-the-scenes on her craft for years. She was writing songs with producers from the age of 13, and spent a lot of her teenage years gigging tirelessly around L.A., playing hundreds acoustic shows in coffee shops just for the experience of performing to a crowd. For over 10 years, she was a ballerina. Still, she remains pretty humble about it all. "I just appreciate professionalism," she says, "I don't feel entitled to anything. It's a mixture of hard work, talent, creativity – and luck."
LIZ has been working with other colourful dance-pop producers who began to gain recognition after the success of PC Music, like Henrik The Artist, as well as A. G. Cook himself on a track called Lipgloss & Cherry Pop that will most likely to appear on a new PC Music compilation. She's also got another song with SOPHIE lined up called High School Love, detailing a dream of one day experiencing a love as exciting and pure as a high school romance. Further names that she reels off include Wave Racer, Lido, Sam Tiba, Diplo, and Purity Ring, although she's not certain what she'll do with these tracks, if anything. "I think I'm gonna put out an EP before the album," she says, "I might leak some stuff in mixtapes. I still have the option of releasing things on Mad Decent and Jeffree's for free, too. There are so many different ways to release music now – I wanna make sure that when I do release an album, it makes sense timing-wise."
When it does land, LIZ wants that album to connect to her younger self. "I'm trying to get back to the root of who I was when I was younger – before I was jaded by things," she says, "When things were more carefree and just… more real, really."
Columbia Records released When I Rule The World on July 17th 2015 (buy).