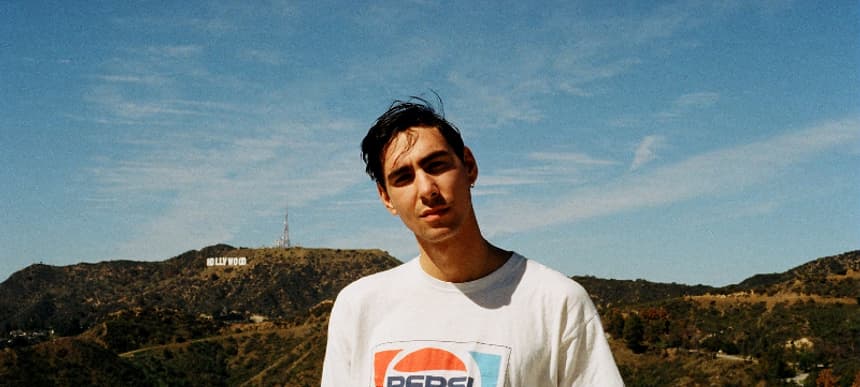 11.05.2015, Words by dummymag
Next: Oscar
Oscar Scheller is poring over the liner notes of a record by early-'80s post-disco studio group Change when we meet on a sunny spring day. He picked it up in a bargain bin on the short walk between the train station and the café we're meeting at – Oscar's an avid record collector, and one who's enthusiastic about just about any genre out there. Over the course of our conversation, he mentions everyone from Beck to Missy Elliott to J Dilla to Crystal Castles to Amy Winehouse to classic crooners like Buddy Holly as influences on the music he makes under the simple name of Oscar, and he plays me clips from some of his numerous side-projects – one is a Jersey Club-inspired dance track, another is a 2-step banger he and his friend made in Brighton one hazy morning which ended up getting a spin on DJ Haus's Rinse FM show.
All of which might come as a surprise if you've listened to some of Scheller's music. Over his first EP and recent single Daffodil Days, Oscar has perfected his own style of what can only be described as guitar pop: hook-filled, riff-heavy, and richly melodic, calling to mind the work of classic-era Sub Pop bands.
Such eclecticism is perhaps befitting of Oscar's own upbringing. Oscar grew up in North West London. His parents were both musicians themselves – his mum attended seminal punk venue the Mudd Club, while his dad was in new wave band The Regents in the '70s and would go on to make acid house anthems with Funtopia a decade later. They sent him to a "hippie school", gearing him up for a creative lifestyle in the future. "It's definitely a privilege," Oscar says of his nurtured childhood, "But it can be a handicap too, because when it came to going to a real school it was a fucking nightmare."
From the age of six, Oscar was playing piano, and from eight he was singing. "I've got all the classical training, but I can't read music," he says, "I hear everything and remember it, which definitely encourages writing more. You definitely need to have an imagination and an adventurous spirit to write songs."
Later, he studied fine art and sculpture at Central Saint Martins, but found himself falling out with the university culture. "There was a real disregard for classicism in the contemporary world, and I found that really hard to deal with," he says. "I had a naïve view of what art school would be. I thought it would be the Promised Land. And I got there and it was really over-intellectual and quite clinical and corporate and nauseating."
Instead of going to classes, he'd write and produce songs in his bedroom using a cracked version of Logic Express. Oscar considers himself a classicist in the sense that he has "a respect for craft and conventional pop songwriting, and I care about melody and structure", but the music he was making was informed by modern, sample-based production that's closer in many ways to hip hop beatmaking than it is to rock'n'roll. The way that he talks about other people's music makes it clear that he's no amateur: one of his favourite bands as a teenager was The Radio Dept., admired for "the way they mastered their melancholy, in that very Scandinavian way." They informed a lot of his ideas about production – "very lo-fi, very distinctive, and quite distorted – but also ambient, with a very close-up vocal sound and room mic drums. That's what I was all about."
These different ideas have appeared throughout Oscar's short discography, but they manifest themselves most clearly on his newest EP, 'Beautiful Words'. Forget Me Not sees Oscar's baritone riding atop a looped breakbeat, climaxing with a scratchy guitar solo, while the synth stabs that open title track Beautiful Words are almost PC Music-esque (in fact, Oscar is an old friend and neighbour of label head A. G. Cook). Critics have made surface level comparisons between Oscar's music and Blur's, but if anything, it's much closer in spirit to a different Britpop band – the lo-fi, collagist approach of Elastica.
With his next release, Oscar will continue to move beyond the bedroom, bringing other producers and engineers into his world. "I'm really excited about opening it up," he says, "It's almost like a coming of age thing, being confident in your craft and then being able to have that experience with another person there." He hopes to release his debut album early into 2016. "It's gonna be a whole mixed bag – like me. It will literally look like my record collection." Most of it is written, with the last undertaking being to pick "11 or 12" tracks – anything over that is indulgent. "Unless you're making a hip hop album with interludes and skits," he says, "But I don't think I'm ready for that just yet."
Dummy presents: Formation, Oscar, and Aldous RH takes place at Miranda @ Ace Hotel in Shoreditch, London on May 12th 2015 (info).
Wichita Recordings release the 'Beautiful Words' EP on June 22nd 2015 (pre-order).