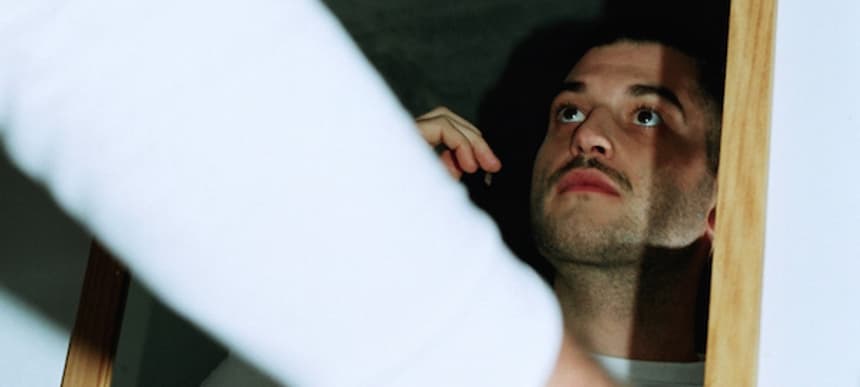 07.07.2015, Words by dummymag
Next: Stay Bless
George Cassavetes, aka Stay Bless, first caught the public ear with Always in mid-2013. Sparkly, melancholic, and confessional, Always was accompanied by a music video where he stripped himself bare, echoing the vulnerability of his soliloquy. A year later, Cassavetes' debut EP 'Faded' further illustrated his understated take on pop, as equally tinged with desolation as it is bliss. One might expect pop songs about love to be painfully complicated and dramatic – and the artist even more so – but Cassavetes has managed to find the winning formula: being transparent and allowing the audience to identify with its simplicity.
Through his music, Cassavetes tries to keep the essence of a single track as simple and decluttered as possible, so as to get the message across without it getting lost in the unnecessary layers of post-production that, as he explains after exchanging greetings at a café in Old Street, "seem to plague most things in the charts." His preoccupation for lucidity was fostered by a strict diet of film soundtracks during his formative years, where he practically "never listened to anything pop, rock, or whatever was on the charts at that time" until he was in his pre-teens. "My father would always put on these film soundtracks in the car or at home," Cassavetes says, "And that was always a source of comfort." That love for film scores led Cassavetes to pursue an education in filmmaking ("Hans Zimmer really got me into it," he says) and in that process, he became slowly fascinated with the nuances of music production. "I learned how to do some production on my own, and was doing some backend work."
Like many bedroom producers of the early 2000s, Cassavetes was fascinated by the upsurge of grime and techno that rocked the UK, and produced a couple of tracks under a different moniker. The pivotal point for Stay Bless came when he decided that he "wanted to use my voice to communicate whatever I was writing and feeling at that moment in time." That desire to combine his vocals and production skills was bolstered by meeting Dev Hynes at a party while he was still in America. "It was natural to decide to collaborate, because we were hanging out regularly," Cassavetes says, and when Hynes and his girlfriend Samantha Urbani visited him in London, both their professional and personal relationship was "a big contribution" to the adage of love that his lyrics and the project of Stay Bless is built upon.
"I love speaking about love," says Cassavetes, taking a swig of beer, "It's an essential part of any person; it's definitely an aspect for what it means to be alive." His interest is primarily the "construction and deconstruction" of love, which is evident from the combination of wistful vocals, sentimental lyrics, and glossy melody lines, weaving an aural tapestry of a relationship. The acute feeling of loneliness has a major part to play in Stay Bless, and it's through this project that Cassavetes wants to be a part of a soothing revolution. "I know how it feels like when people are lonely even though they want to be heard. I try to channel that into a song. Hopefully they'll feel that it speaks to them."
The conversation drifts to his new collaboration with former Roll Deep MC Trim on Distance, and being able to make a statement as an artist. "Trim is one of grime's deviants," Cassavetes says, "No one can place him in a certain category." That air of bravado fits well with his ideals as a musician "doing what he thinks is right" in the situation.
Cassavetes is content with keeping the attention away from him, preferring to focus on his music and how it could possibly relate to listeners. "I don't want to wax lyrical about most of the things I write and sing and perform," he says determinedly, after mulling over my question for a moment. "Everyone talks so much nowadays, no one sits down to think and listen and connect."
Dummy presents: Clarence Clarity, Stay Bless, and Groves at Miranda @ Ace Hotel, London on July 15th 2015 (free tickets).
In Stereo Records released the 'In Paradise' EP on March 9th 2015 (buy).