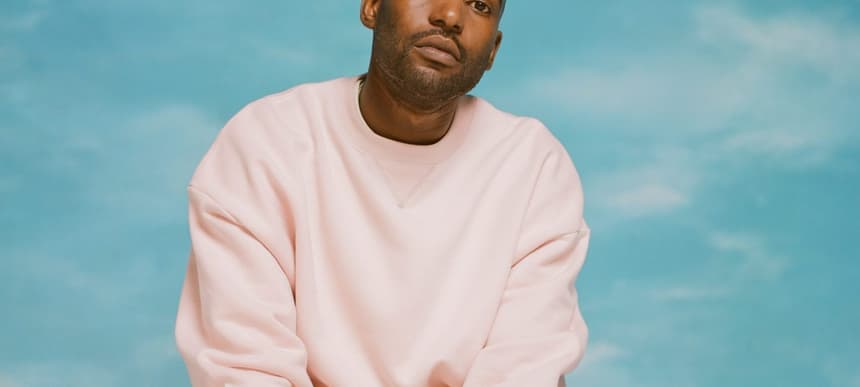 23.07.2020, Words by Robert Kazandjian
"I want to keep people excited": Piers James is the genre-blending artist defying convention
The Ipswich-born artist talks his Ipswich roots, fatherhood, and BLM
Piers James is unapologetically doing things his way. The Ipswich-born artist raps with an effortless swagger that recalls transatlantic boom-bap legends, but with an unmistakably British twist. A synthesis of jazz, R&B and reggae informs the calm, breezy tones of his singing voice. He produces the majority of his tracks, using live instrumentation wherever possible, and at no point does any of this feel fake, formulaic or forced, Piers has learned to simply be himself.
Playing classical piano as a child, before cutting his teeth lyrically as a teenager in and around his hometown's grime scene (if you're lucky enough to remember Channel U's golden age, then you'll remember Ipswich's Hectic Squad), Piers found that the gritty street-energy of 140 BPM shellers didn't speak true to his lived experiences. He sought avenues that allowed him to articulate the isolation of growing up in a superficially pleasant, scenic place which was just as poisoned by racism as any cityscape. This meant he has been experimenting with his sound from the get-go, and this experimentation blossomed when he moved to East London for university and was introduced to new sounds. Piers became determined not to pigeonhole himself.
His latest drop, 'A Dying Breed Part.1' is symbolic of this determination, from the playful keys of 'Can't Be My Girl' to the boastful flexing of trap-heavy 'Pretty Boy' and the patois-laced 'Pon Dem'. Each of the six tracks stands alone sonically, but underpinned by Piers' warmth, the project still feels cohesive and points towards a bright future. The standout cut, 'Young, Black, British' was written three years ago, but its message of unity to transcend struggle feels more vital than ever.
Tell me about your come-up in Ipswich, and your early experiences with music.
I grew up in a little village where it was predominantly white people. But it was nice, you know, nice countryside, got to bike around, do some nice things. It just wasn't popping like that musically. There was always boys around the area that rapped in town and stuff. If you know anything about the history of Ipswich, we had Hectic Squad and they had a tune called 'What Do You Know about Ips?' It got onto Channel U. It was like: "We got bad Bs in Ips," and shit. My cousin was a singer who was part of them. And so I was obviously around it a little bit in that respect, but I was a bit younger at the time. So I must have been like 13, 14 when I started properly getting into Sidewinder and had the tapes – I'd be listening to it all the way through. I started challenging myself, rapping, writing. My cousin introduced me to a producer and I started writing with him. He gave me Reason and Fruity Loops and I started making beats on my laptop. From there I was just experimenting, learning the skippy flows and how to improve and stuff. Then I got to a point with grime, I don't want to offend, but you get to an age where it's like 'Suck your mum, suck your mum,' all the time. Is there more conscious things, more experiences that I can speak about than that? This was around the time when MTV Base was popping and Channel U with classics like Choong Family, The Mitchell Brothers, Kano's 'Brown Eyes'. I resonated a lot more with that but also I love Pharrell, I love Wu Tang Clan. The 'Gravel Pit' video always enticed me, it was really exciting. I just really enjoyed feeling where if I was going through something, I could resonate with the music, whether it'd be a girl, whether it be a place or experience. Also, I had piano lessons from when I was 7.
I didn't know that!
My mum put me into lessons when I was 7. By the time I got to like 11, because I was doing so much sport, I was like 'I can't be bothered with this,' I wanted to go play football, so I sacked that off. But then obviously, as I got older, like 17, 18 I was like 'fuck, I could've used that piano to make some beats here,' you know, with a keyboard and stuff. So you know, swings and roundabouts, but I'm kind of glad that I didn't go all the way through to the eighth grade. When you have so much theory in your head, you're not able to make what you wanna make because you're so fixed upon 'That's how it should work' as opposed to 'That's how you hear it.' Does that make sense?
You feel bogged down by the theory of it?
Yeah, like 'but that doesn't make sense in terms of chords.' I've had that with a lot of session musicians, you know, moving forward where it's gotten like 'Yeah, but that's not how you do it' or 'That's not how you edit' or 'That's not how you mix.' I'm like 'Yeah, but it doesn't feel right.' I'm glad I really experimented with my sound and got to a place where I felt I could make anything I wanted to make.
In Ipswich was there a Black community which could support you, or did you feel quite isolated?
Nah, there was a community of Black and mixed race and people around who you'd see in town and clash with and such, but where I lived in the village, there wasn't a lot of people. Even the school I went to, it was predominately white people. When I moved to London for university and stuff, I felt like a bit of a duality in a sense. Have you seen 'Greenbook' before? Like understanding that I'm a Black man in a white community, but I can't relate to them because I'm not white, but at the same time I'm not from the hood so I can't really relate to the Black community in that sense because I haven't come from a place of being on the streets. I can't relate with the hood because I'm not from the hood but at the same time I've had experiences that are the same, you know? Like being jumped by a whole pub. But my mum and dad always taught me to just be myself. I had to deal with a lot of subtle racism in school, but I had to stand up for myself. When I was in Colchester, which is squaddie town, I had to defend myself there as well, you know?
Yeah, you must have experienced some horrible things, man.
It's been a ride. Toughens the mind. Toughens the body, I guess. It's fucked, man. I think with all the Black Lives Matter stuff as well, I think it's really honed in on my past. I let it slide because like what could I do at the time? But we move!
Your safety is paramount at the end of the day, man, and if it's not safe to react in one way then you have to react in a different way. So at what point did you move to London?
18, I moved down to London. I moved into halls, I was in Bethnal Green. There were a couple of Germans, a Spanish guitar singer, an Irish guy who was part of an indie band and another guitarist who was a rock person. Then my housemate who lived next door to me was a spoken word poet, but loved hip-hop like I did and was using Logic and had a keyboard as well. We just kicked off and started producing and working together, making stuff through the whole of uni. In terms of what I was listening to, I evolved as well. I was listening to an array of music from bands from Ireland and rock bands, some Spanish and Latin, soul, even German rap. I got a real eclectic taste and I realised that I don't have to pigeonhole myself. If I like it, it's going on the playlist.
Did that impact your artistry?
One hundred percent! You're gonna hear a lot of stuff from me. What I'm dropping now is still different, but when I was writing this stuff, this was three years ago. Going through uni, especially in my last year when I started creating videos and doing that kind of side of things, I was like 'Man, I'm really doing something different. I feel like I can bring something different to the table from what I've heard in the UK.'
What helps determine what kind of song you make, because you're sick at blending different genres?
Honestly it depends. When I finished uni I went back to Ipswich for a bit to do some recruitment work. Then I came back and sacked that off because I stacked up a bit of cash to really push myself into [music]. I was like 'Right, I want to make an album.' When I was working I thought, 'What could I do if I really put my all into this?' And could really just hone my sound, day after day after day because when you're practising something, it becomes second nature. That's when you're creating your best stuff. One of my favourite albums is Pharrell's 'In My Mind'. When I listened to that album, like the way it was laid out, it was all different, it wasn't just one style. It was a bit of singing, it was a bit of rapping and it all felt good. I just wanted to put my head down, work with some of the artists around because at this point I'd met a lot of guitarists and pianists and saxophone players. They had the same feeling as me that we're a dying breed in that sense, you know, the artistry of music is being taken away. Back in the day, you had to have a talent to become a celebrity. When these reality shows come about, people just start becoming celebrities for no reason. It becomes a harder task for a musician because they couldn't just do music, they had to be a musician and a spokesperson and a personality, you know.
The title of your EP is 'A Dying Breed'. Does that explain the meaning then?
It's open to interpretation. I personally have different meanings to it. For example, in the sense of the music that I'm making. If I died tomorrow, would I be happy with the music that I was making? Secondly, like I was saying about social media and the emergence of reality shows and celebrities that don't really have to do anything to be celebrities nowadays, that's another reason why it's 'A Dying Breed'. Also, the music industry and how people are using certain UK rap sounds to get popular and using that formula, which is fair enough if they want to do that. But I'm a little bit older. I'm 30. I remember when I had dial-up internet! We would listen to music on the TV, on the radio. You know, as we moved forward, the internet kind of killed the radio. And the streams have come into that. Now everyone's more driven on what makes them successful with streams as opposed to actually putting your art into the music.
What is the thinking behind splitting the project in two? Because there's going to be another part to it.
To be honest with you, the reason is because of social media. I really, really wanted to drop this as a 12-track album, right. But if I dropped two singles, three singles and then I dropped a 12-track project, it would on deaf ears. In order to get the maximum amount of attention to the songs because every song is individual to me, like I will never try and make something that's the same, I always try and develop my sound or make different sounds or different concepts, so I thought it was a good way to start bringing in the core of a fan base, you know, where they're excited for your next drop. I want to keep people excited.
How long are we going to be waiting for the second part?
It's already ready, man. It's coming for the end of the year.
Tell me about the recording process for the project.
This was 2016 so I was still in Ipswich at the time. I was working, finishing up in recruitment. And I was back and forth from London, whether that'd be working with certain people in a studio called Platoon, or whether that'd be at my house. I'd just have people come to my house and we just plug in the guitar, plug in the piano and make some stuff and you know. Just really experimenting with sounds which made us feel as though we were resonating with the old school. But I didn't want to just do boom-bap because I'd done it on my 'Vibes and Tribulations' stuff and I didn't feel like it was resonating. A part of my personality is I grew up on grime as well. I like the energy and I thought, 'What would happen if you could mix the two together?' I think that's where my sound ties, where you can hear it's reminiscent of the golden age shit, but then it's like switched up and I've put a little bit of energy on it, you know? When I was writing them tunes, I wanted to hear them like I was going to be doing it in front of like a 20,000 crowd or 45,000 crowd.
Something that stands out on the project is it's almost free of what I guess we'd call toxic masculinity. Was that a conscious decision?
It's just who I am as a person. Ego is a big part of rapping and a big part of the culture. So when you're stuck in like the rut of the algorithms and the formulas, you're talking about 'bad bitches'. So it's like have some confident vulnerability and actually understand that's not who you are. It's ok to be yourself, you know? It just comes down to how bad you want it and how far you're willing to push yourself to be yourself.
'Young Black British' feels very timely, when did you write it?
Yeah, it seems timely, but I promise you I wrote it in 2016. It's just so weird, man. It is so strange. I was like 'nah, this is crazy.' And I see John [Boyega] getting up there on his spokesman shit. I was like 'Nah, this is mad.' And part of me wanted to just drop the tune when all this stuff was happening. We already had 'Can't Be My Girl' coming out and we were giving it a four week lead-up time. I didn't want to just jump on what was happening with Black Lives Matter. I thought it's probably better to just go with our release plan and what we're doing.
What is the message behind the track?
All through my life I've felt, as a Black man, I'm looked upon as a second rate citizen. So I say, 'look at these higher-ups thinking that we're a handful,' and all we're trying to do is express our way of life and understanding. Also, in terms of business and life, are we really valued in the same way a white person is in the industry? It's about understanding that we're living in a society that is not set up for us to thrive and succeed in the fields that we want to, and it is gonna be a difficult task but as long as you keep pushing through and understanding that we're just as much, if not more talented than a lot of the people I'm seeing coming out, we can come through if we come together and unify.
"The fact that we're having such a debate about [racism] shows it's still alive."
Where do you think we're at in the UK in regards to BLM and what has been an awakening for many people?
We're dealing with ignorant people. And unfortunately ignorant people don't want to listen to reason. It's really good that we've been able to open the conversation up to this level but we've still got a lot of work to do, man. We've still got people in power that aren't really in the best interest of the communities. The fact that we're having such a debate about it shows it's still alive. You see certain things that are said online and, and even me having conversations with my friends and having to really check them about shit. This is not dead and this is not dying anytime soon.
What things do you think the music industry needs to be doing in relation to this?
I think there needs to be more investment into the Black arts community. It seems to me that there's very little opportunity for people of colour to really be able to shine and we really have to go from a place of 'this is what we live in' and hope people relate to it so then we can afford to keep going and doing what we're doing. Obviously, you have the anomalies, people like Stormzy, the big artists that have come through and have been accepted. But I would just like to see more appreciation and less appropriation.
Are you currently independent?
I've always been independent. With the labels, it's easy for them. It's like a system for them. Okay, they can see [artists] getting these numbers. 'He can make some money, let's get him off the shelf, put him on our roster.' Then they come off the roster. How many times have you seen a Black guy get dropped? They'll do a couple singles, an album and they're out the door. And then it's 'Okay, we'll find the next one. We'll sign the next one.' But again, I'm saying the difference between the Black and the white side is you see the white people are still on labels, obviously they're still going to get dropped if they're not being successful. But there's a lot more time and attention being put into how they're being presented, rather than this narrative of 'Cool, let's get him a car in this video, let's get some babes in this video. Yeah, that will do.' Where's the creativity in that, you know?
Is your aim to remain independent, then?
Because I'm writing, producing, mixing and mastering my whole stuff, what sense does it make signing off my shit to it to a label? Of course in terms of monetary gain, they'll be able to give me money. But ultimately, like I said to you, I've been able to save up enough money to be able to really put what I want into the business in terms of the Piers James brand and push myself and my creativity. Not everything has to be like a 25K video. Sometimes you can just do it yourself. And when I've done it myself, I've found it more fruitful because I've understood the whole business.
So has being independent given you more freedom artistically?
Definitely, I'm a DIY artist. I'll do it myself if I have to. I've got friends who are creative as well. We like to pitch ideas. I really do like building from bottom to top.
Your career was temporarily interrupted by becoming a father. Tell me about that.
It wasn't planned, let's put it that way. You know the stereotypical Black dad ignorant people go on about, 'He always runs away, blah, blah, blah.' My mum and dad were married. My idea of moving forwards at the time was, you have a girl, you get a house and then you have a kid. I was doing part-time modelling and I was up in London, I was still making my music and stuff. I really thought I was going places. But then as this happened, I was like, right, let me be a man, let me step up, let me get into my recruitment work. Let me actually be able to provide for what I considered a family at the time, you know?
And then you jumped back on the music?
I think it was an understanding, like I'm not doing this just for myself. I'm doing this to provide a better future, not just for me, for my family, all of that. I don't want to just sit here and I don't want to be in recruitment for the rest of my life. I want to do something that I'm gonna enjoy.
What's the long term vision for you?
When I was leaving work to focus fully on music, I was seeing that music and arts were being cut from schools. Growing up, music at school was a catalyst for being able to do what I wanted. I was always making music at home, and I was good, but being able to have time at school as well, there was a couple of rappers at school, so we would go back-to-back at lunch and we'd be able to play music and stuff. I think the culture of music in education, if that's been taken away from you, then they're just pointing you towards things you might not be passionate about. So for me a big, big thing hopefully in the future is to be able to give back and potentially have little hubs where people can come in and maybe have studio sessions and maybe workshops and various different things. So then we can all grow and actually people can be themselves, you know?