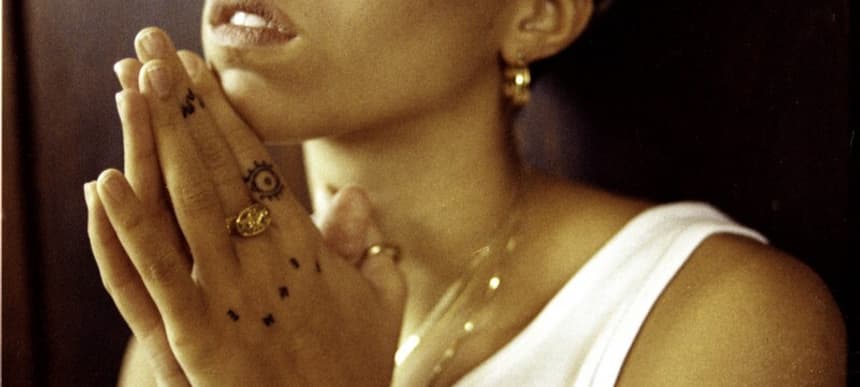 23.02.2018, Words by dummymag
Poppy Ajudha shares debut EP, 'Femme'
London singer Poppy Ajudha has garnered a reputation in a short time for injecting pure beauty and aeshetic into her music; her visuals are the stuff of genius and her shimmering vocals place real meaning onto her messages of female self-empowerment, identity and finding oneself in a world of distractions.
Today she shares her anticipated debut EP, Femme, an eclectic body of work speaking to those themes with glittering authority, while maintaining a level of boisterousness and nostalgia through her R&B, jazz leaning production. The project includes previously released singles 'Tepid Soul' and the Kojey Radical-assisted 'Spilling Into You', and two new tracks that bump just as heavy.
Having put so much of herself into her debut opus, she sat down with us to break down each track, and share stories of their respective creative processes, and their wider impact on her.
She Is The Sum
Poppy: "'She Is The Sum' is about female empowerment and shows a more boisterous side to my views on womanhood. The song looks at opposing ideas which have been cemented into our brains throughout history that liken women and womanhood to ideas of lust, 'lack' and desire and polarises the male/female binary to that of positive/negative, nature/culture dichotomies.
The song traces and deconstructs well known female traits such as patience, politeness, insecurity and selflessness that are conditioned into us from the moment we are born causing us to always put others (and often men) before ourselves and not be assertive about what we want. 'She Is The Sum' is aimed at reminding you of your infinite power, a power that has always been there deep inside you if you choose to notice it."
We actually redid this song a few times. The first time it went in the wrong direction and I realised the hard way that I needed to always have maximum input otherwise I wouldn't be happy with the end product. When I redid it I made a demo with my guitarist at the time, Oscar Jerome who co-wrote some of the chords and then I spent a lot of time alone on tailoring the melody and lyrics.
Tepid Soul
"Through 'Tepid Soul' I explore my identity and heritage. This looks at the familiar fragmented identity that is constructed through being of dual heritage and therefore often seeming to not fit into either sides of your family. I had never written a song on race prior to 'Tepid Soul' although it was something I thought about a lot, and I was cycling to uni whilst listening to a Gil Scott Heron song when the lyrics came to me. I almost killed myself by stopping in the middle of the main road in Waterloo to write them down before they left my brain; this became the chorus to the song. "Soak your hands in my tepid soul, you grab in pieces then you let me go" looks at the idea that racially spurred fantasies and fetishisms are constructed around certain physical features, and that women are then objectified through these desired elements, undesirable and demonised aesthetics are discarded, leaving us with a shallow and superficial sense of self that rests on our falsely construct level of desirability to others.
The lyrics "Whiteness blackness swallows me whole, drenched within tepid runs too cold" traces the idea of drowning in myself and looks at the identity conflict that is caused as others project their understanding (fantasies and desires) of my ambiguous racial identity onto me therefore controlling and fragmenting my own understanding of that identity. Every track is different and this one started with a chord structure and vocal I took to the band, we played around with it in a rehearsal and then I reworked it with Maxwell Owin, a close friend and producer. Later on, I finished the track with INBLOOM where we recorded all of the live instruments and vocals."
Spilling Into You
"'Spilling Into You' takes the feminist perspective on love, and breaks down what it means to love. It questions if love can be balanced when one person is so heavily objectified and perceived in such hyper unreal ways and how this in turn affects any relationship. Like in 'She Is The Sum' it also traces the idea of splitting yourself for someone else, trying to be everything, trying to be perfect, trying to always be enough and spilling everything you have into that person with the hope that you can fill them up and fulfil all their needs. This is an unrealistic expectation that women impose on themselves through lifetimes of being told this is what they should be.
When Ben Hayes and I started this we knew it was special, I came with the chords and vocals and a sound reference which I knew I loved and it became the retro synth hum that plays throughout the track. Ben Hayes is a musical genius and effortlessly helps you realise your vision, I couldn't have made the track like this without him."
Where Did I Go
"A nostalgic love song. When I wrote 'Where Did I Go' I think I was realising that what makes you feel safe and comfortable is not always what is best for your growth and progression, realising there were always more differences than you had hoped to have noticed, that you are probably at the end and you know it.
It was really nice recording 'Where Did I Go' because most of the instruments are live apart from a bit of post-production. I'd never recorded strings or harps before this track so it was beautiful doing that for the first time and then playing around with the sounds through distortion pedals. I'd also never recorded my own guitar playing on a song before so it was great to make that first step into instrumental recording as well as co-production, which I went on to do across all the songs of the EP. We also recorded the vocals in larger live takes with a Coles close microphone and two room microphones in the hallway of my drummer's studio, the natural reverb was perfect for the vibe and I was left on my own to get lost in the music, doing long live takes of the whole song."
Check out Dummy's curated playlists on Spotify.