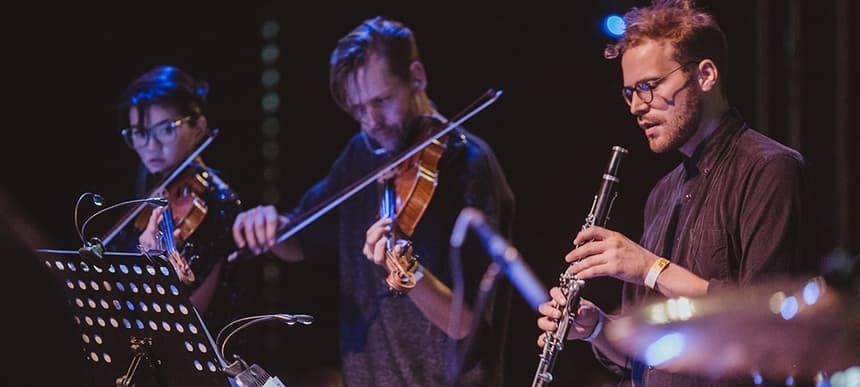 25.01.2017, Words by dummymag
Review // LCO Perform an Intimate and Mesmeric Tribute to Arthur Russell's Musical Legacy
It is now nearly 15 years since Arthur Russell's death, and yet his palpable legacy in dance, disco and perhaps less notably contemporary 'classical' music is arguably stronger than ever. As part of the Cello: Unwrapped season at Kings Place, the LCO (London Contemporary Orchestra) embarked on performing the UK premiere of Russell's minimalist masterpiece, Tower of Meaning.
Tower of Meaning, originally released in 1983 on Phillip Glass' Chatham Square Productions in New York, was Russell's first LP, and quite a divergence from the disco production he had become known for. It is formed almost into an unconventional narrative of short orchestral pieces, sometimes offering the listener comfort in its directionless but pleasant harmony, whilst simultaneously also creating a sense of unease. Tower of Meaning is minimalist, but also uniquely difficult to classify into any one genre, as with much of Russell's wider output. This gives an added level of intrigue to the work, which brings it almost into the realm of performance art.
In this performance, the LCO was led by Bill Ruyle, and featured Peter Zummo on trombone, both close friends and collaborators of Russell's in 70s/80s New York. Even without knowing the history of those performing the piece, you could feel the significance of the performance to Ruyle and Zummo in particular. The decision to perform the piece in a promenade style, with the audience completely surrounding the orchestra, and the presence of these two close friends, added a level of intimacy that the piece deserved. It was this intimacy that helped make the performance so mesmeric. At points you felt unable to see where the piece was going, and unable to recall the minutes preceding it. In that respect the performance held similar qualities to Russell's dance music, transporting you away from structure and allowing for time to pass without notice.
Whilst visually intimate, the performance was audibly unrelenting. Throughout the piece you find yourself searching for dynamic, melodic or harmonic structure, and the one aspect that really doesn't relent is the dynamics. The audience is dropped into a complex textural sequence, each instrument both complementing and interrupting one another, but with the overall effect of controlled chaos. It seemed from the clattering and coughs from audience members that people's tolerance of this varied, and concentration drifted in and out. On the other hand this process seemed necessary to fully enjoy the performance, as if people were grounding themselves in reality before plunging back into the music. Inevitably the audience were jolted back into consciousness when the piece ended, trying to make sense of it, and checking their watches in disbelief.
The performance of Tower of Meaning seemed more demanding on the audience's concentration than on the technical ability of the performers. The cellist, Oliver Coates (more on him later), gave a prominent, thick and sometimes distorted bass texture throughout, suggesting that Russell may have drawn more influence from drone music than anything else. Coates did have virtuosity in abundance though, this was made apparent in his performance of Bach's Prelude to Cello Suite #4, which actually in hindsight felt a little misplaced in the overall programme. It's clear to see why Coates was one of a number of cellists performing with the LCO on Radiohead's 'A Moon Shaped Pool', and his solo efforts (see Upstepping) combine his love of deep house, techno and ambient in a very familiar way to Arthur Russell himself.
Perhaps the most stand-out part of the evening though, was in Coates' performance of Mica Levi's 'You Belong to Me'. This performance was special for a number of reasons; musically the textural complexity of Levi's arrangement for a string quartet, and Coates' performance of the piece drew the audience in masterfully. However, the thing that stood out clearly was the influence of Russell's legacy in Levi's work. The importance of texture, the lack of structure, and the almost psychedelic approach to a very traditional instrument all ring true with Russell's work. Mica Levi is just 29 years old, and has had previous successes in the pop world (see Micachu), but is turning her hand to film composition. Her most recent work includes the Oscar-nominated soundtrack to the upcoming film Jackie.
This performance was much more important than just a UK premiere of Tower of Meaning. Seeing performers both directly and indirectly connected to Russell on stage, and feeling his legacy through performance was a fitting tribute to the man, and gave the evening a special poignancy.
Review by Johnnie Campbell