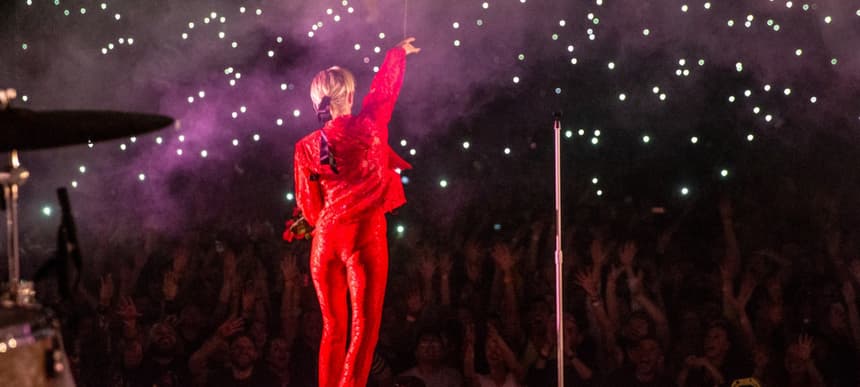 17.04.2019, Words by Ben Jolley
Robyn's first London show in eight years was pure pop perfection
There wasn't a venue more befitting to the queen of pop than Alexandra Palace…
Real-world worries were left at the door of Alexandra Palace as 10,000 pop fans made their way inside the majestic Grade II-listed building for the long-awaited return of Robyn. Beaming smiles formed an electric atmosphere centred on unity, acceptance and, most importantly, joyfulness, as Kindness's warm-up set of pop throwbacks – JoJo's 'Leave (Get Out)' and Mariah Carey's 'We Belong Together' elicited singalongs and carefree dancing, setting the tone perfectly for what was to come.
Even before the Swedish superstar arrived onstage, deafening screams echoed around the room – then, Robyn appeared, stood still at the top of the staircase, as pink-hued strobes lit up the stage. Though she remained purposefully still throughout opener 'Send To Robyn Immediately', as soon as 'Honey's pulsating drumbeat and bassline kicked in she began to descend the stairs, slowly opening her eyes and loosening her stance.
What followed was a throwback to the mid-2000s, as older fan favourites 'Indestructible', 'Hang With Me' and 'Be Mine' fired in quick succession, each reaching fist-pumping, sing-along heights.
Seamlessly moving between the old and new, the summery Ibiza-lite anthems from her eighth album 'Honey' fared equally well, creating a sweaty club-like atmosphere as the house beats of 'Between The Lines' and 'Missing U' energised the audience – many in sparkling jackets – who turned out in force for Robyn's first London show in eight years.
While many artists in the current streaming era feel the need to fill their shows with as much as possible (even if it creates an over-cluttering of ideas), Robyn stripped things back to basics, focusing solely on singing and dancing – and it was an approach that worked in her favour.
An emotionally-charged 19-song show that was full of dance pop anthems – including some of the biggest heartbreak hits of the last decade – she put many of her modern day contemporaries to shame, thanks to some incredible dance routines.
The '70s-styled band – including a glittery suited keyboardist and two vocalists – deserve recognition too for their impeccable performance, as well as a vogueing dancer who ensured everyone kept focus on the stage while Robyn disappeared for a quick costume change.
Switching from a silver dress and knee-length boots into a fiery matador-like suit with her blonde hair tied back, the second half of the show kicked the visual performance aspect up a gear.
During her La Bagatelle Magique-collaboration 'Love Is Free', Robyn crawled suggestively across the floor with her tongue out before shimmying her shoulders as the track spiralled into rave hedonism. Moments later, during 'Don't Fucking Tell Me What To Do', she knocked over her microphone stand with purpose: an action to demonstrate her full control over every aspect of the show.
The biggest response, though, was saved for the incredible one-two of 'Dancing on My Own' – arguably her biggest hit to date – and its 2018 counterpart 'Missing U'. Robyn looked genuinely moved as the music came to a silence and the entire room belted out the chorus acapella – it was heartwarming to see she's still so humble.
"I can't believe that we've sold out Ally Pally twice… it's crazy," she said in her soft Swedish accent, melting even the stoniest of hearts as friends formed heart shapes with their hands. "It's so nice to see you all here," she added. The love in the room was undeniable, demonstrating the unifying power that music can have. A celebration of everything music can be, Robyn's return was a masterclass in pop.