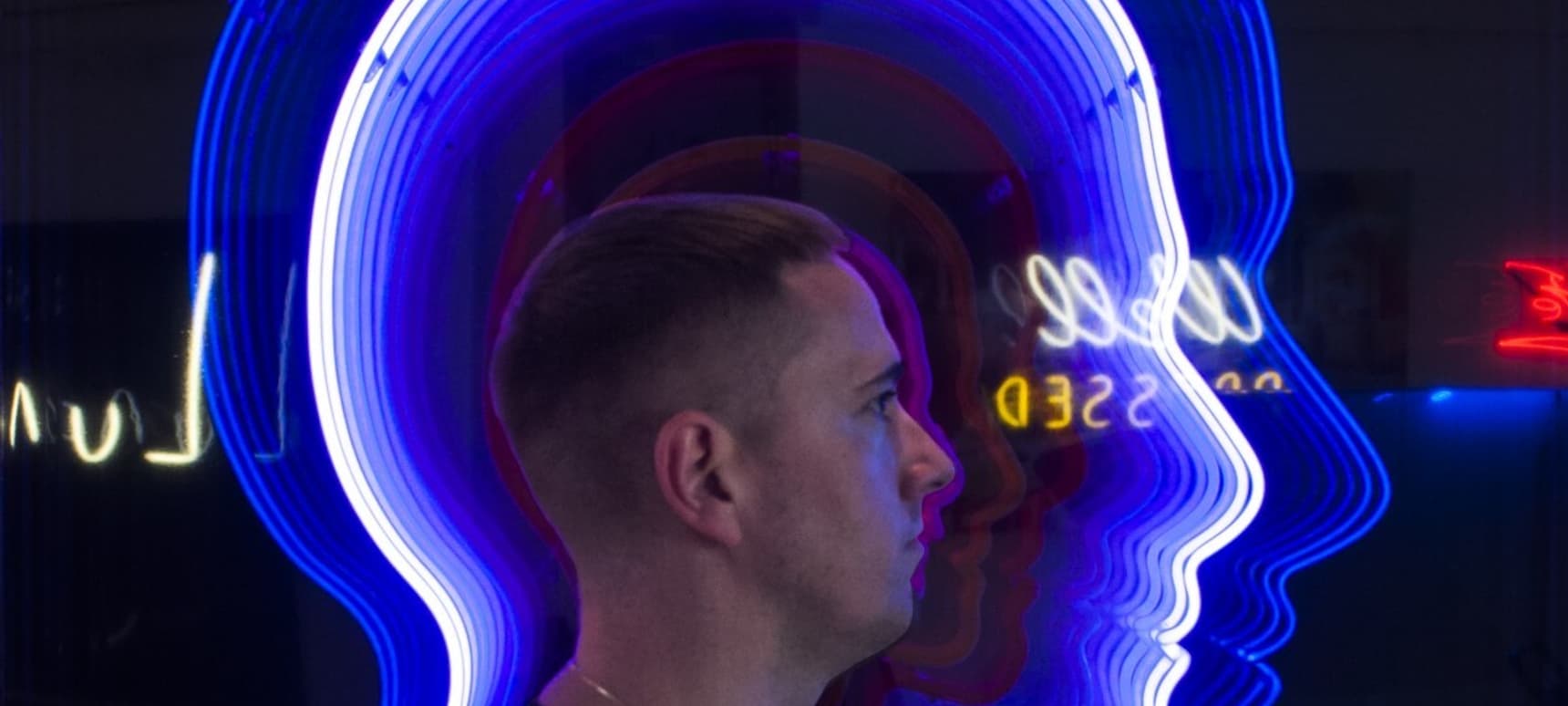 29.07.2016, Words by dummymag
Rushmore: "Now the album's done – it's kinda like giving birth you know?"
Despite a slew of well publicised venue closures over the past decade, London's club music scene continues to thrive through new generations of promoters, partygoers, and dancers who enable a semblance of rave culture's original ethos of freedom and homespun creativity to seep through the cracks of council bureaucracy and impending civic development. One such enterprise was the recently-folded House of Trax club night – an intimate, irregular and not-strictly-legal party featuring DJ partnership Fools and Rushmore, which became a haven for unabashed positivity and cathartic dancefloor expression. Focussing on a re-upped transatlantic voguing and house ballroom scene, it wasn't long before the HOT ideology morphed from physical happenings to an IRL record and clothing label in the shape of Trax Couture.
Featuring the music of a new generation of producers, leading from the front was House of Trax resident and label head Rushmore, whose two initial releases on the label set the tone for open-ended club jams with a multitude of influences: from Chicago, to Detroit, to London and beyond. Tracks like 3000 were pitch-bending experiments to test the finest voguers and footwork dancers, whilst later releases like Drop Top (released via DJ Haus' ever-active Hot Haus label) were peak time club tools with more than one foot heading for the future. A busy figure on London's club scene, the time Rushmore has invested in homegrown events and producers has been part of a progression of a class of talent that can now count artists like Akito, Dreams, Sylvere, and Evil Streets or labels and events like Sans Absence and Tropical Waste among its ranks.
Now taking the plunge into his first full length project, Rushmore looks set to enter a new phase of his career, with the 13 tracker 'Ours After' featuring a number of new vocalists and a style somewhere between hypnotic club hip hop and globe-trotting instrumental basement tracks. An album steeped in as much atmosphere as action, 'Ours After' explores a new sonic territory whilst reflecting the all encompassing cultural attitude of the club world that so influences its creator. With the album dropping today, we settled into a pub corner with Rushmore to take a look at his album process, the role a trip to Japan had in his creativity, and how being a youth in Cardiff's clubs still informs his output today.
The album is perhaps a little removed from preceding Rushmore material inasmuch as a more evident song structure on collabs with Josh Caffe and Cam & China. What made you want to present this collection of tracks differently?
Rushmore: "The initial thought process came from something Ben (Fools, partner in House of Trax) said ages ago. I think when we were on Trax Couture's third release (with the first two EPs being mine), we were just talking and he said "I guess by the time you've done six EPs you'll then want to do an album." It was proper offhand and just stuck in my mind. I don't if it was a subconscious goal of mine or something I would have always worked towards, but timing-wise it's worked out in a way that having now done five of my own EPs and couple of other track features on other labels. I was sat on the bus and was self analysing how I make music – how I try and tie different genres together, or how I may try different beat structures – so the album started as a reflection of how I work on music, trying to pull the genre barriers down and decompartmentalise my approach. There was a lot of stuff running in my mind of how I wanted to try and make different versions of a genre, or maybe try one thing in the style of an opposing genre."
Obviously the album format presents itself as an opportunity to represent yourself more thoroughly…
Rushmore: "There's so more to think about [in an album]! The immediate thoughts and feelings that come around when approaching it are like the shackles are off. Obviously you can do that with an EP using a shorter selection of tracks, but you have a smaller space to work within. I suppose even with what I'd worked on in an EP format, I'd potentially still be put into a box due to what I'd previously made, so it's a chance to rewrite what you want to do within an album. Part of the excitement, and the challenge, was to explore and go as wide or deep or weird as I want. I could've done an album with 13 bangers on but I just don't think I would've done myself any justice that way. I grew up listening to loads of albums, my approach comes from that generation. Even before albums I would listen to mixtapes or tape packs, going through the whole sets and then just go back to the start and hearing it again. I don't think we were brought up to listen to things at length, or if it's even changed now but [due to the internet] there's definitely more music vying for our attention."
"The album started as a reflection of how I work on music, trying to pull the genre barriers down and decompartmentalise my approach." – Rushmore
The beauty of club music and culture is its place as an all encompassing crucible for people of every race, creed, and sexuality. How important has this outlook been in the construction of 'Ours After'?
Rushmore: "I think by and large the album is just a reflection of my personality. I've always been quite positive, I generally lean that way. There's always a mixture of happiness and darkness, and that's reflected on the album. I think at the moment the way people are with the media, everything is quite negative and I get that. I listen to it, but try not to absorb it. Putting more of my persona into the album, and reflecting some of the influences, cultures and spaces I've operated in throughout the parties and the label was important. Since I was young, I feel like I've always been open minded mixed with different cultures, and had gay friends, even back in Cardiff [laughs]. Actually there was the sickest nightclub in Cardiff when I was growing up, called the Hippo Club! I think it all goes back to the way dance music culture started in the UK, which was through rave. That sentiment of an all inclusive outlook – whether it's in the music or the parties – is something I've tried to do. I mean in the Hippo Club, the bouncers didn't care what you were doing. You could have walked in with spliffs for arms and pills for eyes and they'd be like, "yeah go in there mate!" Old people, young people. I was going in there underage, and there were different sexualities, and everyone just having a good time. In venues today, you might have to be over 18 but most venues want you to look over 21 or 25, so it's down to their stipulation. They're the ones that let you in or not. Maybe I over-romanticise in terms of it being a realistic environment that you can create, but I also think that that environment has been lost in certain in some places, due to it becoming part of the economy."
"In the Hippo Club [Cardiff], the bouncers didn't care what you were doing. You could have walked in with spliffs for arms and pills for eyes and they'd be like, "yeah go in there mate!" – Rushmore on his teenage experiences of Cardiff's nightlife
Obviously Tokyo had a large influence on the album – can you talk us through your experience there and perhaps also your attraction to a futurist approach when creating the album?
Rushmore: "The first time I went was in 2014. I was lucky enough to have a week to explore Tokyo, and I was smack bang in the middle of everything I was into, obviously being a massive fan of streetwear and sneakers. Looking back, I think maybe there were bits that leaked into the album that I didn't think had – little things like the audio experience of Tokyo – whether that's walking into a store and everyone greeting you quite vocally, or the jingle that plays when you go in a FamilyMart. I think it could do some people's head in but I loved it. I even noticed when I got home, as I really missed the jingles and the cheeriness."
It's such a different experience to what you know in London. I guess it's tinted with huge parallels to European or American culture, but mixed into a big melting pot alongside a very Japanese take on those cultures.
Rushmore: "The thing that struck me the most was how peaceful and quiet it was, despite it being the world's biggest city. It's bustling but I found the background noise really peaceful. I'm always conscious of the background noise of a city if I go and DJ there, as London is really fucking noisy – probably comparable to New York, whether it's people, sirens, or cars. There's something comforting about that when you come home to it, but also you notice the difference in Tokyo. I loved it man, it was so good."
Obviously that influence has spread into the artwork for 'Ours After'…
Rushmore: "Yeah well because it was such a big influence that I almost couldn't not have the track names in Japanese or whatever. Even if it's not so sonically represented, I still wanted it represented. I came back from that trip with about 11 sketches and I ended up using nine or 10 to complete the album, so it's definitely informed say ninety percent of the project. Plus obviously I've got the guys who booked me out there and one of my mates who lives there rapping in Japanese on one of the tracks (Izakaya Trance). It just seems the culture there is that if you're into something, you're really into it, which I think comes back to general standards. Whether it's music or retail or whatever – everything just seems…exemplary."
Another of the most immediate influences throughout the majority of the album would be hip hop. Can you talk us through your own relationship with the genre and why you wanted to represent its influence so strongly on the album?
Rushmore: "I think as the album was evolving – with the sketches I made in Tokyo – a lot of the beats weren't there. I had the atmosphere, some of the melodies, but the beats were what I did last. It's the opposite of how I work usually, so obviously that was a big difference. Before the album I'd already started working on different drums patterns, and I think when I look back to the albums that I grew up listening to the most, some of the biggest influences were the hip hop albums. Whether it was that whole '90s thing of Cypress Hill, Snoop, or 3rd Base cassettes – those were the albums that I felt I related to. Those beats fitted best with what I'd already made and suited the tone of the album, plus additionally it was another part of the challenge to try and nail the beat structure, or those patterns of programming."
"It's just funny now the album's done – it's kinda like giving birth you know?" – Rushmore
Plus you're working with a number of talented vocalists…
Rushmore: "The whole vocalist thing came from that, apart from chopping up other people's vocal tracks, I'd never worked with vocalists before so I felt like I wanted to do something new. As soon as I heard Cam & China rap I thought, "right I'm on it." I hit up their manager straight away, got the contract done, and everything went to plan. Working with them was amazing. As there's a West Coast influence on the album anyway, the fact they're from that neck of the woods was great. The thing with Josh came about quite organically, as I had already worked with him on some house tracks around the time the album was being finished, and writing something with a bit more song structure was something I could do on an album, and maybe not an EP. It's just funny now the album's done – it's kinda like giving birth you know? You're at the mercy of other people's opinions, but then the aim was always to get it out there, and I've done that."
Bonus content: Rushmore also shared the five YouTube videos that have informed the club experience of Trax Couture with us, which you can watch below.
Rushmore: "It seems unthinkable now that music could travel and translate globally without the internet, but it did. This party form 1989 in the UK was the birth of this global music culture. And I don't think I need to explain any more, the video speaks for itself…"
Rushmore: "Thanks to Caprice and his brother, there is so much TNDS content on YouTube. It's amazing, there's so many videos to pick from. Although this clip doesn't heavily feature some of the famous dancers connected to the show, I like it musically and the atmosphere mic is on loud. The style, the moves, and the vibes are on point."
Rushmore: "The UK's equivalent in a very similar format to TNDS called Dance Energy, hosted by the legendary Normski. More of the same with its mix of people, vibe, style, and fresh electronic club music."
Rushmore: "This part one H.O.T memento."
Rushmore: "Just another little memento. Even when the lights came up it was still popping. A big thanks to MikeQ."
Rushmore releases 'Ours After' on July 29th via Trax Couture (buy).