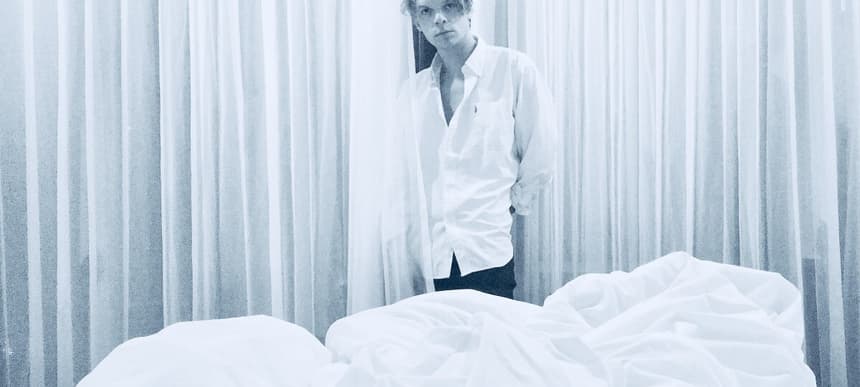 25.01.2018, Words by dummymag
School of X is ready to spread his wings
It's a chilly afternoon in Groningen, Holland, when School of X enters the coffee shop where I'm located. He's in town for the Eurosonic Festival, a platform showcasing the brightest talents from all over Europe and, immediately, his warm personality and winning smile quells the cold of our surroundings and endears me to him.
Despite being an accomplished musician and touring 200 days a year – his manager later tells me – as the drummer to one of Denmark's biggest stars, MØ, the young man known as Rasmus Littauer has only been his own artist for a year and a half, but he has built a core following in a short time. Even as we start chatting, I get the impression that he is restless, eager to get to the next stage of his career up and running. A stage that was allowed for by his debut EP Faded. Dream. last year, with its mixture of classic and modern sounds that could mean you're listening to a 2018 version of The Smiths, with every feeling that comes with it.
A key member of Copenhagen's thriving synth-pop scene, including frequent collaborators such as Vera, Off Bloom, Liss and Goss, School of X is unique in his delivery – soaring vocals and an intense dedication to pushing himself and embracing imperfections – and his music is where minimalism is exercised to full effect. Having performed at Rosklide Festival and many more last year, Littuaer has made a grand entrance. After getting warmer, we sat, and he broke down his background, his love of albums, and why he left his musical comfort zone for the spotlight.
What kind of labels would you place on your music?
I've been thinking about this recently as I'm preparing for my album, but I think, especially with my last EP, that there are a lot of modern elements in my music, but its definitely not in the contemporary wave. It's a combination of modern electronic elements but also 80s style synthesizers with real drums. When I was in the studio with Vera and Vasco, they were making really cool contemporary music, but my idols are more Oasis, The XX and Tame Impala. So now I'm going to try and write 15 songs and go to the studio for three weeks and record – kind of an old school vibe to it.
So, do you want your album to have more of a modern touch sonically?
I probably want to make it sound the same as the EP but better and happier. I just want to stay true to myself.
What made you want to become a drummer rather than a guitarist when you were younger?
There was a drum kit in the house because my parents had a band and when I was five I started playing on it, so it was kind of a coincidence. I have two brothers and we all played music together; my older brother is a bass player and my younger brother plays the guitar, and we have a band called The Brothers on family occasions! [laughs].
How did playing drums translate to you later making music?
The thing with playing drums is it was always with me, but the transition to becoming a lead singer was like learning a completely new instrument, because its so different. Then, you're at the centre of the show when, as a drummer, I wouldn't have to tell the actual story. When you're the lead singer you have to tell the actual story.
"My older brother is a bass player and my younger brother plays the guitar, and we have a band called The Brothers on family occasions!"
Were you leaving your comfort zone, then?
Totally. I've been touring with a lot of bands for the past five years but only as School of X for a year and a half, because I wanted something new and challenging. I still love touring, but doing this is very different.
So, being the lead artist in your own right is still quite a new and fresh experience for you…
Yeah, we've only played 15-20 shows, but it starts to get easier. Most of the time I leave the stage and I feel really happy.
You are MØ's drummer as well, what kind of guidance has she given you?
We have a lot of conversations, and I've learned a lot from her by watching. I've been with her for four years and I've seen the mistakes she's made and, though I make mistakes as School of X, I can also avoid some because I've seen what she's done and the conflicts she's gotten into. I try to avoid them, but they have to happen for you to learn from your mistakes. If they don't happen, that would be weird if you chose the right way all the time.
Do you ever think about what you want people to take away from your music?
Not at all, but I really hope that people like and enjoy it. I do everything I can to make sure people enjoy my live shows so, in that sense, I do, but when making the music, I don't think I think about it. But you have inspirations and muses, but then you have Spotify with its algorithms and formulas for streaming, and I'm super opposed to that. That changes how artists make their art and its sad if you have to rely on it, but its always been like this. Before, radio was super important, now its streaming services. But I tend not to think about it.
Do you feel more comfortable in the studio or on stage?
I feel at home in both spaces; the stage is really intense, which I really like, but I'm also super nervous about. Being in the studio is like being at home, while the stage is like hooking up with a girl you've never slept with – its fucking weird and exciting but also stressful. My time in the studio is really peaceful and I try not to force anything.
What are some of your favourite memories from making the Faded. Dream. EP?
The first song 'Las Vegas' was the first song I made while making the EP, and the saxophone solo is very different. For years we thought not to have a saxophonist because it was too cheesy, but we put it in and it felt so good. It had to be a vibe similar to our saxophonist playing on a rooftop in Paris, and that was a highlight. Then, releasing it was a major thing for me; its so much easier to release the stuff you have that's done so you have a clean slate for the next one.
"Being in the studio is like being at home, while the stage is like hooking up with a girl you've never slept with – its fucking weird and exciting but also stressful."
How much do your lyrics reflect your reality?
A lot, but at the same time, some of the songs are about situations that I haven't been in, but are based on feeling. There are songs about my girlfriend leaving me when she hasn't, but came from a feeling of being scared she would.
You're still at the beginning of your career, but what are some of your favourite moments so far?
I played Rosklide in Denmark last year, that was huge for me because it's the biggest festival in Denmark and one of the biggest in Europe. Then releasing my EP was big. The whole of last year was really exciting – it was my first full year as School of X.
What is the plan for you for 2018?
Definitely the album. I hope to record it in May and release it in the fall or hopefully next spring, and start running the singles this summer. I'm super excited about that and not stressed at all, which is a really good thing when you're trying to write.
Were you stressed about the EP?
A little bit – I really wanted it to come out, because it had been finished for almost a year. But I just want to be ready to release singles when I record the album; you have to be ready for that and keep people interested. For me, the album is really important. I love and only listen to albums, I've never got into a playlist or anything. Not because I don't want to, but I think to make an album is very committing.
Check out Dummy's curated playlists on Spotify.