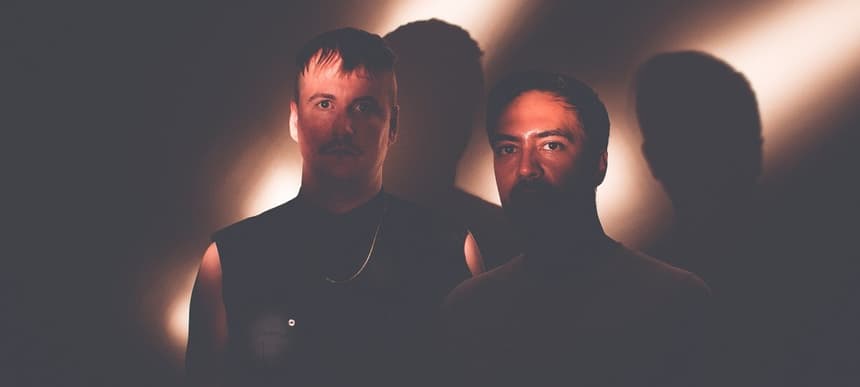 11.11.2015, Words by dummymag
Sepalcure: "We do request a pair of black socks on our rider."
Compromising of members Travis Stewart (Machinedrum) and Praveen Sharma (Braille), production duo Sepalcure are an exciting union in the underground club music scene, recently returning to the airwaves with a single on Scuba's Hotflush imprint, 'Music 4 All / Fight For Us'. Cemented by Rochelle Jordan's longing lyrics, Fight For Us is a bubblebath soundtrack worthy swirl of a single, that touches on the foundations of pop and R&B mastery. We even put it on our 22tracks pop list, simply because it doesn't blow your brains out when you listen to it. On the flip, Music 4 All is as inclusive as the title suggests, a pavement pounding jam that could cause a weird and rousing dancefloor rebellion, sweaty bodies doing what sweaty bodies do in the club.
The collaborative nature of Sepalcure is the ideal vehicle to transport the emotional sensibility of Travis and Parveen's personal tastes, and a wide open opportunity to create sounds they might not usually explore under their personal outputs. Taking sharp cues from juke's trademark jittery bass and bubbling up from garage, two-step and post-dubstep influences as well as the archetypal sounds of the club, Sepalcure don't really have a trademark. They keep soundscapes vast and unexpected – alternating from "chilled" downtime listening that is primed to oust Enya's Sail Away from the ethereal soundtrack top-spot, through to energetic and rousing cuts that wouldn't seem out of place on the floor of Panorama as Saturday night ravages into Sunday morning, or finishing off with night-bus listening on the frugral route home.
Setting a mammoth precedent for their sophomore album due in 2016 and a #veryrare excursion into working with vocals, which has naturally soothed its way into the duo's productions, we caught up with the duo to discuss collaboration (that was a boring question, we admit), working in sync, touring as a toursome and…black sport socks, because you can never have too many, right?
Hi guys. How's the year been on your individual projects as Machine and Braille, and how do you feel to be back together again as Sepalcure?
Travis [Machinedrum] : It's been good, still cooling down from nearly two years of touring 'Vapor City'. I've mainly been working on pop projects this year. I've also just moved to LA recently and I'm loving it. It's sweet to be smangin again with my man Praveen. We never really stopped though, we just work a bit slower than we used to as we have both been very busy with our individual careers.
Praveen [Braille]: "It's been a great year playing shows around my 'Mute Swan' album release but it's really refreshing to get some Sepalcure time again. We've been working on this new batch of songs for a while and it will be a blast to get a chance to finally play them out!"
What are the differences when you play together or play apart? How has collaboration helped you? Has it progressed the ways you work, or when you're together are certain things heightened e.g. one of you brings one sound, and one of you some other dynamic?
Travis: "We always get this question and we always have the same answer. Collaboration is an opportunity for us to try new things and to come up with ideas we wouldn't have come up with on our own. We have both used what we have learned in our solo projects."
Are there any changes in your set up and do you work together a lot in person? #veryrare
Praveen: "We've definitely used a few new bits of gear to produce the EP and Album and we almost exclusively work together in the studio. It's important to us that the act of making new Sepalcure music is a group effort."
You just added fuel to the forthcoming LP fire with 'Music 4 All / Fight For Us' – tell us a little bit more about the EP. Were you going for a more chilled sound?
Travis: "This release is basically a single for Fight For Us with 'Music 4 All' as a B-Side. Not sure why Hotflush called it an EP. We have always had a "chilled" sound I guess, so we weren't necessarily going for a different vibe. The main difference is having a vocal feature which is "#veryrare" for Sepalcure."
You're definitely embarking on some smooth R&B sounds with Rochelle Jordan on Fight For Us – what's the background to working with her and are there any other vocal surprises to come on the LP?
Travis: "I've been working with Rochelle off and on for the past year or so after finding her on Soundcloud. She dug some of the Sepalcure demos I sent her and when Hotflush asked us to do a vocal feature for the album it was a no-brainer. Most of the LP will be instrumental but there will be some additional vocal features for sure."
And it's been such a gap since the last LP – has the demand been high?
Praveen: "We've actually been working on these songs since our last EP – between both of our busy schedules it's just been more difficult to find time together to finish them. Our fan base is definitely hungry for more Sepalcure – I think they're going to really enjoy the upcoming album."
Do you ever advise each other on wardrobe when you tour together as Sepalcure?
Travis: "No, but we do request a pair of black socks on our rider."
Has anything really weird happened on tour? This can be like fucked up hotels, fans throwing pants at you, eating very questionable meals.
Travis: "Hmm, I have some stories I could tell but they're a bit too embarrassing to make public haha. There was this one time we opened up for James Blake DJ set and nobody was controlling the lights in the club, so I took the liberty and strobed the shit out of that party."
Praveen: " We've got loads of crazy stories from tour, but we're saving that for the Sepalcure exposé."
Music 4 All / Fight For Us is out now on Hotflush (buy).