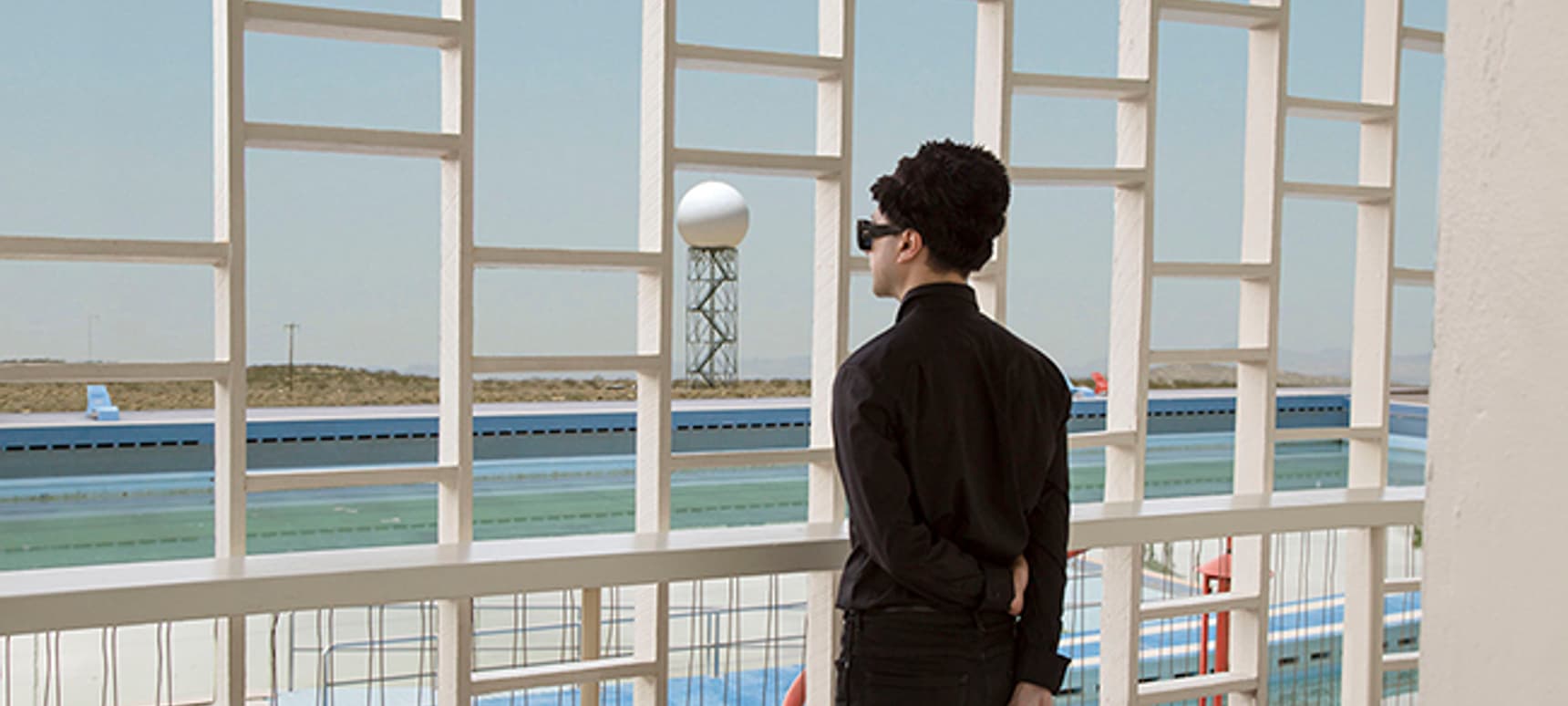 17.09.2015, Words by Natalie /
Silicon: "I guess I was picturing things like iPhone factories."
"I guess I was picturing things like iPhone factories," says Hawaiian New Zealand musician and visual artist Kody Nielson aka Silicon, the brother of Unknown Mortal Orchestra frontman Ruban Nielson. Speaking over the phone from the Auckland home he shares with his young family, he's expanding on the aesthetic he spent last year working within. Also informed by his interest in Andy Warhol's repetitive pop art, Kody was exploring facades and what lies behind them. "I was thinking about these places that pump out these perfect products, but actually they're imperfect," he continues, speaking in his thick yet soft New Zealand accent. "It looks like digital mass production. When you get closer, it's all handmade."
The results of Kody's artistic investigations are present throughout 'Personal Computer', his debut album as Silicon, and 'Emoji': an accompanying exhibition of emoji icon paintings. "I've been drawing, painting and making music since I was a kid," Kody reflects. "This time it was about trying to do both things at the same time. I usually try to get a similar idea happening between the two [mediums]. I find it helps me put my ideas into a context. A visual aspect will make you hear the music differently."
With 'Personal Computer', Kody weds imperfect handcraft masquerading as flawless assembly line production to a retooling of classic soul, p-funk and disco as hi-def virtual reality beatscapes. Mostly embellished by his vocoded falsetto and live drumming, in keeping with his concepts, his songs strive for a techno-humanistic embrace. "When I'm recording, I try to play tracks right through to give them a human imperfection," he explains. "I don't want them to be on the grid, but I still try to play them as best I can. Nothing can be perfect, and it's the imperfection that makes me like it."
Over the last few years, Kody's personal computer and smartphone have become his primary communication tools. While writing the album, he often contemplated the surveillance state visions of '1984' and 'Brave New World'. There was a relationship between their predictions and his perspective on life online. "I find it interesting that these days people seem to give up all of this personal information for nothing now, for fun or on social media, without knowing it's being collected and possibly used against them," he says. " I didn't want the album concept to be way too sinister, though, so I made it more sci-fi, so it was more fun like a cartoon."
Dummy editor Natalie Davies thinks Kody looks like a cross between a university library guy and a mime without face paint. I'm inclined to agree with her. PiL's John Lydon is his favourite vocalist, and the last album he bought was 'To Pimp A Butterfly' by Kendrick Lamar. He's also a longstanding admirer of the classic analog jazz, funk and Afrobeat sounds of George Duke, Miles Davis, Kraftwerk and Fela Kuti. When you sit with him in conversation, it quickly becomes clear you're dealing with a creative who favours the thrill of the reveal over rationalisation. "I always have these ideas where I find it hard to explain where I'm coming from to anyone else," Kody admits. "I just try to make them and put them out there on my own, because I find that easier. I can't really do them justice any other way."
As a teenager growing up on Auckland's Hibiscus Coast, Kody used to rummage through his touring musician father's garage looking for recording equipment. "My dad had a 4-track recorder and a sampling keyboard. I also had some cheap drums I was borrowing off a friend," Kody recalls. "I used to use those things to make music a lot. I was making electronica with live drums. This time around was similar to that, but now I have a 1/4" tape machine, a Juno synthesiser and a better drum machine." During the time between, Kody spent close to a decade playing with his brother Ruban in cult New Zealand art punk band The Mint Chicks. After a spectacular on-stage meltdown in 2010, they went their separate ways. Kody became an in-demand session musician, recording engineer and record producer. He also continued to record his own music under a variety of aliases. "I wanted to keep making music on my own without having to plan too much of what was going to happen with it," Kody says.
Last year, he started painting the canvas pieces that make up his 'Emoji' exhibition. Through repeating the same apathetic emoticon in a variety of colours and formats, he pinned down the aesthetic in his head. Late at night, he'd throw on his headphones and record songs that complimented his visual art. "Around that time my brother and his band came back to New Zealand to play some shows. We hung out, made up and I showed him my demos and he played on some. He was talking about doing his next album, and he wanted me to get involved." Shortly afterwards Kody flew to Portland to work with Ruban on 'Multi-Love'. "After that I was on a bit of a roll and just sort of finished my album off."
As he drew closer to completing 'Personal Computer', Kody felt the loop closing between the loose-limbed electronica he had recorded as a teenager and his current sound. The process and feeling were familiar, but something crucial had changed. "Now I knew what I wanted my music to sound like, and I knew how to achieve it," he says. "I wasn't just being super experimental and trying to find something. I had it in mind." Throughout his oddly infectious singles, God Emoji and Burning Sugar and their pop surrealist video clips, Kody's intentions are on display front and centre. By taking his thoughts on dystopian utopias and day-to-day life in our increasingly digital era and backdating them through analog aesthetics, he's made something old and new. 21st-century pop music that never forgets it's connection to its forward-leaning 20th-century roots.
Weird World / Domino released 'Personal Computer' on August 28th (buy). The 'Emoji' exhibition will be shown in New York and London later this year (info).