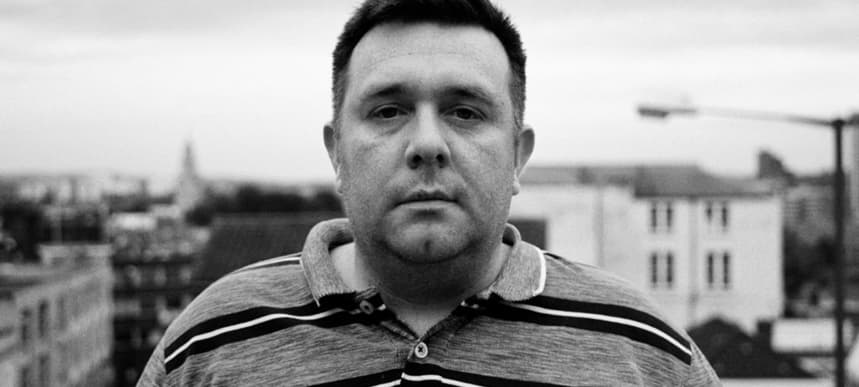 02.06.2016, Words by dummymag
Slimzee: "I know someone who bought a Wiley tune called Snowball for £100 last week."
It's perhaps a sign of his humility and groundedness that our interview has to be postponed for an hour while Slimzee goes to pick up his daughter from a dance class.
Earlier this year we saw the veteran DJ dial up an otherwise quiet return to the station that he co-founded in 1994, Rinse FM, with a guest appearance from Wiley. Taking the mic just before the one hour mark, the Bow MC's callouts could have been lifted straight from one of the pair's legendary early '00s sessions: "Hold tight G[eeneus], hold tight Spy[ro], hold tight Riko Dan, hold tight God's Gift, hold tight Crazy Titch, hold tight Scratchy D," and ultimately, and in this case most significantly, "it's the sounds of the DJ Slimzee rolling." If it weren't for the crisp audio quality and familiar squeal of Rinse's new heavyweight compressor, it could indeed be 2003.
But there's not a Nokia 7600 in sight. We're not here to talk about Sidewinder tape packs or the ASBO that he was slapped with (banning him from entering any roof of any building over four storeys in the borough of Tower Hamlets without permission), because neither of those things exist as they did anymore. But the music that Slimzee earned his ban in service of very much does and has arguably just enjoyed twelve of its most successful months yet. Even if the BRIT Awards voting panel hasn't caught on yet.
Grime is a sound long defined by a disruptive, tirelessly creative approach that has emphasised its outsider status in a frustrating kind of Catch 22 alienation. It's also a sound and a scene that has grown up with a tight-knit sense of community that reaches from the macro of its rootedness in the UK's underground music lineage, to the micro of postcode affiliation and producer-DJ-MC crews. Slimzee, however unintentionally, embodies both of these things in his instinctive embrace of the new, provided it's doing something positive for the scene and his compatriots as a whole.
"Pirate's coming to an end," he says, surprisingly matter-of-fact about something with which he is so strongly associated. "Soon, I think in the next couple of years, that'll be the end of pirate. Not a lot of people listen to it [anymore], in their cars and that." He admits to missing "that little buzz you get" from being "on the run from DTI," but only after making it clear how much he's enjoying his current residencies on [Internet station] NTS, and Rinse. "It feels really good," he says, "I didn't know whether [it] would be as good as years ago, but it does feel good when you've got people up there, like." That he recognises the simultaneous role of platforms like NTS and Rinse as both vital cultural boiling pots (or pressure cookers, even) and physical community hubs needn't come as a surprise, but that doesn't stop it from being refreshing to hear.
For all the accusations of the scene's current crop of producers and MCs plumbing nostalgic appeal to profit from the work of past innovators – eski clicks, VHS Camcorder apps and all – Slimzee couldn't appear less concerned with dwelling on the past, and in fact seems to have little interest in recognising his own status as an originator.
When asked what role he thinks scene legends still operating today have to play, he ends up evangelising for the up-and-comers that are exciting him instead. He's far from verbose, and it's responses like this that illustrate his natural bent towards action over words. It's also indicative of the fact that he hasn't deemed to gorge on philosophising about the industry's machinations, despite (or perhaps because of) being such an elemental cog himself. His attitude to the scene is a fatherly one in the sense that putting and pushing others first comes as an unspoken assumption.
This is something that he recalls, with a typical depth of humility, was behind his decision to kick start his own label back in 2001: "I didn't think it was a very good label anyway, but some people liked the label – all around the world and stuff – and they look to that as like a big thing, but I didn't think it was that big." The label brought a semi-regular string of releases from scene pioneers including DJ Oddz, Wizzbit and Plasticman [before the name change to Plastician], before ill health robbed Slimzee of the time needed to keep things ticking over.
This year sees the return of the Slimzos Recordings imprint in a move that he describes as a necessity now that he's back at the crank handle: "I need it up and running," he says, "now I'm [getting back to DJing] I need a good label behind me as well." This sense of necessity isn't that of the label as a vanity project or as an extension of 'brand Slimzee,' but rather because it makes sense to him to be extending the platform that he can offer to those new artists whose music excites him.
Just as he sees communities forming around radio stations and studios, so too does he associate a label camp with the strong sense of a community that can develop with it. And interestingly, when he talks about the next release – which will take catalogue number SLIMZOS 009, though there were originally plans in 2005/06 for a Dr. Venom tune to be the ninth record put out – he refers to it as not as the "next" or "ninth" release, but as the "first" release.
"I know someone who bought a Wiley tune called Snowball for £100 last week at DNR Vinyl in Croydon!" – Slimzee
This, though undoubtedly unconscious on his part, is significant not only in terms of further emphasising his pursuit of the new and his natural affinity for building communities around music, but also in terms of his apparent lack of reverence for the past – and what he has achieved in it. This is not a case of reliving former glories, or reviving them in the absence of there being anything good enough to enjoy today instead. In fact, the excitement generated by the scene's historical relics somewhat baffles him: "I know someone who bought a Wiley tune called Snowball for a hundred quid last week at DNR Vinyl in Croydon!"
With this in mind, it seems unlikely that Slimzee would seek out a quick buck by auctioning of some of his near-priceless records on eBay. Which is exactly what he didn't do, of course, though that hasn't stopped listings purporting to be as much cropping up on the online auction site. "You know what, I think that was someone doing a little scam you know," he says with a mixture of frustration and bemusement, "because it weren't me." (For the record, he "did sell some tunes – some old hardcore tunes, some drum and bass tunes – but they were nothing, just tunes from years ago" that distributors would send to him on a weekly basis. And "they only went for a couple hundred quid or something; they weren't even good.")
The only thing about Slimzee that you'd describe as old school, aside perhaps from his vintage taste in polo tees, is his dedication to dubplate culture – but even then he's only interested in it for the sense of freshness it delivers. "I'm still getting all these dubs, keeping them and telling these producers – I'm locking them down," he says. "Some people just give their tunes to anyone and they lose [value]…when everyone's got it, no one don't want it."
What he's describing is arguably a symptom of today's Internet-driven culture of on-demand, instant gratification, though he's happy to recognise the pivotal role the Web has played in spreading the sound – and the influence it's had on his own digital record box, filled as it is now with tunes from producers based all over the world.
"I feel really good towards the grime scene at the moment." – Slimzee
"It's funny because years ago I knew most of the people who were making grime, and they were from my age group," he starts off, almost reminiscent, "but the people who are making grime now are younger people [and from all over] – I know I'm getting old, I'm 37, but the people who are coming through with new stuff now are really young…" Aside from the fact that he appears to have forgotten that, at no more than 15 or 16, he and Geeneus would have been considered pretty young when they started Rinse, there's a genuine excitement in the future that he sees for the sound and its development.
This future, he says, for him depends on being able to continue to take the music to new audiences: "I just want to get to loads of festivals," he says, "I like festivals – there's all kinds of people there." It's significant that, despite having played some of if not all of the most seminal grime raves on the circuit over the years, he names a Warehouse Project show from the end of 2015 as one of the best he's ever done ("That was unbelievable – they were like vampires in there, it was mad. Was so good: I was playing dubs and it was just connecting together. I didn't have an MC either, I was just playing dubs.")
When asked whether he thinks this future will involve mainstream success, spurred on by the likes of Stormzy and more established players like Lethal Bizzle, he's giving nothing away – but more so, we'd suspect, because he's not convinced of any value in speculating. Instead, in the same way that he goes about selecting tunes, he goes with his gut. "I feel really good towards the grime scene at the moment," he says. And if it's good enough for Slimzee, then who are we to question?
Slimzee is set to play Field Day on June 11th at Victoria Park (info). Follow Will on Twitter.