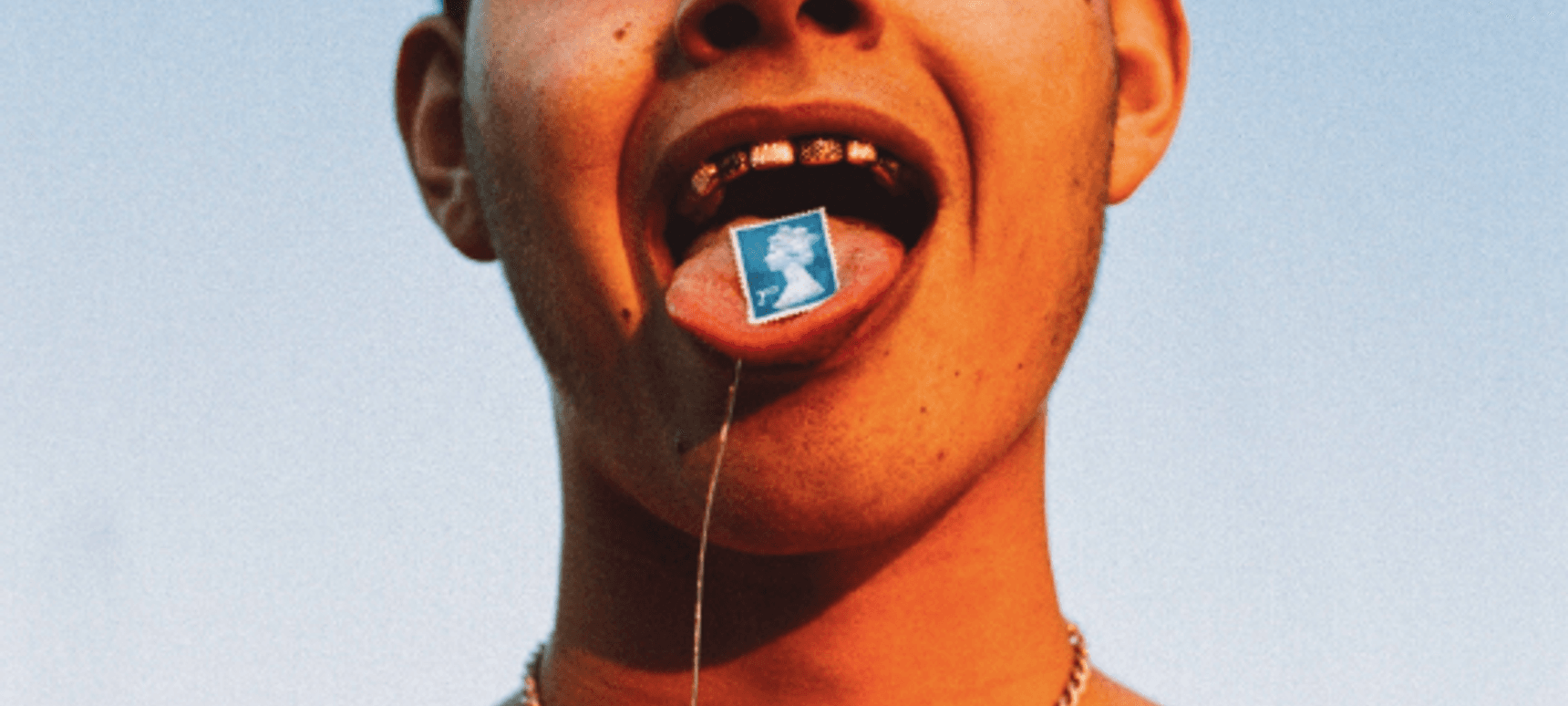 20.05.2019, Words by Michael Keating
slowthai's 'Nothing Great About Britain' does away with old visions of British patriotism
The Northampton MC's debut captures UK music's legacy as well as the mentality of a young working class generation…
Any brief glance at the news reveals the identity crisis the UK is currently going through. For many, the old patriotism that stoked a sense of British pride has burnt out, leaving them disenfranchised and frustrated. In others, the conflicted climate has fuelled the fire, resulting in a blind commitment to nationalism and a regressive nostalgia for the 'good old days'. 'Nothing Great About Britain', the recently-released debut album from 24-year-old slowthai, channels one young Briton's unique personality in the wake of this societal crisis, forged from his impoverished upbringing in Northampton, a neglected town in the East Midlands.
How do you explore your identity when you feel as if you have nowhere to turn? For slowthai, as for countless others, the answer is music. Dabbling in an eclectic assortment of styles – rap, hip-hop, grime, punk, emo, drill, garage – slowthai creates his own take on UK rap that reaches far beyond the expected confines of the genre. Fragments of modern British music history are woven through the record: 'Toaster' offers an unmistakable UK garage vibe with its shuffly percussion, while 'Doorman', produced by heavyweight Mura Masa, combines electronic flavour with a punk vocal performance completely at odds with what we might have expected in the context of the album.
UK music's legacy shines through on smaller details: the echoes of D Double E in the vocal flourishes of 'Dead Leaves', coupled with the abrupt unpredictable delivery that bring Ghetts and Kano to mind and, of course, the feature from grime's biggest global export – Skepta. Possibly the biggest wildcard, though, is the bleak, nihilistic 'Missing', produced by Slaves – the chorus evolves like a haunted carousel, a spinning descent into helplessness where the excitement turns to anger and assured individuality turns to self-criticism and questioning.
'Northampton's Child' recounts slowthai's personal history in his hometown, tracing his path from birth by a single mother to the breakdown of his family after his step-father's infidelity, the death of his younger brother, and sleeping in a friend's living room when his mother and siblings had nowhere to go. At the song's close, it becomes clear the track is a love letter to his mother and the lessons she taught him, with him apologising for his past and thanking her for all she's done. Together, the tracks add a deeper substance to the collection, and a vulnerability often overlooked in the demographic of the young working class male.
The Streets' influence on the record can't be overlooked. The same sounds that carried their seminal modern UK albums are stamped all over slowthai's record – it would feel natural for Mike Skinner to ride the off-beat, stripped-back production behind 'Piece of Mind' and 'Nothing Great About Britain'. Even the album cover is a nod to Skinner's debut, with slowthai naked in the stocks in front of a block of flats reminiscent of the 'Original Pirate Material' aesthetic.
Where The Streets distilled the experiences of a young man living in noughties Britain, slowthai goes further, building a new perspective of the country from his own experience. He wears his status with pride when he declares: 'Didn't do nothing, always take the blame / Lower class but my class is so fucking flames,' speaking for the working class youth punished by unemployment, spending cuts, and political ostracisation.
The greatest merit of slowthai's music is the personality he injects into it. With trademark delivery and lyricism, riding the uncanny edge between aggression and joviality, slowthai employs a cheekiness that at times verges on threatening. It drives the listener into the sort of mood where you want to smash a car window for the sake of it, laughing hysterically while swinging the bat. This is the same guy, after all, who organised his UK tour by getting his followers to comment on a picture on Theresa May's Instagram.
He revels in the chaos of his surroundings, teasing sarcastic comment from the current political upheaval, such as his warning: 'Don't make me Chuck Norris / 'Cos I run my town but I'm nothing like Boris'. A manic summary view of the country emerges, with 'Flying saucers turned cocaine / Battered fish to oysters all upgrade' and 'Tea and biscuits / Mash, jellied eels and a couple lil trinkets / East End you Phil Mitchell / Get stabbed with the Phillips'. slowthai seizes on symbolic British staples, exploiting them for self-aware mockery. Yet, this criticism doesn't jar with slowthai's commitment that: 'Hand on my heart I swear I'm proud to be British'.
This love-hate relationship that slowthai portrays is chaotic, but it is uncompromising and authentic. In the post-truth era of pervasive spin, an artist that will admit the good and the bad of the country they call home is refreshing and essential if we want to look to Britain's future. On 'Grow Up', slowthai says: 'Growing up fast / Nothing don't last / And you can't move forward / If you're stuck in the past'. A radical message of rebellion and individualism in protest against the powerful ruling class emerges, which he completes by telling the Queen that he 'will treat you with the upmost respect only if you respect me a little bit Elizabeth, you cunt' while adopting a posh southern accent.
'Nothing Great About Britain' is an exposition of the mentality of the young British working class that cannot be reduced to mere shock value: slowthai's debut forces us to confront the harsh realities of growing up impoverished in Great Britain, told straight from the horse's mouth.
All the while, slowthai stakes his claim to a new British identity distinct from old traditions, giving us a brand of cynical but sincere patriotism that reaches across race, creed and culture. The vision of an English gentleman with top hat, tailcoat and cane is being done away with, and replaced with a more honest depiction for our time – a tattooed Northampton boy in the stocks, naked and laughing in the face of tradition and order.
Stream slowthai's 'Nothing Great About Britain':