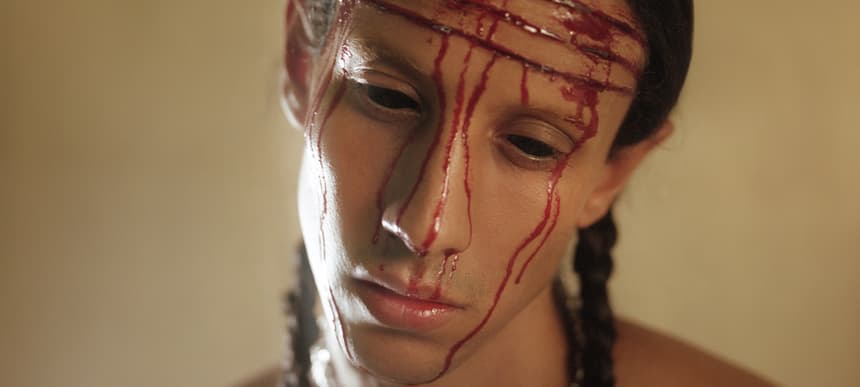 24.09.2018, Words by dummymag
Taking Off: Miink
"I feel like we're going through a revolution right now," West London-based singer-songwriter Miink proposes. "In the same way, when the industrial revolution came about – a lot of farmers became redundant because they didn't move with the times and their skill set was no longer relevant.
"I think the same sort of thing is happening right now with information technology-based things," the Jamaican-British musician continues. "There are a lot of kids that know far more than the people who are running big businesses. They have the skills that put them in an advantage. So I feel like it's not really a time for big businesses. It's a lot more of an independent person's game, and there's a small window before the other people catch on."
Miink is very much playing that independent person's game – mainly from his laptop in his bedroom in Richmond. He's just released an enthralling mixtape titled 'Small Clan', following a couple of singles that introduced us to his intricate explorations into the darker, wonkier side of life. Now on this debut tape that showcases his delicate falsetto vocals and otherworldly production (instantly recalling the sounds of artists like Arca and fka Twigs), the double-braided musician is re-defining what an artist and producer should be doing in 2018.
After producing for other people, Miink realised he enjoyed thinking about the themes that go hand-in-hand with projects, rather than simply focusing on the beatwork behind a single song. "I enjoy that about production. I enjoy getting involved in every aspect and making it a bigger thing than just a song, or a few songs." The decision to put himself in the spotlight rather than behind the laptop wasn't a hard one, as "I had a lot of ideas, and I didn't think especially in the UK that there were that many interesting things going on. That was why I made the transition to an artist."
After listening to 'Small Clan', Miink's decision to step out from behind the producer's desk makes sense, as he doesn't really sound like anyone else out there at the moment. He's described his own sound as "alone music" – something that's deeply personal and requires the listener to spend some solitary time with.
The mixtape's cover art depicts bleeding scars on Miink's forehead in a manner that suggests biblical themes – like Jesus having worn the crown of thorns before his crucifixion, and Miink often employs high-pitched choral vocals that wouldn't sound out of place in a mass. But Miink isn't keen to disclose the tape's themes directly: "Any record or piece of art I make will have my philosophies backing it," he says. When asked what these philosophies are, he responds coyly: "You have to listen to the record to understand them," and after a pause: "just listen again and go online and look up the lyrics if need be". Clearly, Miink isn't about to spoon feed us the answers – he wants us to work it out for ourselves, and if we can't, we'll have to listen more carefully until we do.
Since 'Small Clan' will be the first thing most people hear from Miink, he wanted the 33-minute mixtape to flow like a journey. Opener 'Who Are You?', proposes that exact question to the listener, and as the record progresses you get a sense of who the elusive character is. 'All for You' is one of the poppiest, and most immediate, tracks on the tape. "As a song [it] was in my head for about a decade and I just never actually did it until now," he explains. "For me it was more a case of getting that out of my system because otherwise it's stuck in there and it'll carry on going round until I make it."
"I'm quite into the immediate pop sound," he continues, "there is something in that, and I think it comes back to feeling and thought. Sometimes you can go a bit too far into the thought side rather than just concentrating on emotional feeling."
'Small Clan's strength is in that it sounds like nothing else at the moment, both musically and lyrically. "I have a tendency to focus on music, because of the production side of it. I feel comfortable in that role. I was never that confident with my lyrics before. But when I have something to say it comes out in the lyrics very clearly."
It's a mixtape of musical juxtapositions – it blends Japanese samples with R&B motifs; deep bass with soaring, religious-sounding vocals. "I've always liked mixing things," he confirms. "Maybe it's because I'm mixed race myself, but I've always had been influenced by different cultures and had an interest in fusion. It's the only way we progress. It makes everything progressive when you fuse them. I don't think it's very easy to make something completely original – I feel like everything's been done. The only way you can be original now is by taking two things that already exist and putting them together in a different way, that lets people understand it, because then we can all relate."
This makes sense in a world where there's arguably more musical cross-pollination than ever before. "Genres have kind of vanished and people follow the person rather than the genre," Miink nods. "It allows the artist to create freely, however they feel is fit. It allows for a lot more creative freedom and should make for a much more interesting product." It's clear to see that, with 'Small Clan', Miink has achieved exactly that.
Listen to 'Small Clan':