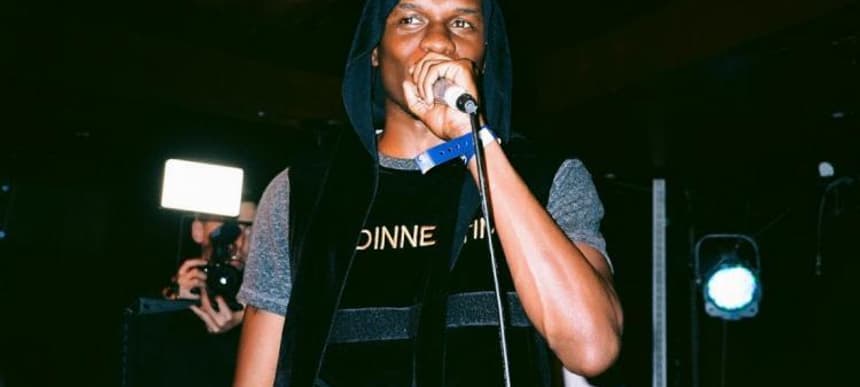 03.10.2018, Words by dummymag
Taking Off: YS Tekdinner
The South London MC explains why it's Tekdinner time…
YS Tekdinner isn't a household name just yet, but give him some time. The burgeoning MC, originating from South London, has an arresting flow that he peppers with growling ad-libs, coughs and teeth-kisses. Having locked horns with Master Peace as well as heaps of other underground talent like v7backin2007 and Virgil Hawkins, he favours spacey instrumentals and has a slew of hallucinatory visuals to flick through on YouTube.
Having just dropped his 'Tekdinner Time, Vol. 1′ EP, YS's cuts often flash a wry smile at his subject matter ('Hilfigures' is a play on the clothing brand), and latest solo offering 'Carni (featuring Mussalini)' finds the bar slinger wandering the streets at this year's Notting Hill Carnival.
We grabbed a quick chat with the MC – read the exchange below.
Dummy: Hey! What have you been up to today?
YS Tekdinner: Just came back from the 0161 [Manchester] after shelling down Bakar's tour.
How would you describe your sound to people who might not know you?
The voice of a misunderstood young felon in the streets of London, portrayed in an alternative way.
What are you inspired by?
Everything in my life that I've experienced – from losing friends to the system and death, to going through trials and tribulations and learning from them. In terms of musical inspirations, I get it from everywhere as I consume a lot of music. My brother inspires me, NOStandards, Max B and others.
You had a really good reaction to your last EP, 'Tekdinner Time Vol. 1' – what was that like?
It was proper. I care a lot about my fans' opinions as they're the only ones who stick by my music and rinse it out, so for them to say they are messing with the tape it was encouraging, I cant even lie.
You've teamed up with Master Peace quite a bit – who's your brother, right? How does that creative partnership work?
We just bounce off each other really, as we grew up on the same kind of music so we know what we want the records to sound like.
The instrumentals you spit over on it are really interesting – what do you look for in a beat?
Melody and distinctive drum patterns – if the beat ain't got this then it's unlikely you'll hear my vocals on that still.
You filmed your latest video on the streets of Notting Hill…
Carnival is a vibe – I've been going from when I was a young G. Me and my bloodas just get really licked and enjoy the day. We do it everywhere, last year we said we need some footage of us just about at Carni then coincidentally I made a song about Carnival lool.
What does a YS Tekdinner performance look like?
Energy and straight carnage. Moshpits galore.
What have you got coming up next?
More shows, more wins, 'Tekdinner Time 2' – which is due to be a game changer… Don't sleep on the 12, we're coming for all of the honours, serious!
Listen to 'Tekdinner Time Vol. 1' below.
–