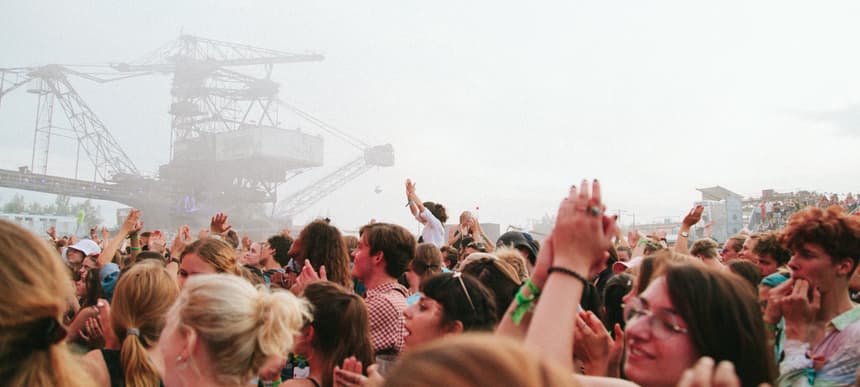 08.06.2022, Words by Billy Ward
Ten acts to catch at MELT Festival 2022
Here are some of the acts on our radar you won't want to miss out on...
With 30 metre-tall cranes towering above a former open-air mining operation – dubbed the "City of Iron" – MELT Festival provides the perfect playground to showcase the most boundary-pushing electronic, dance and alternative music from around the globe.
After being out of action for the last 2 years, the world-renowned German party promises to be bigger and better than ever before in the run up its anticipated return this summer, between June 9-12.
As MELT prepares to get underway this weekend, we've selected 10 acts who will make this year one to remember.
Arlo Parks
The last couple of years have seen Arlo Parks rise to the pinnacle of UK music, winning the 2021 Mercury Prize for her debut album 'Collapsed In Sunbeams'. Locked in to perform on Thursday evening, the indie pop star will bring her impassioned live renditions to Germany, expertly striking a balance between energetic and fun.
Bladee
Using the momentum gained from his recent Drain Gang world tour, Bladee has the world at his feet right now. Despite never aiming for mainstream success, the enigmatic rapper's popularity is skyrocketing and his warped vocals and ethereal, dream-like productions are sure to translate well on the festival circuit.
Coucou Chloe
Nice-born, London-based auteur Coucou Chloe's dark glamour and twisted romance makes her one of the most interesting artists about right now. Taking residence in the "City of Iron" for a spectacular and chaotic Saturday evening performance, this isn't a show you'll be wanting to miss out on.
Daniel Avery
Seeing techno wizard Daniel Avery perform live at any point is guaranteed to be a memorable experience, but after recently announcing his forthcoming 'Ultra Truth' album, the DJ's MELT set is shaping up to be one of his best. Catch Avery spinning dance floor heaters between 2:15-3:15am on Thursday night.
DJ Fuckoff
Germany-based DJ Fuckoff is taking the underground bass scene by storm with her unapologetically fun approach to mixing and live sets. The New Zealand native's blends of gabber, happy hardcore, psytrance, breakbeat and everything in-between is exactly what the Friday night is calling out for.
Eartheater
Criss-crossing between spacey electronica and lo-fi freak folk, Eartheater's live sets are just as intoxicating, emotive and sexy as her studio records. Poised to takeover the stage on Saturday evening, it's a be-there-or-be-square situation when it comes to this groundbreaking talent.
Headie One
If one thing's for sure, UK drill trailblazer Headie One knows how to bring the party. Laying down his killer verses over booming 808s and dark-edged synths, the North London rapper will be keen to continue his meteoric rise in Germany with a gig to remember.
Joy Orbison
Joy Orbison has been one of the best producers in the game for quite some time now and following last year's 'still slipping vol. 1', is continuing to flex his prowess on the live circuit. Bringing his infectious hooks, UK garage-fuelled drums and warping, skippy basslines to Germany this weekend, it's hotting up to be a special performance.
Shygirl
As Shygirl prepares to release her brand new album 'Nymph' in September, MELT festival is proving to be the perfect stage to experiment with new music and show off what the left-field pop princess has been working on over the last year. Her club-ready bangers are enough to jolt any crowd into action.
Yung Lean
Yung Lean needs no introduction. The Swedish superstar has been breaking boundaries since he was in his early teens, and now, in the wake of his recent 'Stardust' album, he's more energised than ever and ready to show what he's made of this weekend.
To buy tickets, access the full line up or get more information on the festival, visit here.