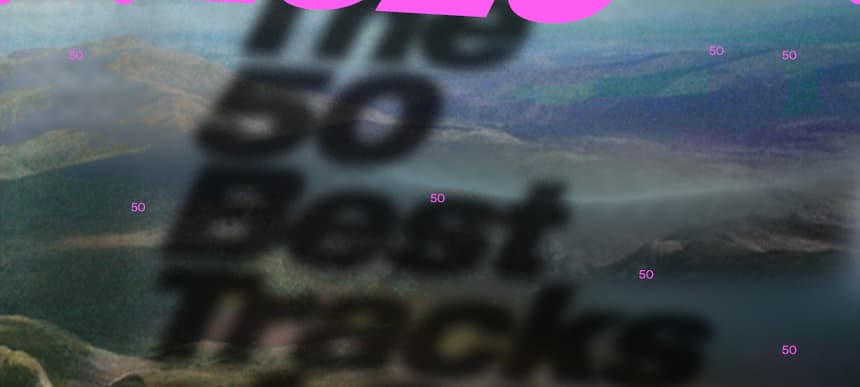 11.12.2020, Words by Felicity Martin
The 50 Best Tracks of 2020
Here are the fifty cuts we've had on repeat throughout the year...
What a year it's been. While we won't dwell too much on the negative side of things, there was some outstanding music released. Over the past 12 months, we've been working on our artist services company DMY Artists (we've purposely excluded anything we've released from this list, but you can find a playlist of everything we released here). We also launched a podcast, which you can listen to here, and a new filmed session series, which you can check out here.
Below, tune into the 50 tracks that helped us get through the year, that made an impact culturally, that excited us or resonated with how we were feeling. Take a listen, and make sure to check out our 25 Best Albums of 2020 list, too.
50. Blanco – 'Anakin'
49. Zilo – 'Tell Her'
48. Anunaku & DJ Plead – 'Clap Clap'
47. Cadell – 'World War III'
46. Nana Lourdes – 'Kenny'
45. Baxter Dury – 'Slumlord'
44. Amaarae – 'Jumping Ship ft. Kojey Radical & Cruel Santino'
43. Lone – 'Dragonrush'
42. Daniel Ness & HNRO – 'Lick ft. Rome Fortune'
41. Scintii – 'Times New Roman'
Listen to Scintii's Dummy Mix.
40. Róisín Murphy – 'Something More'
39. Dance System – 'Let's Go! (ft. India Jordan)'
Listen to Dance System and India Jordan's Dummy mixes.
38. Rina Sawayama – 'Bad Friend'
37. Che Ecru – '36000'
36. V9 x KO – 'Right Or Wrong'
35. Mura Masa – 'Today (with Tirzah)'
34. Denham Audio – 'Feel The Panic'
Listen to Denham Audio's Dummy Mix.
33. SL – 'Hit The Block (ft. Pa Salieu)'
Pa Salieu features in our 25 Best Albums of 2020 list.
32. Rosalía – 'TKN (ft. Travis Scott)'
31. Sully – 'Swandive'
Sully features on Fixate's best jungle reworks selections.
30. KwolleM – 'Woolwich Arsenal (DLR)'
Find out more about the influences behind KwolleM's 'c2c' project.
29. Jayda G – 'Both Of Us'
28. XATIVA – 'Think Of Me Softly'
Read our BRAND NEW feature with XATIVA
27. Four Tet – 'Baby'
26. Novelist – 'Dun Know'
25. 645AR – 'Sum Bout U (ft. FKA twigs)'
24. Eris Drew – 'Fluids of Emotion'
23. Eliza Legzdina – 'Tom & Jerry'
22. Anz – 'Loos In Twos (NRG)'
21. Tkay Maidza – '24k'
20. Daniel Avery – 'Lone Swordsman'
Listen to our podcast with Daniel Avery, where he talks through his favourite video game music.
19. slowthai – 'BB (BODYBAG)'
18. Actress – 'Walking Flames ft. Sampha'
17. Potter Payper – 'Science'
16. Kida Kudz – '1am (ft. Jaykae)'
15. Digga D – 'Woi'
The drill rapper was recently made the subject of a new BBC documentary, Defending Digga D.
14. Sega Bodega & Låpsley – 'Make U Stay'
13. Scratcha DVA – 'X'
12. Arlo Parks – 'Black Dog'
Listen to our podcast with Arlo Parks, where she names her favourite tracks to cry to.
11. A. G. Cook – 'Gold Leaf'
10. Breaka – 'The Startup'
London's Charlie Baker (Breaka) has been behind some of the best bass music we've heard this year. A cut of 130 bpm junglism with propulsive, juddering bass, 'The Startup' was just one of a string of wickedly bangin trax released via his own new self-titled label and the likes of Off Beat. Hopefully he keeps up the exact same work rate into next year.
9. Frisco – 'Red Card ft. Skepta, Jammer, Jme and Shorty'
Easily one of the best grime singles of 2020, Frisco's 'Red Card' saw a reunion of BBK members Skepta, Jammer, Jme and Shorty. Jme's verse is the best, with a clever nod to his bro's footwear ventures: "Bedroom full up of SKAir (Trust) / But I don't wear them out, not 'cause I don't wanna wear them out / But I don't wanna wear them out, ya get me?"
8. 070 Shake – 'Guilty Conscience'
Having been responsible for some of Kanye's best moments on 'ye', 070 Shake's paranoid bops were a joy to behold. Making her G.O.O.D Music debut with 'Modus Vivendi', Shake triumphed with future karaoke classic 'Guilty Conscience'.
7. Ragz Originale – '4AM ft. Eliza'
'Shutdown' producer Ragz Originale has continued to craft sublime, late-night works of R&B as a soloist, and here Ragz and Eliza do a classic call-and-response with a 2020 update: "So much Fenty on my white tee". (This year, we worked with Ragz on singles 'ring out' and 'OG lullaby', with more music on the way in 2021.)
6. Ghetts – 'Mozambique (ft. Jaykae & Moonchild Sanelly)'
Everything Ghetts has done this year has been top dollar: his 'IC3' collaboration with Skepta, his Mad About Bars freestyle that's justifiably being hailed as one of the best of the year. With an album on the way next year, here's hoping it'll match up to the standard of 'Mozambique', where Ghetts was in philosophical mode over a flip of Ruff Sqwad's 'Top 3 Selected' that he then flipped on his 'Ghetto Gospel' album, nodding to the inherited nature of grime.
5. HAAi – 'Bon Viveur'
With an intro of Patsy Palmer claiming to be a DJ (she doesn't want to say she's one, but she is), the video to HAAi's 'Bon Viveur' is as much a sensory overload as the track itself. Vibrant and atmospheric, the track did out-of-your-mind rave euphoria in a subtle, explorative way.
4. K-Trap – 'Paid The Cost'
Times when UK rap stepped outside of its confines made some of the biggest impact this year, and the quite truly outrageous beat on 'Paid The Cost' is the kind that unintentionally makes you screw your face up. K-Trap is one of the best in the UK right now, with his 'Street Side Effects' album cementing that notion even further.
3. Bicep – 'Apricots'
Teasing forthcoming album 'Isles', the duo of Matt McBriar and Andy Ferguson unleashed a subtle big room beast with 'Apricots', all widescreen build-ups and gently pulsating synths with vocal samples from traditional Malawian singers.
2. Headie One ft. AJ Tracey & Stormzy – 'Aint It Different'
Although it was the production that really made this track bang (a Crazy Town-via-Red Hot Chilli Peppers sample plus a Lady Saw interpolation made for a unique hit of nostalgia – for a certain age bracket, anyway), you can't deny the power of Tottenham's finest, Headie One. This year produced a Drake collab, an acclaimed debut album ('EDNA') and experimental side project (read about 'GANG' in our Best 25 Albums of 20202 list). Lyrics like: "You ain't ever made a birthday cake from Digestive biscuits" were Headie at his realest and best.
1. Pangaea – 'Like This'
In a year marked by the absence of the club, it feels right to give the top slot to what would've almost certainly been the peak-time summer anthem of 2020. Pangaea went for a fidgety retro house vibe with some atmospheric strings before a euphoric build-up – what more could you want? This Bandcamp comment sums it up: "The world turns around. Life goes on. Things get better. Stuff works out. It's all gravy anyway. Pangaea!"
Read The 10 Best Influential Tracks I Wish I Saw Being Made, according to Pangaea
Listen to our playlist of the 50 Best Tracks of 2020:
Artwork: Luke Griffiths