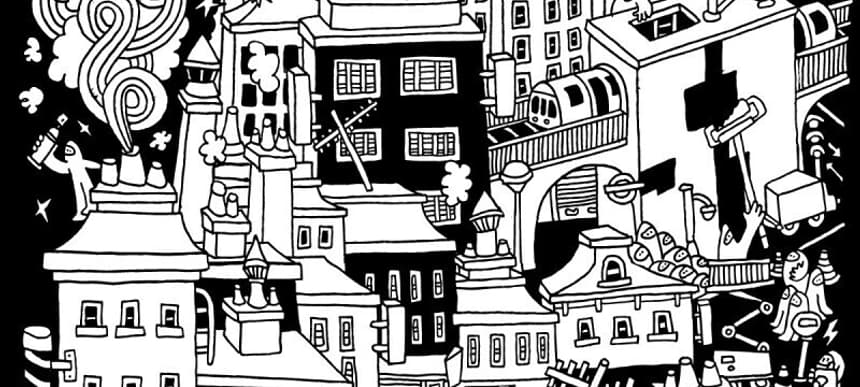 21.08.2014, Words by dummymag
The Art of Noise: Ashes57
While her roots lie in the nascent street art scene of her native France, the work of Ashes57, aka Delphine Ettinger, is founded upon inspirations and experiences which are spread a lot wider. She has spent time living in LA, New York and Montreal, and it is East London which she cites as providing one of the huge creative inputs into her work. It's the independent spirit which still defiantly resides there, around her base in Bethnal Green, that she rates as so important. "Everything is local. Rinse FM is broadcast from Brick Lane, my friends have shops at the Truman Brewery and I have my local coffee shop," Delphine says, "And the area is still tagged up, which is what I love the most."
Her artwork has become increasingly embedded in the make-up of the unpredictable strands of bass-led experimentation shooting off from the dubstep scene that Loefah, her longtime collaborator and Swamp 81 label boss, helped to initiate. Her working relationship with the musical artists she produces artwork for is a close and often-permeable one – she might elaborate on a typographic idea started by the artist themselves, or she might develop a piece on the basis of simply "one sound or one word." This interchangeable, dynamic relationship is especially pronounced with Loefah, a close friend with whom she shares a mutual understanding. When they get together, she says, "ideas and concepts submerge in my head."
Through her involvement with Swamp 81 and her work for Teklife and the late DJ Rashad, she has produced artwork which has been intimately involved in some of the seminal moments of underground UK music of the last few years. A recurring theme in her art is representing the urban environment in which the nightlife cultures surrounding those moments takes place. Sprawling, myriad images of the city's underbelly and the characters who occupy it are motifs which repeatedly crop up in the art she produces. Looking ahead, Delphine is looking to expand her work by making bigger murals, working with more artists that she loves, and putting on more shows.
An exhibition of Ashes57's art runs at Boxpark in Shoreditch, London throughout August (more information).