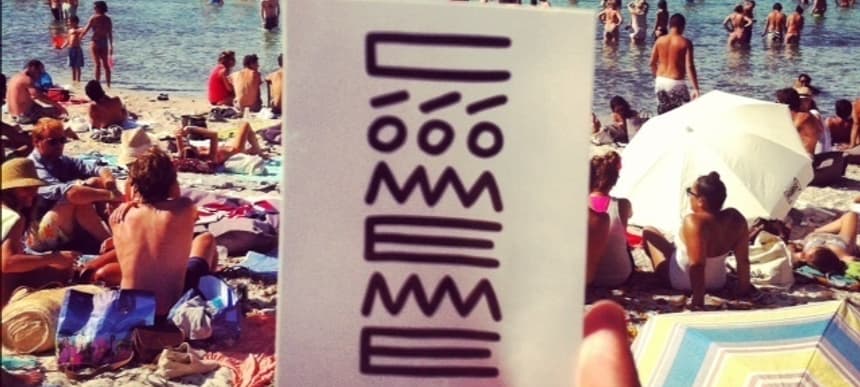 20.05.2015, Words by dummymag
The Dummy Guide to Cómeme
The potential of house and techno to bring people together has long been celebrated; from the very beginning, the spirit of openness has been enshrined on the dancefloor. Or so they say. The reality in 2015 feels a little different, with homogeneity and gender imbalance in dance culture remaining largely unchallenged. Since 2008 though, pan-global label Cómeme has attempted to fight back – although you were probably too busy dancing with a grin on your face to notice. Because that's the power of Cómeme; while joy vibrates from every release, the label's potency comes from its role as a true outpost for outsiders.
Yup, 'outsiders'. It's word that's been hijacked as lazy shorthand for instant, just-add-alienation credibility recently, but here it's the only word that sticks; a commonality that carries across a geographical sprawl that covers thousands of miles and two hemispheres. "We're really different, not only because we're from different countries," says Columbia-born Sebastian Hoyos, who makes music as Sano. "How we can work together, share together, I can't explain. I can say that we are all looking for the same things: we were lonely outsiders, but we're not alone anymore."
At the heart of Cómeme are two people: producer and DJ Matias Aguayo who founded the label in 2008 and label manager Avril Ceballos. They currently run the label out of Berlin, but you get the sense that their suitcases are never quite unpacked. Together they've created a platform, label and network that fosters a level of openness and collaboration quite at odds with the electronic music world right now. "We try not to have Cómeme as something that only releases music," stresses Avril, over a Skype line from Mexico City, "We did a residency in Germany where we brought four or five artists from South America, Capracara from the UK, Philipp Gorbachev from Russia, Julia Kasprzak from Poland. We try, at some point in the year to get together to have a connection, like a family, in a way."
Leaving aside the fact that Matias and Avril are married, which takes the idea to a whole new level, family is a central tenet of Cómeme. And while it would be fruitless to trace the entire network of artists and collaborators, there's a handful of names that appear critical to the label right now: Matias and Avril, Cologne residents and Cómeme lifers Christian S. and Sarah Szczesny (the visual artist responsible for the label's distinctive, primitivist artwork), Lena Willikens, Moscow's Philipp Gorbachev, Ana Helder from Argentina and relative newcomer Sano, originally from Medellín. It's a lineup as musically disparate as it is geographically diverse – compare the muscular and challenging 'alternative Russian dance music' of Gorbachev with the hybrid jack tracks of Sano; the deadpan drone techno of Willikens with Aguayo's own irrepressible urge to experiment. That indefinable something that binds them together? Sano words it best: "Behind all this music is a mixture of good human beings on the outside of everything, and suddenly this guy appeared and said, 'Eh, come on.'"
"Behind all this music is a mixture of good human beings on the outside of everything, and suddenly this guy appeared and said, 'Eh, come on.'" – Sano, Cómeme
Perhaps to best understand the philosophy of Cómeme, one needs to look into the background of that guy, Matias Aguayo. Born in Santiago de Chile, his parents immigrated to Germany in the to escape Pinochet's dictatorship when he was three. "I grew up in Germany, which at the time was not really a country that wanted to integrate you," he remembers. "On the other hand, you go back to the country where your roots are and you're a foreigner there, too." As his family criss-crossed the globe, from Germany to Peru, back to Germany, his sense of alienation amplified. However, when he settled in a town a few miles from Cologne, he reconciled his identity through the sounds coming out of the city's burgeoning house and techno scene. "Techno and house music has this thing where suddenly a lot of different backgrounds can come together," he says, "It wasn't a contradiction to have the Latin rhythms you hear in old school house music, combined with dark electronic basslines which, as I came to know, were more situated in new wave or EBM. It was the music of the aliens, for the aliens."
This experience in Cologne would have lasting consequences for Cómeme. Not least because it brought Matias into contact with Christian S., Sarah Szczesny, and the Kompakt crew. More personally, he began to see the survival skills that come bundled with the immigrant experience as something to be exploited. "That's something beautiful about making music, this possibility of getting to know people from very different contexts, geographically and socially. And as my life is a little bit like that, I've grown up in different places and was often forced to adapt to a new situation, I tried to take advantage of that and see it as a good thing; to somehow open that communication." As his DJ schedule took him across the world, he established conversations with other artists, often from localised scenes beyond the limited purview of Europe. Cómeme, he says, was a gut response, a kick back, by a group of DJs who felt alienated by the global techno scene. "We had all these DJs who couldn't identify themselves with a sound of today. People like Diegors, Rebolledo, Christian S., Djs Pareja, who were already making this music that represented – not a sound, because everybody's sound was quite different – but an attitude, a spirit."
The label started modestly and was improvised from the ground up, with the first transmissions coming in the form of YouTube videos that define the subversive playfulness that powers the label to this day. "Matias would send me these videos where they were pretending to have vinyls of their own," recalls Avril, laughing. "They would draw these covers on 7"s, play them on an old Vestax and they'd put their own recording over the top. Everything started with pure imagination, as a wish."
When the first official 12" was released, it became clear just how far their imagination had carried them from the dominant underground sound. Bo Jack/Pitaya Frenesí, a split between Rebolledo and Aguayo, resisted the slick sound design that was fashionable in 2008, opting instead for cheap, visceral thrills. On the a-side, scratchy drum machine funk adorned with anguished cries (dramatically stereo panned, for maximum brain-curdle) and, in Pitaya Frenesí, a glassy-eyed piece of theremin-led loop techno that recalled the atmosphere of an after party three days deep. If these scuzz-caked bangers – all sunburn, gristle and the smell of scorched hardware – sounded like they'd been optimised for the street rather than a set of Funktion Ones, they were. These were part of the soundtrack to the infamous BumBumBox parties that Matias and his pals organised across South America as an alternative to the elitist clubs.
Other early key releases such as O Sea, Hello! by Chilean artist Diegors – a mongrel house cut assembled from the Dembow riddim and Columbian Champeta – further established that Cómeme was socketed directly into the freshest sounds and rhythms of South America. However, as is the nature of communication, it was a two-way thing, with key Cologne figures like Christian S. intrinsic to the label's early sound (indeed, Jagos – his own take on grinding, ghostly techno – remains one of the more subtle Cómeme classics).
Strangely, while the label's energy and sense of fun translated to the darkest of European sweatboxes, it was, and still is, met with some resistance from promoters. "What I sometimes miss more in Europe is the openness towards something new," laments Matias, "There's a certain school of what popular underground music is and how it was built, but it's just one interpretation of what it is, and it's very much dominated by a middle class, white perception of music." By opening up a line of communication with South America, Cómeme tilted the axis away from US and Europe and their more purist genre delineations. It's caused a few headaches for Avril, even in that most lauded of clubbing heartlands. "We get this a lot in Berlin when we try to make our Cómeme parties," she says, "We've been told by one club for that 'You're too experimental,' or 'You're not techno enough for us,' or another saying 'You're a bit too weird.'"
"What I sometimes miss more in Europe is the openness towards something new. There's a certain school of what popular underground music is and how it was built, but it's just one interpretation of what it is, and it's very much dominated by a middle class, white perception of music." – Matias Aguayo, Cómeme
Weird. It's a word that creeps into discussions about Cómeme a lot, and while it used to trouble the crew, they've come to own it. "At the beginning I was like, 'Why do they have to label us as being weird?' But now it probably also means that we don't have an expiration date," says Avril. "Now when they tell us, 'We're weird guys with this weird music, with this weird artwork' – it's, like, perfect." Certainly they've allowed their offbeat impulse full expression through their Mixcloud channel, Radio Cómeme. It often features shows by friends and collaborators with specialist knowledge: DJs like Danny F, who explores Columbia's champeta movement, or Carlos Reinoso, whose show features the Venuzuelen collector playing from his catalogue of vintage shellac. These sit side-by-side with the proudly anything-goes transmissions from Lena Willikens, who may decide to dedicate a whole Sentimental Flashback show to new wave subversives Devo, or the Japanese vinyl she picked up in Tokyo, or to records with cool bass lines. "For me every month there's a good reason to bring my records in order, to remove the dust and to show my thankfulness to people who inspire me," Willikens explains. The idea, as always, is to keep the musical bandwidth as broad as possible.
Naturally, fostering such openness has attracted the kind of artists that simply don't fit in elsewhere. One example is Philipp Gorbachev. Born in Moscow, the son of a famous racing driver, he spent his first seven years in West Berlin before moving back to Moscow. Heavily involved in the avant-garde and improvisation scene, he engaged with electronic music only tangentially, as a driver charged with getting DJs to gigs. That changed in 2009, when he saw the Cómeme crew perform at c/o pop, a watershed moment for both him and for them. "I went, pretty selfishly, to Cologne with the money I'd made from driving Timo Maas to Moscow or something," he remembers. "I just walked up to the Cómeme crew – it was the first official Cómeme night in Europe." By 2010, he was family. "My first European gig was a Cómeme party in Europe. I felt so happy that this was my first, it gave me a real belief in the people, in the context and in this freedom of expression on the dancefloor." A feeling surely felt all the more keenly as his discontentment with the politics of his homeland grew. "Suddenly it happened that I was kicked out of Russia," he reveals, casually. "I moved to Berlin, almost to the same street, in the same month as Matias."
While less extreme, Sano too felt deeply out of step with his home city, despite co-organising the Perro Negro parties, the most influential – and chaotic sounding – underground parties in the city. "Medellín is a city so focused on global trends and fashion that it's afraid of developing it's own 'style'. We are afraid of the one who is different, we point at them and laugh." Nowadays he's based in Barcelona, to be nearer the Cómeme family. To artists like Philipp Gorbachev and Sano, Cómeme is more than a label – it's a support network. "For me, it was one of the main things that gave me the security to come here, to change my life," says Sano, "If this wasn't a family, if I just had a contract with some numbers on it, I would still be in Columbia." Philipp agrees. "Until now, I had just a few numbers in my telephone and one of them was Matias, another Avril and my wife. But with these kind of intimate, working conditions, you create things and share them with people – this is something that has kept my mind clear over the last four years."
These working conditions are an essential part of the Cómeme method, where extended studio sessions with multiple artists run into weeks, and where music is frequently shared for feedback. At the centre is Matias, playing a role not unlike that of a traditional producer. It's an intriguing model that utterly fits the Cómeme ethos and it's resulted in some music that might otherwise never have been heard. As Sano explains, "When you try to produce something, to put it out for someone else to enjoy, you try to fit. But when you don't fit, you think 'I'm not ready, it's not good enough.' With the support of all these people, including Matias and Avril, artists are in a place where we start to grow, where we start to become real."
"Working collaboratively is indeed an essential element," Lena Willikens agrees. "I consider [2015 EP] 'Phantom Delia' as a product of many different influences. While I make music there is definitely a point where I lose control and my phantom takes over! Somehow it feels that at the end it is more of a collective product, and that my phantom embodies the collective." Of course, this approach isn't for anyone, as Sano reveals. "Matias has this really good nose. He could pick up anyone to work with, someone who knows Matias's work, I don't think they're going to say no. But he doesn't make this offer to anyone – he has really good taste. He knows how to put people together."
"Cómeme stands for music against tunnel vision, against discrimination, and against bigotry." – Lena Willikens, Cómeme
So what next for Cómeme? Unsurprisingly, they are set to continue breaking down boundaries in club music while championing a spirit of inclusiveness. This year has seen Matias Aguayo line up a series of EPs, titled 'El Rudo del House', that emphasise the physical act of dancing, and by extension, of togetherness and communion. He's even worked with choreographers to craft his own dance steps. "It has to do with this observation I've made that there's been a regression of dance moves on the dancefloors over the world. If this continues over the next 10 years, there'll be just standing in clubs." Perhaps even more significantly is the decision by the label to only take on female artists right now, with promise of upcoming releases from new female artists in the wake of strong records from Ana Helder and Lena Willikens. "We've noticed that there's been a regression in the sense of female participation that has become very obvious in the music scene," explains Matias of the decision, "Not only production and performance, but in the whole structures of power, which are male-led. I think it's something that can be only changed actively – you can't just hope that female artists show up and send cool demos."
"Cómeme stands for music against tunnel vision, against discrimination, and against bigotry," says Willikens when quizzed on the role Cómeme plays in the musical landscape 2015. It's hard to disagree – ultimately, it's this commitment to positive action through the power of dance that makes the label such an important, vital platform.
That and family, of course. "Sharing cool music with our brothers and sisters and making a cool party, this is the basics of everything," says Philipp Gorbachev, definitively. "With Cómeme you can see this relation – it's still about music and still about dancing and good fun, and this is very important. It's not really about yourself, it's about sharing."
Cómeme released Matias Aguayo's 'El Rudo del House' EP series throughout 2015. Vol. 4 is released on June 15th 2015 (buy).