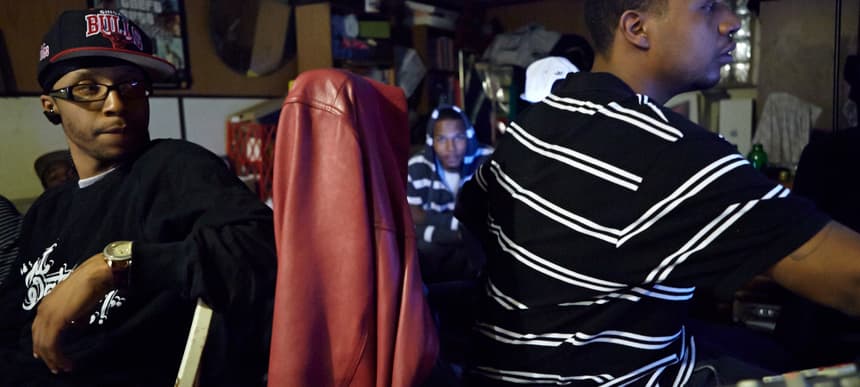 05.12.2014, Words by dummymag
The Dummy Guide to Teklife
Despite a growing familiarity with Teklife and the footwork sound which they've championed around the world, many people remain unfamiliar with the crew's exact history or make-up. A fogginess still persists around a culture with its origins in a close-knit scene that spent a decade incubating in the basements, dance studios, and skating rinks of Chicago before branching out into a global community of DJs, producers, and dancers. The increasing appetite for music made by Teklife affiliates is attested to by the release of both Tim & Barry's new documentary I'm Tryna Tell Ya (which explores the roots of footwork) and Hyperdub and Teklife's 'Next Life' compilation (which charts its present and future) over the past couple of weeks. But what Teklife is or where exactly it came from still isn't common knowledge for a lot of the listeners who consume the music.
The term 'footwork' applies equally to the music as it does to the wildly complex dancing that accompanies it, owing to a creative relationship poised equally between role of the DJ and the dancer. As the focal point for footwork both within and outside of Chicago, Teklife now exists as a global, extended family, whose members – located in New York, Berlin and beyond – number around 20 and harbour dedicated outposts in Belgrade and Tokyo. Bookings at nightclubs and festivals across the globe are becoming increasingly common for many of those involved, and only serve to enable yet more converts to their distinct musical creed.
This feature traces the scene's origins, which began with the trio of RP Boo, Traxman, and DJ Clent, taking their close ties to the ghetto house sound of Chicago, its Dance Mania imprint, and bending and twisting those influences from four-to-the-floor rigidity into bold new structures. Speaking to several Teklife members, including one of its core figures, DJ Spinn, we've taken an outsider's perspective to shine some light on the culture which produced the dancers and DJs who laid the foundations for what now exists as a global phenomenon. From the Ghettotekinitianz crew founded by Spinn and Rashad to affirm the growing musical set they found themselves absorbed in, to its later reincarnation as Teklife and the international ties which quickly followed this name change, we've looked to find the small details which have been crucial to a scene that has always been about more than the music.
Chicago, 2000: Footwork finds its feet
The skating rinks commonplace throughout Chicago serve as an interchange for the city's contrasting musical currents and inhabitants. It's here that many will have first come into contact with footwork music and the breakneck-speed dancing of the same name that preceded it and has now grown up in tandem with the souped up descendant of ghetto house. To those who haven't experienced it, it's an environment that's quite difficult to picture: the closest point of comparison for many in the UK is the damp, resolutely uninspiring setting of the suburban ice rink. The skating rinks situated all across Chicago's divided districts, however, have long been a place for people to come and show what they've got in the fiercely competitive atmosphere that pervades the dancefloors.
It's here that Spinn and Rashad would go to hear ghetto house sandwiched between hip hop and the top 40 during the mid-90s. In Chicago, Dance Mania – and the rough and ready ghetto house sound the label is most strongly affiliated with – ruled the underground from the mid-80s up until the turn of the millenium, when the label's closure meant that its steady supply of material suddenly dried up. Footwork music stepped into the hole left by this giant of the city's musical landscape, with the Ghettoteknitianz collective – later re-named Teklife – at the heart of pushing that change forward.
"After Dance Mania, there wasn't too many people producing like they used to," DJ Spinn explains over Skype during one of his periods back in Chicago, "Around 2001 to 2002, nobody was making music but me, Rashad, Clent, Gant-Man, RP Boo, and Traxman." It was in this period – distanced from the output of the label that had been so formative in their musical upbringing – that the BPM of the tracks they were making crept steadily upward and the MPC-driven, percussive jams began to establish genre markers for the swaggering, rhythmically distinctive style which was growing further away from the ghetto house and juke that were still common currency on dancefloors.
I'm Tryna Tell Ya (2014), a feature length documentary on Chicago footwork by Tim & Barry
The dancers move things forward
The changes to the music originated in the close dynamic between dancer and DJ; in the dance groups and organised routines which were commonplace at the skating rinks and dance shows, there lay the foundation of the tightly formed relationship which still exists in the so-called battlegrounds that are now the home of footwork in the city. Each track played by the DJ elicited a performance by the dancers which, in the heated intricacy of the moves, was closely tied to the energy and detail of the music. Spinn makes simple the importance of the dancers when he says, "It wasn't a thing that we made and called footwork, it just got called that 'cause people wanted to footwork to it."
The dance groups were big at the time. There were dance shows where the groups would show off their carefully practised routines to hip hop and music from the charts, with the finale often marked by a group of footworkers showing off their routine to a ghetto house track. It was from this that small groups and cliques of footworkers developed. Eventually the popularity of the shows began to wane and it was then that the cliques became smaller, the routines less organised and the dancers began heading to skating rinks especially for the portions of the night where this new twisted up incarnation of ghetto house was increasingly being showcased. This allowed them to experiment with the fundamentals of the footworking style that in turn drove forward the development of the music.
The birth of the Ghettoteknitianz
It's Traxman, DJ Clent, and RP Boo – operating in that period of creative drought following Dance Mania's closure – who are credited with really crystallising the template for the tracks which people were footworking to. For Spinn, who was still regularly going to the skating rinks and parties, stepping up to make his own tracks at a time so lacking in new music simply seemed the logical thing to do. "We never left, we stayed with it," he quips, "We were still dancing back around 2000." When quizzed on his decision to step into production, he says: "It didn't seem like it was a choice."
It was in 2004, during a trip to Detroit, that Spinn and Rashad settled on the name "Ghettoteknitianz" for the crew of producers and DJs that was gradually beginning to bubble up around the pockets of footworkers in the city. As a name, it nodded to the ghetto house which they were clearly indebted to while also indicating their intentions to innovate and reinvent those traditions. At this stage the scene was still operating under the surface; it gradually swelled in popularity until 2007, at which time it began to be a noticeably dominant force in Chicago. This meant that the dance battlegrounds held in dance studios and other makeshift venues – very often marshalled by Spinn and the other members of the crew – were really proliferating in different corners of the city, with the footworkers beginning to dominate the skating rinks too.
DJ Earl, one of a younger generation of producers joining the crew at the tail end of its Ghettoteknitianz incarnation, first came into contact with footwork at the skating rinks around 2007. He also affirms its prominence in Chicago at that time, in what he says is a contrast to Teklife's globally recognised status now. "It was definitely a big part of Chicago in general," he says, "The city was way more involved back then."
The Teklife era
Earl joined in 2009 with the change to Teklife following in 2010, when hints of its potential reach outside of Chicago began to emerge. When I speak to Earl and DJ Taye – another of the so-called second wave of Teklife producers – they recall how it was right around the time when Taye joined that outsiders first started to get excited about footwork. Earl recounts how it was on the very same day he joined that Spinn and Rashad were boarding the plane to Europe for their first dates outside of the US: "Literally that day when Taye got in was when everything started happening."
Planet Mu was instrumental in creating an appetite for their music in Europe and beyond. The release of Rashad's 'Itz Not Rite' EP on the UK label was soon followed by the hugely influential two editions of the 'Bangs & Works' compilations, providing a huge platform for Chicago footwork. Spinn confesses, however, that that first trip abroad wasn't an easy one to make: "Believe it or not, it was hard,' he says, "A lot of stuff didn't happen right and we wasn't making that much money."
DJ Manny
Teklife goes global
As this comment from Spinn suggests, the success didn't come rolling in immediately and it was with the help of another heavyweight UK label, Hyperdub, that ears really began to prick up worldwide. Although there were other important releases by the likes of Spinn and Traxman on Planet Mu and Lit City Trax, it was Rashad's EPs on Hyperdub and the monumental album, 'Double Cup', that were arguably the tipping point. That album in particular, with its broader take on footwork that incorporated more overt references to hip hop and jungle, permitted slower speeds and a cleaner style of production which allowed outsiders to Chicago and the battlegrounds an easier way in.
In Serbia's capital, Belgrade, Jackie Dagger & Feloneezy have been hosting footwork parties since 2010. Feloneezy outlines how seeing Spinn play at a festival in Austria inspired them to take that music back to reinvigorate a club scene that was stale and stagnating: "That first time hearing footwork tracks in a club with a good system, it was new to me and it had an energy that was lacking in almost all of the music I was listening to in clubs at the time." Along with other members, like Durban in New York and DJ Paypal in Berlin, Teklife has developed into a genuine global enterprise. Not only have they welcomed these new international members into the fold, but from 2010 Spinn and Rashad spent increasingly long periods outside of Chicago. Since Rashad's tragic death in April of this year, Spinn continues his regular international bookings along with many of the other artists, like Earl and Taye, often taking off to play outside of the city.
Bringing the dance with them
One point where the global expansion is lacking, however, is in the dancing. As Earl comments, "I would say that everybody's catching onto Chicago musically, versus the dance." With the dance preceding the music and being so clearly tied up in its development, Spinn is keen to bring more dancers out to their shows and encourage the music's global audience to understand how the music interacts with footworking. And while it continues to grow elsewhere, its influence has shrunk in its birthplace, with Spinn being wary of going to many of the places where he would often have been found before: "I love my city, but there's a lot of foolishness going on and I don't wanna get caught up in it when I'm doing so well." Returning from engagements abroad, the economic reality between the places he's flying out to and his home town have become increasingly stark, with him pointing out that having your name on bills means "there's a lot of people counting your money before you do."
With the crucial energy that derives from the dancer/DJ relationship, one can only hope that they're able to drive more wholehearted adoptions of the dual aspects of footwork, as has been documented in Japan, to be replicated elsewhere. Spinn outlines clearly the creative focus that the battleground provides: "It's definitely a different feeling. Even if it's not a thousand people, it's that small room with 75 or 100 people that go off to your music in a way that 1000 or 5000 people… they don't give you that same energy back. And that's really what it's all about, cause that energy's gonna make you go back to the studio." Or as Earl succinctly puts it, "The dancers motivate the DJs, the DJs motivate the dancers."
Hyperdub released 'Hyperdub x Teklife: Next Life' on November 11th 2014. All proceeds go towards a fund for DJ Rashad's son, Chad (buy).