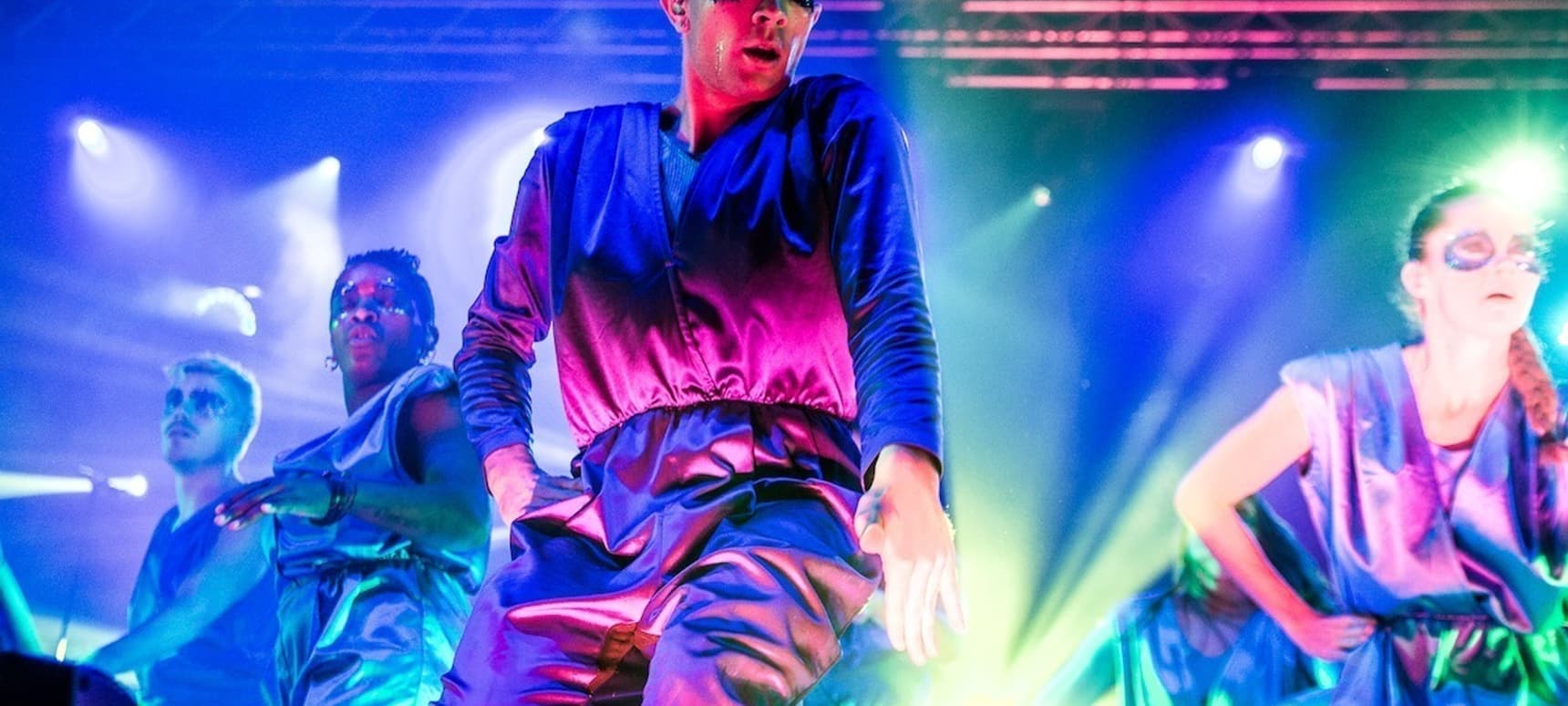 10.11.2014, Words by dummymag
The Knife at Brixton Academy, 06/11/2014
Click on any of the images above to launch the gallery.
This is meant to be The Knife's final tour – they're splitting up, "closing down", after it finishes. Yet considering this might be the last time that Karin Dreijer Andersson and Olof Dreijer play in London, this is no long, cloying, 'meaningful' goodbye. Instead, it's just a big ol' bash, and it's a lot of fun.
Tonight's show is an expanded version of last year's 'Shaking The Habitual' tour, first debuted in the US earlier this year. Initial responses to last year's shows were polarised, but the crowd tonight seems totally along for the ride: upon arrival the room is bouncing to DEEP Aerobics, the gender neutral, postive-affirmation fitness routine that's been seeing in The Knife's shows in lieu of a traditional support act for the past two years. Anybody who can get a normally disengaged crowd to chant the words, "I am not a man! I am not a woman! I am both! I am neither!" is doing their job right.
The Mr. Motivator-isms of DEEP Aerobics lead seamlessly into The Knife's set. All 11 members of the touring group come on stage decked out in shiny jumpsuits to play a double whammy of Wrap Your Arms Around Me and Raging Lung. Although some vocals and some instruments are live, most of the 'band' are miming, something that becomes all the more obvious once you realise how elaborately – and impossibly – constructed their instruments are. By the end of their first two songs, they do away with this pretence altogether, turning a "shaken up" version of We Share Our Mother's Health into a full-on dance routine and continuing from there.
It's quite brilliant, to be honest: The Knife are a studio project, and any conventional live performance would involve an element of fakery. They've just decided that, if we're all going to be hitting play anyway, why pretend to be doing anything else?
Throughout the show, there's a constant message of loving yourself, loving those close to you, and owning your own sexuality, a message that's brought alive by a reading of Jess Arndts' poem Collective Body Possum halfway through.
Finishing with a massive rave-off – Pass This On, Stay Out Here, and Silent Shout – The Knife don't prolong their final farewell, thanking the audience for their participation, and imploring them to continue dancing to a heavy set from DJ Maryam after they've left the stage. You could take that as the message of The Knife in general: they might be closing down, but keep on dancing even after they're gone.
All photos by Aoise Tutty at 92circles. Find her on Twitter: @92circles.