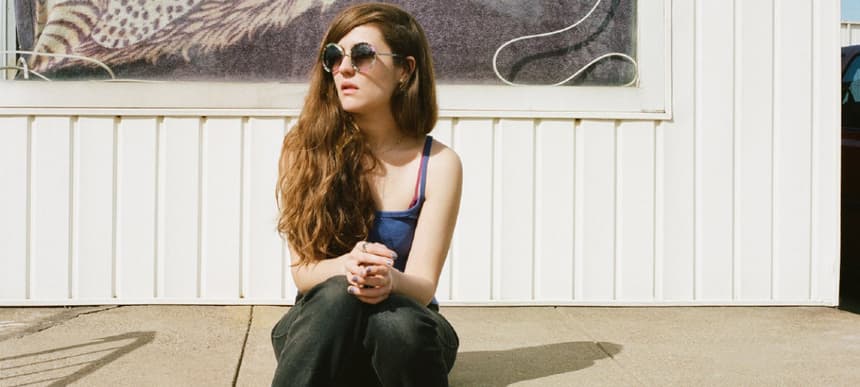 24.05.2016, Words by dummymag
The music gear that made Jessy Lanza's second album, 'Oh No'
"Busy but everything is good," begins my conversation with Jessy Lanza, as we speak in the lead up to the release of her second album, 'Oh No'. I had been listening to the album in advance of the conversation, with its honeyed sound being the perfect accompaniment to a 25°C day in London.
Greenspan's co-production is unmistakeable, with Lanza's vocals skating over the productions with a nonchalant sense of prowess. From the childlike ring of vocals shrouded in the Shangaan electro inspired bounce of It Means I Love You, the Yellow Magic Orchestra tinged urgency of title-track Oh No, and I Talk BB's late night, backseat-of-an-Uber mood, the album is an A-game aural background to an outdoor summer, and the hazy evenings that follow. The latter half of Oh No wouldn't be amiss in the club, either.
Keen to find out more about the enigmatic and summer-soaked feels of her second album – which was released May 13th on Hyperdub – we spoke to Jeremy and Jessy to find out what music gear contributed to the crystalline sound of 'Oh No'.
Roland SH 101
Jessy Lanza: "I think that's used on some ['Oh No'] tracks, but Jeremy and I both have one. In previous interviews, I only mentioned mine and not his, so it's like we have a sad Roland SH 101 that's been left out. There's a lot of 101 all over the record – Going Somewhere, Begins, VV Violence. It's on the bassline and the chorus. The way we used it on the record is kind of fast, like 16 notes."
Jeremy Greenspan: "My 101 has a little 101 voice, and it's always wondering why it gets left out."
Yamaha SY77
Jessy Lanza: "That's a funny synth I bought. When do you think that's from, like 1991?"
Jeremy Greenspan: "I think it's probably a little later than that."
Jessy Lanza: "It's an FM synth and it's really cheesy, but it has a few patches that are amazing. The coarse, vocal, choral sound on songs like I Talk BB, Vivica and New Ogi – it's all from this one patch from the SY77. There's a great music store here that gets in a load of used stuff, but there's also Kijiji, which is like a Craiglist, and there's always some weirdo selling music gear on there."
Eventide H3000
Jeremy Greenspan: "That's a harmoniser, it's an effects processor. They're really popular and most mixing engineers have one. It has these little detuning settings that allow you to do what are called micro pitch shifts. It detunes things very subtly, so I kept running Jessy's vocals through the Eventide and then eventually, I started just running everything through the Eventide! It gives everything this glossy, detuned effect. On the song Going Somewhere, I decided to mix the whole track through the Eventide. I would very rarely do that kind of thing but I just liked the sound of it. Actually, it ended up being my favourite mix on the album I think. You'll notice it, because it sounds a little wobbly."
Shure SM 7B
Jeremy Greenspan: "I can't verify that it's true, but I've heard Michael Jackson used an SM 7 microphone. I started using the SM 7 microphone for everything. I used to do stuff with really expensive old microphones we would rent for crazy money. People are like, "Oh, it's hard to do vocals if you don't have a $30,000 microphone," but we got this $300 SM 7 and it just sounds better."
Jessy Lanza: "It works for my voice…I had this other mic, an Apex microphone with a cap on it, but it sounded like shit so for 'Oh No' we used the SM 7."
Jeremy Greenspan: "The SM 7 isn't a cheap microphone. It's not an SM58, which is like $50, but considering most people think you can only get a good vocal sound with a Neumann microphone with a $20,000 capsule, the SM 7 is pretty great.
Somebody also told me that Sade uses an SM 58 microphone for all her vocals, which is a $50 microphone. I think especially with women's voices, the cheaper microphones are often a little better 'cos they're dynamic microphones, so they don't pick up the 's' sounds. With the more expensive microphone, they're trying to pick up the low frequency. You don't care if your voice sounds like Frank Sinatra [laughs]."
AKAI MPC2000XL
Jessy Lanza: "I bought that because I wanted to make music that sounded like DJ Rashad [laughs]. I found out that they primarily use an MPC to make their tracks and it kind of appealed to me. I talked to Spinn about making tracks, and they would make them in a night or a few hours. The MPC is cool because you can just load the samples up and work really fast. It has a really great sequencer on it and the effects are cool. It sounds really good, so I wanted to try it. The song it was used on primarily is Oh No."
"I bought [an MPC] because I wanted to make music that sounded like DJ Rashad." – Jessy Lanza
Jeremy Greenspan: "You know, it's funny, I've been working for around 10-20 years on electronic music and I've never had an MPC. It was really great to use one, just for the workflow aspect of it. I recently got a Dave Smith Tempest Drum Machine which works just like an MPC, and it's kind of the best workflow. I think you can use them for everything – a lot of house music dudes use them, like Moodymann. They have a great sound that comes right out of them."
'Oh No' was released by Hyperdub on May 13th, 2016 (buy / stream).