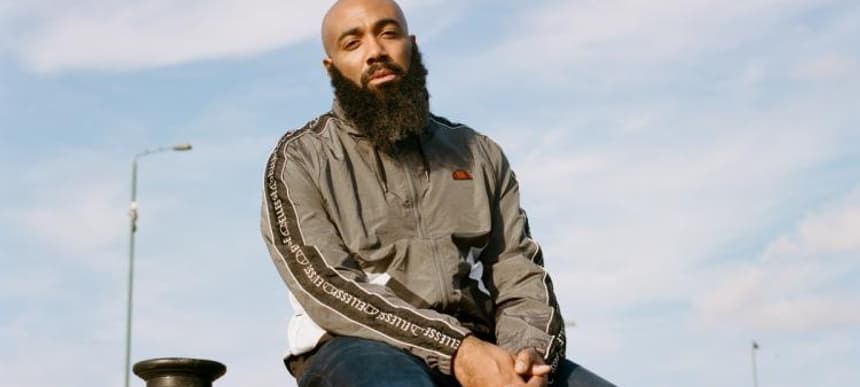 19.10.2018, Words by dummymag
Track by Track: Murkage Dave - 'Murkage Dave Changed My Life'
How male suicide, Crazy Titch and the Stratford JD Sports inspired the East London singer's new album
Leytonstone-born Murkage Dave has been a staple outside of his M25 roots for some time – on the Manchester rave scene, having teamed up with Mike Skinner for their now-infamous, balloon-filled TONGA parties. Now dropping his debut album, 'Murkage Dave Changed My Life', he's crafted a sparse, introspective vibe that feels distinctly British, with production coming from Skepta and Star Slinger, plus features from Manga and Jaykae.
Dave's soulful songwriting offers up a unique and relatable view into London life, going out with your mates and relationship woes. Below, the East London crooner runs Dummy through the thinking behind each track on the album.
–
'King Of First World Problems'
"I've been on the club scene getting into nonsense for years, I've been my own worst enemy a lot of the time and this tune is largely about all that. It's a good one to start off with because it sets the scene for everything that's coming. And I'm really proud of that Crazy Titch line – if you know, you know!"
'Magic Mission Deja Rinse'
"It's a love song, an ode to the pirate station era, and everything that went on at that time. The music that I taped off the radio back then not only soundtracked my youth but also formed the foundation for everything I've done since. You can hear it all across the record, it's in the stitching."

'Gotta Go DJ'
"I wrote this high as a kite one night in Berlin, so I didn't really process the lyrics at the time. Listening back it feels like a message to an ex but also to myself. I'm saying, 'You thought I was gonna fall off when you left but actually I'm doing alright so fuck you'. But I guess I know I could be doing better than I am at the same time."
'See Man Smile'
"When I wrote this I was thinking a lot about driving around Manchester with my mate Tony in his old Nissan Almera. We were running raves, getting the flyers about everywhere, pulling up to afterparties and getting into madnesses. I was also thinking about the glory years – or should I say, 'Gianno years' of Visions Nightclub, I'd just gotten back to London and G brought me in as a resident DJ, good times."
'Keep Up The Bad Work'
"I've been back in East London for a few years now so I'm always bumping into people that I know from somewhere or another and having that, 'How have you been we should link up soon' chat. But I was kind of imagining if I bumped into myself and had the chat with myself lol."
'White Nikes In The Rain'
"The audio at the start is from one night on The Streets tour where we piled onto the bus talking utter crud as usual and I just thought to press record on my phone. I feel like when I'm around the mandem I'll do and say a lot of mad shit to impress them but it's kind of silly in a way if you end up hurting someone you love. It's a bit dramatic, this one, but I like the idea of ruining your creps to save your relationship."
'Niggas Need Each Other'
"There was this doorman that everyone knew, he was one of those fly ones, you know. Handsome, confident, tough; girls liked him and he was always requesting the latest hood anthems from the DJs. One day I started seeing people posting up his picture with 'RIP' in the caption. At first I thought it must have been beef related, but then someone told me it was suicide. That really hit me, man. I just want the mandem to speak, really. Glad I got Manga's perspective on it as well. And you can hear Sam Wise & Scally in the back too."
'No Requests'
"I had to put it down for the DJs but also it's for anyone working in a shit job or situation because they need the money. The message is like, Okay, I'm here because you're paying me but I'm still gonna resist what you want me to be and be my own person."
'You Always Ring Me When I'm Busy'
"This was an important song for me, I felt a shift when I dropped this. I feel like it proved to people that I could be consistent. And it showed me that if I just put the stuff that's in my head onto music that other people could take something from it. I think I'm lucky in that way – some people are really good at writing more generic purpose-written stuff whereas I'm awful at that so I'm kind of forced to keep it real."

'Put You On My Shoulders'
"I wrote this when I was out in Paris. It's probably my favourite song I've written. If nothing else works out ever I'd still be happy that I could stand by this. In real life I feel like I talk way too much and never get to the point of what I'm saying but somehow I managed to say everything I wanted to say with so few words here."
'Same Old Spot'
"It's a song about a relationship on loop. Or maybe someone you see once a year at Christmas that you have this nonsense romance with that's going nowhere. When I'm in a club I do like to find a good spot where I have my back to a wall tbf. Hood paranoia lives on."
'Murkage Dave Changed My Life'
"The whole record is personal but this one really sums up my mid teens to early twenties. Working at Stratford mall JD Sports, methodist Church every Sunday, going to school out of the ends and generally feeling displaced everywhere. Moving to Manchester and encountering new madnesses but all the while just wanting to do music. I feel like I've just started to get where I wanted to be now."
'Car Bomb (BONUS)'
"By rights this tune shouldn't be on the album as it was on my last EP but I thought fuck it. It's such an important part of the story. Before this song I had nothing – I was literally in the wilderness. It's just a freestyle, really, but it definitely marks the first time I took the risk to be truly honest on a song. Marco Grey made an incredible video for this as well."
'Every Country (BONUS)'
"Jaykae is a good human. He doesn't say a lot but you can tell it from his actions. He's been super supportive of me, man. Shit like that is really important when you're trying to do something new. Him asking me to be on this was a huge confidence boost, and then hearing it all over the radio and people singing it back at the shows was a nice top up. Skepta produced the beat too, so to say I've vocalled one of his productions is kind of amazing tbf."
Stream 'Murkage Dave Saved My Life' now:

Listen to Dummy's curated NEXT HYPE playlist on Spotify.