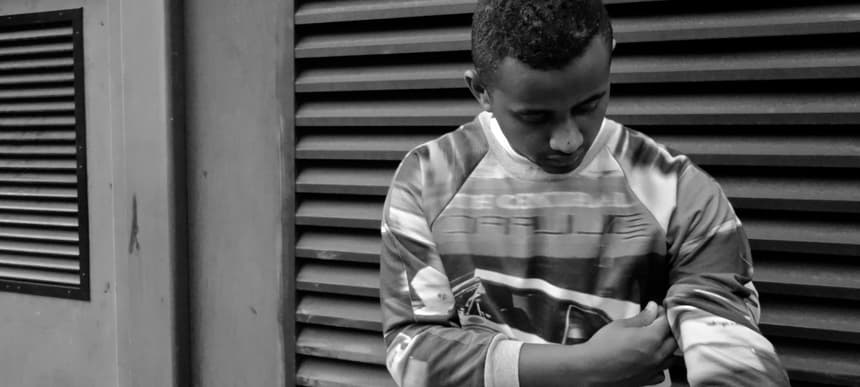 20.09.2013, Words by Aimee Cliff
Dummy Mix 182 // Cadenza
Ahead of our Dummy AGM next weekend, we're hosting this brand new mix from Cadenza.
Cadenza is the alias of one Oliver Rodigan, a feller who has been on our radar for some time now. It was back in 2011 that we first became acquainted with him – we heard the blare of his dancehall-kissed The Darkest Hype out at Sonar Festival and fell in love instantly. We ended up snapping it up for release on our own Dummy Records, backing it up with a remix by Om Unit under his Phillip D. Kick alias.
Two years on, Cadenza has found himself producing for hitmaker Ryan Leslie, joining the roster at Mad Decent and having The Darkest Hype repressed with a guest verse from young rapper Deena Jonez, who discovered the song on her trawls of the internet.
Cadenza will be DJing at our AGM on Saturday alongside Darkstar, Tirzah, Only Real, Larry Gus, Nadia Ksaiba and more – more information and ticket details are here. His anticipatory mix includes Sophie's unstoppable Bipp, a chopped'n'screwed Kanye West, and music from the good folks at Hessle Audio.
Hi Cadenza! Are you S-T-O-K-E-D for our AGM?
Rodigan: "I most certainly am. There is so much new talent playing on the Saturday, so I'm looking forward to what each artist is going to come with."
Who will you be down at the front for?
Rodigan: "Tirzah is top of my list, but to be honest I have never seen any of these acts live before so I'm spoilt for choice."
What do you have in store for us with this mix?
Rodigan: "With this mix I tried to display a cross section of all the areas I take my influence from, but mostly these are the records that I have been listening to heavily over the past few months. There are a couple of my own bits in there as well, but nothing more than refixes and DJ tools that I have made for the club, so they won't see the light of day."
Tell us what music you're working on at the moment?
Rodigan: "Right now I'm working towards finishing my first EP. I'm working with Nasher again, who I produced a track called Gyal Town with for Mad Decent. We sit down and just spend time selecting really quirky sounds and then once we have enough of a selection we try and piece together what we have and see what happens. It's a different approach to how I normally work, but it means we are constantly trying to push things a bit further. Aside from that, I am in the process of working on a sort of compilation album which is going to be made up of artists and producers from all over. So at the top of next year, recording is going to start on that project down in Jamaica, so I'm really excited to see how it's going to turn out."
After working with Deena Jonez on The Darkest Hype, are you interested in collaborating with more rappers and vocalists your productions?
Rodigan: "Yes, I would love to work with more rappers and vocalists in the future, but in the short term I'm going to focus on my individual productions so that people have a better idea of what I'm about."
How on earth did you end up producing with Ryan Leslie?
Rodigan: "I spent the summer of 2012 living in New York, mostly working with the rapper Donnis. Another friend of mine from the UK was out there as well, and he ended becoming a part of Ryan's team. I went to meet him one night at a deli near Ryan's building, and sure enough Ryan came in for a late night snack. We met and spoke for a while and then I just started sending music to my friend in the hope that Ryan would check it. Fast forward to December that year and I got a call saying that Ryan was going to Vienna to record his next album in two weeks and I was asked to submit some more demos. I stayed up all night and sent in what I had done. The next day I was told that he was going to be bringing me out to record. I was supposed go for a full week but the dates conflicted with my university finals, so I could only go for three days, but we knocked it all out and even ended up co-producing one of the cuts – which was a wicked experience for me."
What's your favourite song right now?
Rodigan: "BMB Spacekid – I Like It."
Tracklist:
Yung Gud – Untitled
King L – Val Venis (Brodinski remix)
Joe – REJ Bit
Kanye West – New Slaves (Chopped Not Slopped)
Wondagurl – Monsters
Sophie – Bipp
Pearson Sound – Crimson (Beat Ritual Mix)
Cadenza – All Jahmmed Up
KW Griff – Bring In The Katz
Diplo – Untitled
Pearson Sound – Quivver (Cadenza Refix)
ESTA – Separate Ways
Cadenza will be DJing at our Dummy AGM event with Darkstar, Micachu & Tirzah, CFCF, Larry Gus and more at London Fields Brewery next weekend (September 28/29th) – you can find full information on that here.