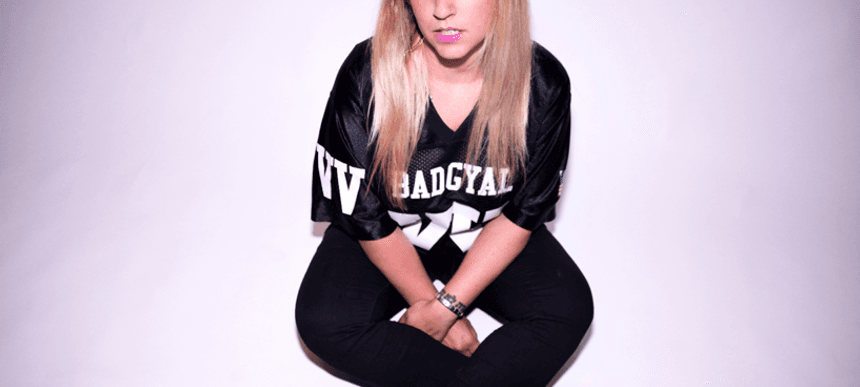 04.12.2013, Words by Aimee Cliff
Dummy Mix 192 // Jubilee
Miami-born, Brooklyn-based DJ/producer Jubilee makes music for chasing grey days away, as we've established before. Blending hich octane smatterings of house, bass music, dancehall, rap bangers and more in her relentless DJ sets (which you can catch on the 14th December if you're in Brooklyn, you lucky things) and evoking echoes of grime – particularly on the Slimzee-sampling Locked – in her productions, Jess Gentile is the perfect candidate to step up for a Dummy Mix in the difficult first month of December, to lift you out of your frostbitten lull.
With a tracklist spanning huge 2013 tunes like Sinjin Hawke and Gangsta Boo's Yeah Hoe and missives from Hysterics as well as Jubilee herself, you'll need to strap in and get prepared for a big, bold mix from the moment Trina – yep, Trina – introduces it. Stream above, download here, and read the tracklist at the bottom of the page.
Hey Jubilee, what's good?
Jubilee: "Hey! Nothing much just trying to relax before Art Basel and finishing my next Mixpak EP."
We know you count Miami bass and UK grime as influences but where did your love of the club begin?
Jubilee: "I am from south Florida and Miami Beach used to be a really easy place to party. As long as you can see over the bar clubs would pretty much let any girls in. So we went out every night when we were teens. There were also a bunch of record stores on the same streets as the night clubs so I got into music, dancing, buying records, Miami Bass and breaks and now here we are."
You're big on the DJ scene in Brooklyn – what's always in your record box?
Jubilee: "Grime instrumentals, my favourite freestyle songs, Dubbel Dutch edits, my own music, Salva's 'Odd Furniture' EP and Rizzla's Club Cecile edit of GIRL UNIT."
Tell us a bit about your Dummy Mix?
Jubilee: "I tried to mix it up a little bit. There are some throwbacks, some new stuff from me, and some things from others that I have been really excited about."
What do you have coming up release-wise?
Jubilee: "I just released a single on Trouble and Bass with my friend Burt Fox; it's called Keys Wallet Phone. Both songs on the record are in this mix. I have a record coming out on Mixpak in the beginning of the year too. And I am finishing another. Some good remixes on them too I am really happy with everything."
And finally, dream gig?
Jubilee: "Me and Trina playing on a stage with giant stacks of speakers somewhere deep in Miami, Uncle Luke from 2 Live Crew hosting and locals partying and dancing. Afterparty at King of Diamonds. I think it's definitely possible."
Tracklist
1. Jubilee- I-95
2. Hysterics – Code Switch (Georgia Girls Hollow Nose Edition)
3. Blaqstarr – Tote It
4. Imaabs – Pumps (Mike Q's Overdose)
5. SPF66 – Scorpion Cache (Neana's just rinsed it with all parties involved including c sick edit)
6. Jubilee and Burt Fox – Thirsty P
7. Brackles – Crybaby
8. Debbie Deb – Lookout Weekend (Instrumental)
9. Jubilee and Burt Fox – Keys Wallet Phone
10. Nightwave – Go Hard
11. Salva – Rest in 3-Piece
12. False Witness – Estrelas
13. Rizzla + Blk. Adonis – Trina Isn't Here For It
14. DJ Laz – Red Alert (Jubilee 718 Refix)
15. Gangsta Boo and Sinjin Hawke – Yea Hoe (Devil's Daughter remix)
Catch Jubilee at the Good Peoples Christmas party alongside Dre Skull and Dubbel Dutch in Brooklyn on the 14th December – more information on that here.