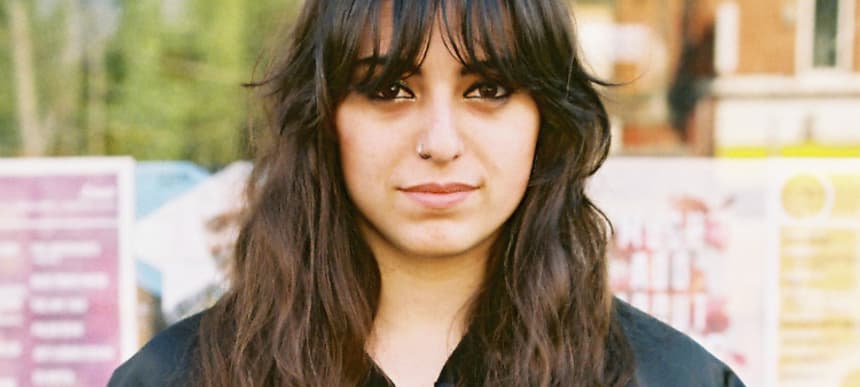 04.06.2014, Words by dummymag
Dummy Mix 213 // Madam X
It's a decent time for new club music right now. There are a lot of new producers making strange, bass-heavy tracks emerging all around the country (and, increasingly, around the world), and one person most connected to this strain of underground talent is Madam X.
A Manchester DJ specialising the best of new club and grime music, Madam X holds down semi-regular slots on BBC Radio 1xtra and Rinse FM and heads up the clubnight and label Big People Music (BPM). Earlier this week, BPM released a new, free compilation curated by Madam X called 'Kaizen Movements Vol. I', featuring 10 exclusive tracks from the UK underground producer new school, and to support the release, we asked her to put together our latest Dummy Mix.
Although it opens with a bit of late '70s space disco and throws in a few R&B belters, the mix – like the compilation – is mostly dedicated to the underground club producer new school, representing artists from new camps and collectives like Gang Fatale, Her Records, Goon Club Allstars, Boxed, Swing Ting, Liminal Sounds, and more.
We caught up with Madam X over email to find out more about the mix and the compilation, and to get a bit of background on what's she's all about as a DJ.
Hi, Madam X! Can you introduce yourself to Dummy readers?
Madam X: "Easy! I'm Madam X, I'm based in Manchester, I DJ all over the place, and run the record label/clubnight BPM, or Big People Music as you might know it as. I'm also on radio quite a bit, and you can check out my BBC Radio / Rinse FM features on my Soundcloud."
What's your DJing background? How did you get into it?
Madam X: "I sort of went backwards with the DJing thing. I learned Music Tech first at school, around 17/18, mucking about with Ableton, Cubase etc., and that sort of spurred me on to learn how to mix and DJ properly with decks and turntables. Once I left school and got to uni, I'd been practising 24/7 on my decks, and things just sort of naturally progressed from there!"
Can you talk about your new compilation?
Madam X: "Yep, it was basically something I'd been wanting to curate and put out for a while to show people exactly what kind of music I'm backing at the minute, as well as showcase some new (some not so new) artists that I'm totally obsessed with. Everyone on there brings something new to the table, but the compilation as a whole fits well together as a sonic package. I think that was what was most important for me when putting the thing together; I wanted the tunes to complement each other, but to also stand alone as unique, solid pieces of music.
"Everyone on there is someone experimenting, and challenging the boundaries of music. You've got genius lyricism from MC Fox and T Man repping the Manchester scene, Timbah and Murlo experimenting with boisterous funky sounds, Marcx and Dark0 coming through with the filthy grime, Benjha & G.S.ONE taking you on a soulful/ambient emotional roller-coaster, Swing Ting's Samrai on a weighty remix of Famous Eno's Terminator, Sudanim on an absolute mad one with that Sideman tune – so many layers of energy and filth – and Trap Door & Nativ bringing the danger-shoulder to the dance with their subtle grooves and drops. I'm dead proud of it!"
What's in store for us with this mix?
Madam X: "It's gonna be packed with the tunes off the compilation and then some… expect a couple oldies thrown in, an emotional R&B number or two, some classic grime, a powerful '80s ballad, and just everything that's influenced me musically up to this point (or whatever I can fit within an hour's mix)."
What's next for Big People Music?
Madam X: "We're prepping for the next release with Tee Vish, so look out for that! Our monthly clubnight in Manchester is going strong at Roadhouse every first Friday of the month, and we're looking to expand a bit further, do a couple takeovers around the UK, and keep working on music really! We're also gonna be at the Red Bull studios early August working on some stuff, so look out for what comes of that!"
Lastly, where are the best spots to get lunch in Manchester?
Madam X: "Soup Kitchen's a pretty strong contender, and the staff in there are lovely. There's also a pretty mean vegan place up the Northern Quarter called V Revolution which have crazy foods in there, and the Barbakan Deli in Chorlton is a favourite of mine. Any of those three will do you nicely!"
Tracklist:
01. Quartz – Chaos
02. Lighter – Skanker
03. Rubi Dan & Famous Eno – Terminator (Samrai remix feat. Fox)
04. Murlo – Coral
05. Sudanim – Sideman
06. Nativ – Breathe
07. Timbah – Tell Dem (feat. T Man)
08. Katie Pearl & Davinche – What Time It Is (Ghetto Kyote)
09. Low Deep – Cheeky Violin
10. Davinche – Let Me Take You Away (feat. Sadie Ama)
11. Impey – Bangclap
12. Brandy – Do You Know What You Have?
13. G.S.ONE – You Should've Known
14. Kelela – Cut 4 Me
15. Plastician – The Search (Kahn & Neek remix)
16. JT The Goon – Twin Warriors (Murlo remix)
17. Mattwizard – Judge Reinhold
18. Swindle – Good Stay Bad
19. Wiley – Terrible Instrumental
20. Walton – Aggy
21. Trap Door – Chaka
22. Marcx – Caged
23. Destiny's Child – Cater 2 U
24. Air Max '97 – Sleeveless
25. Bok Bok – Howard
26. Paleman – The Day
27. Pearson Sound – Lola
28. Cameo – Word Up
29. Wiley – Hummer Activity
30. Benjha – Lighthouse Blues
Big People Music released 'Kaizen Movements Vol. I' on June 1st 2014 (download).