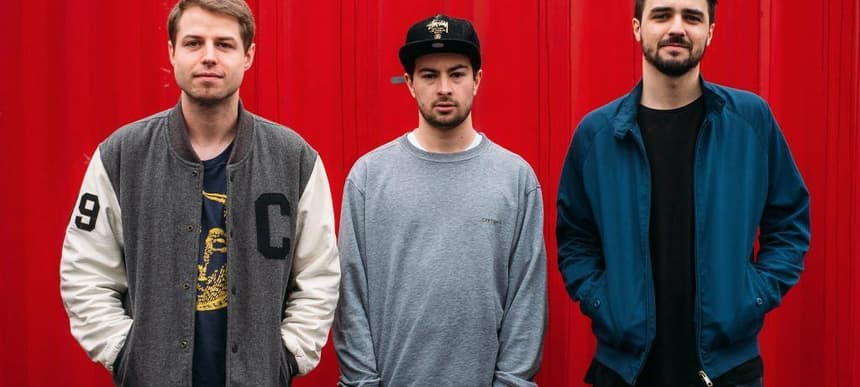 28.08.2014, Words by dummymag
Dummy Mix 223 // Dark Sky
London trio Dark Sky first started making noises around the turn of the decade, putting out white label R&B reflips and on-the-money remixes that would still go off just as hard at a house party as they did then, and seemed to be one of the artists that cropped up when some were describing "future garage" as a genuine thing. While that hasn't appeared to materialise just yet, Dark Sky have quietly gone from strength to strength with EPs like the flexing 'Frames' and the ideas-rich 'Black Rainbows' back in 2012. Modeselektor's 50 Weapons imprint has seen a number of releases for the trio in more recent years, and next week the influential Berliners release Dark Sky's debut full-length 'Imagin' on main label Monkeytown.
Steady development and an unrushed approach seems to have been a key approach for Dark Sky, and 'Imagin' is testament to that: a frequently tender, emotive dance record that distils their diverse tastes into a tangible whole, placing dancefloor fillers alongside more thoughtful pop-minded moments like first single Silent Fall. For their Dummy Mix, Dark Sky have delivered a vinyl-only, one-take set that should make sense to regular listeners of their NTS show and those that have caught one of their disco-tinged DJ sets. It traipses the decades and shifts in mood with an ease that's nowhere near as easy as they make it look. We sent over some questions for the boys to see how the summer's been alongside some refreshingly detailed responses on the individual tracks that found their way into this mix – have a read and a listen to the whole thing below.
Hey Dark Sky, could you share a few standout summer memories from 2014 so far?
Dark Sky: "Playing our first official live show at Lowlands in Holland this weekend just gone was pretty amazing, minus the 10-minute power cut on Carlos setup! Having to improvise on the spot to avoid an awkward silence was none the less pretty fun and definitely good practice. It was also great to see people's reactions to tracks from the album that they hadn't heard yet. Overall the show ended up going down really well which was a big relief.
"Getting to play on the pagoda at Secret Garden Party was a real good crack and seeing the reaction to our latest single Silent Fall at the end of the set was a special moment too."
Tell us about a few favourite tunes off the mix you've done for us.
Dark Sky: "The Bo Hansson track is the first record I picked up quite a few years back with a view to start sampling stuff and making hip hop – something I still haven't got round to yet. The rest of the album is really great too, it's basically all music inspired by the Lord of the Rings…
"The Doctor Zygote track is record I picked up last year and slept on for a while but recently pulled out to play on our NTS show a few weeks back. I'm now in love with the whole Groupo Zygote album. The vibe of the track is described in the title '(Extra Terrestrial, Shimmering, Dark)', which is a trait used by library musicians from the '60s and '70s which is pretty neat. This record came out on Black Acre records too – they were the first label to release our music.
"The Madlib track is off of his 'Rock Konducta #2' album. I was lucky enough to get to see Madlib play at Dance Tunnel in London early this year. The music he was playing was really psych and '70s influenced and that was the first time I heard Zamrock stuff which had a lasting impact on me. The gig was also the first time I got to see Egon play, who I then discovered runs Nowagain records which is a really great re-issue based label.
"The Roy Budd track is from one of my favorite films, Get Carter. Those intro stabs give me the tingles every time. Love how the funky double bass comes in and contrasts with the melancholic intro too. I really wanted to include at least one film soundtrack in the mix and this one seemed to fit in well. There's also lots of interesting sound design techniques going on in the outro of the track with reverbs which were well ahead of their time.
"Wk7 aka Head High aka Wax aka Eq'd aka Evil Fred aka War Easy Made aka Shed of course… where to start really?! He has to be one of my favorite producers. I was lucky enough to get to see him play a Head High set at Corsica Studios early this year. I think it was the best night I've ever had there. Just straight up power for two hours… I remember leaving the club and being like, 'wow, what just happened in there?'
"The Phil France track is off his album 'The Swimmer', which is a record I picked up at the end of last year. Really love just putting the record on and letting it play out start to finish. I find the way the album drives along without any real drums or percussion very inspiring and helps remind me that you can create very powerful rhythm and pulses without a kick or snare in sight.
"Matthew Herbert is a producer that I've always found incredibly inspiring – the way he continually challenges the rules but also retains immense amounts of soul in his music. I'd like to quote point five from his manifesto: 'The inclusion, development, propagation, existence, replication, acknowledgement, rights, patterns and beauty of what are commonly known as accidents, is encouraged. Furthermore, they have equal rights within the composition as deliberate, conscious, or premeditated compositional actions or decisions.' This is definitely a point that resonated with me after I read it and is an ethos that I've tried to adopt when working on stuff… Wake Up is the track I would like to hear playing at the after after party."
You've been doing Dark Sky for five years now – why's the time been right now for the release of your debut 'Imagin'?
Dark Sky: "It kind of felt like the logical step for us, we've always been keen to keep evolving and testing ourselves. The thought of trying to write an album two or three years ago would have been totally daunting, I wanted to wait until we had alot more experience and confidence in ourselves before trying to take on an album. I also feel like we've learnt a lot of things over the past five years that we could channel into one body of work."
How key has the long-term support from the Modselektor boys been to the evolution of Dark Sky?
Dark Sky: "Very key. They have supported us from day one, and have let us be ourselves and curate everything from the artwork to the tracklisting on the album. We found the way they operate as a unit and the way the label is run and curated very inspiring during the album writing process. We got to know them well after we saw a video of them playing our track Reflex at Melt Festival back in 2010. We've been in touch ever since."
What's exciting you musically at the moment?
Dark Sky: "A lot of the producers in this mix are really exciting us at the moment. Doctor Zygote has an alias by the name of The Mahgreban who is putting out some really interesting stuff. The London-based Lobster Theremin label is putting out some really interesting music especially the Imre Kiss and Palms Trax stuff. There is also a guy by the name of Bwana from the states making some great atmospheric stuff. I'm spending far too much time going through old '70s library and prog rock records at the moment. Something about the warmth and character of these records is really resonating with me."
Tracklist:
01. Bo Hansson Leaving the Shire
02. Haraldo De Oliveira Capoeira Na Vila
03. Doctor Zygote Loose (Extra Terrestrial, Shimmering, Dark)
04. No Silver Bird The Creation
05. Madlib Madness Tempel
06. Mosem-e Gol Parva
07. Karriem Riggins Tom Toms
08. James Holden Renata (Steve Moore Remix)
09. James Asher Forgotten Time Cycle
10. Roy Budd Goodbye Carter
11. Escravos de Jo Dom Um Romao
12. Christopher Rau Ne Travaillez Jamais
13. Even Drones B2
14. WK7 Higher Power (Hardcore Mix)
15. Marquis Hawkes Let's Do It
16. Phil France The Swimmer
17. Matthew Herbert Wake Up
Monkeytown release 'Imagin' on August 29th 2014 (pre-order).