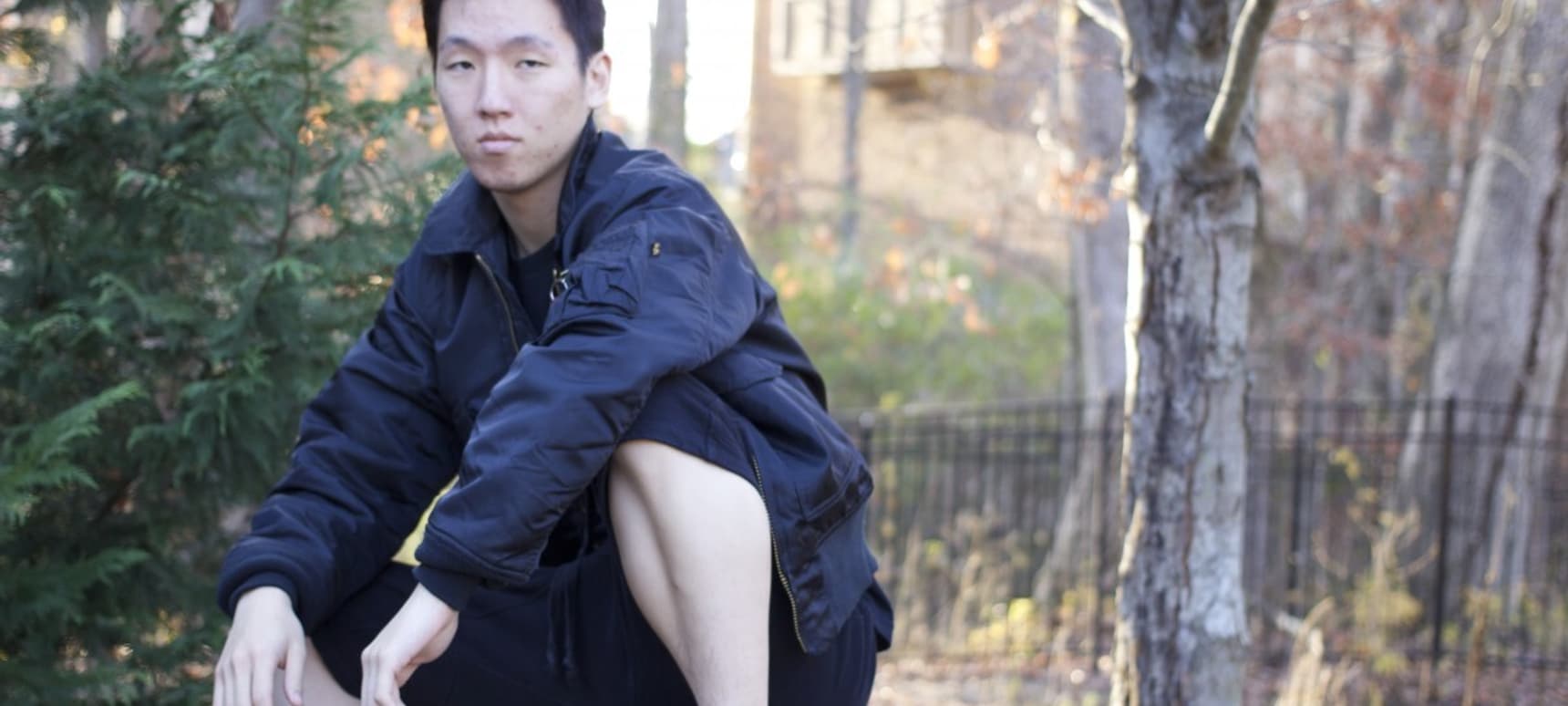 02.12.2014, Words by Aurora Mitchell
Dummy Mix 233 // Druture
Atlanta resident, producer, and comic book writer Druture makes hazy, hip hop-leaning productions with a soft spot for clipped vocal snippets. Having played around with bootlegs and collaborations uploaded to his Soundcloud in the last year, he made his debut as a solo artist (previously, he was one half of Grown Folk) on Sinden's Grizzly label with the 'Uh Oh!' EP in October.
With that EP, Druture's jittering, staccato production style had Dro Carey on board for Tier Zero, while previous Dummy mixer and UNO NYC pal Aquarian's edit of High Tide gave the track an even more woozy energy.
In his Dummy Mix, Druture goes straight in with a slew of rap bangers, the tear-soaked autotune anthems never letting up from Rich Gang's Tell Em to fellow ATL resident and name-sharer Future's Move That Dope, and the track that altered the way you say the phrase "about a week ago", Bobby Shmurda's Hot N*gga. There's also a glimpse of his own material, both solo and in his forthcoming collaborations with Ango, and a euphoric trance burst from Kitty to finish.
We caught up with Druture over email to find out more about what was going on in his world.
Hey Drew! How are you?
Druture: "Aloha guys! I'm doing great, just gearing up for the holidays which will be a period of work more than rest with all the pots I have on the stove, creatively. Also wrapping up everything I've got going on here in Atlanta, as I'm moving to London in January. Thrilled to have the time to chat with you, and making this mix was an absolute joy."
Your debut EP on Grizzly, 'Uh Oh!' was released last month, how did it all come together?
Druture: "I've respected Sinden and Grizzly for years now, but as Grown Folk I felt we never had any demos to send that would work for the label.
"Sinden and I got in contact after I first put Purple City Fashion Week up on Soundcloud and made that little Dipset homage of a Youtube video. He asked for a copy to play on his show on Kiss, and that started the conversation. He actually wanted to sign that track right off the bat, but things got sidetracked when Hell Rell emailed me saying he saw the video and wanted the beat for his mixtape. Grown Folk was also going strong at the time, so I didn't know if I wanted to do a solo release yet.
"Sinden and I kept in touch. I'd send him new bits and we talked about collaborating on this weird techno loop sampling Chief Keef that I'd sent him. This became Uh Oh, and then he asked if I'd want to put together an EP for Grizzly. I said yes immediately – Grizzly has always been a label at the top of the list of where I'd like to release my music."
What can you tell us about the track selection and making of your Dummy Mix?
Druture: "I usually don't like to plan out my recorded mixes. Not that I don't care about how they turn out, especially for something as rad as a mix for you guys, but I just want something closer to my live sets. I also feel like it gives you guys a better idea of what I'm feeling at that moment in time. This mix turned out pretty rap-heavy, with a nice sprinkling of PC Music which I'm totally vibing on, as well as some sick K-Pop edits from my pals Victoria Kim. There's also a few cuts from my new project with LuckyMe's Ango called Let You Know (LYK).
"So yeah, this is similar to what you might hear if you came out to see me at a show, but it all depends on the vibe and gig itself. I'll obviously start playing more 4×4 if I realize its going to be one of those nights. Since leaving Grown Folk, people think I've renounced house/techno for rap – that's absolutely not true, and hopefully the Grizzly EP showed that a bit."
There are no other public mixes of yours online – well, you did one called Rotation Mix Series #3, but it's since been taken down. Are you regularly mixing, or is it not something that comes to you a lot?
Druture: "When we were starting out Grown Folk, we had a monthly mix series called the Grown Folk Collection that we'd post to Soundcloud. We loved doing this because we got to show everyone what we were really into that month, and give people something to chew on between releases. As we got busier with releases and touring, the mix series stopped, but I've toyed with the idea of bringing back that format. It would have to be live mixes, similar to the one I did for y'all, rather than precisely finely-adjusted Ableton ones for time reasons, but that could be cool, I think.
"I'm not the kind of DJ to ever turn down a track ID or worry about my secret weapons being jacked. I DJ to share tunes I really fuck with, and if they connect with you, who the hell am I to keep you from finding out what's dope to you?"
Before 'Uh Oh!', you were working in remix and collaborative form for a while. Had you been working towards solo material the whole time, or did you start thinking about that some time in?
Druture: "So I cut my teeth with a solo DJ and production outfit in Montreal, opening for all the big names in '08-'09 era blog house electro. That was my intro to dance music. In high school I had been constantly trying to be the next Soulja Boy making snap music beats on my parent's computers. So yeah, I've actually been producing and working as an individual much longer, and it was always something I'd want to get back to. The thing is with Grown Folk, for me and I think for Brendan too, we'd start solo tracks but then often would feel the urge to sacrifice them to the greater cause and make them Grown Folk tracks. It's a part of why we went on hiatus, so we could explore more of individual creative impulses.
"That being said, I think there's a certain magic to collaboration, and I will never be a purely solo artist. Right now, I'm spending a tonne of time working on tracks with Ango for our LYK project, which are definitely the tracks that I'm the most amped for the world to hear out of all of my unreleased material.
"Dro Carey is another constant collaborator on multiple levels, as we are writing a comic series together at the moment, but we've always have amazing chemistry when working together and I respect his opinion on music heaps, so I'm always picking his brain."
You made a track with Little Cloud called Sosa(d) a year ago and I saw that Yung Sherman shouted you out in the comments on Soundcloud. What do you think of sad rap?
Druture: "Ah yes, I adore that track and can't wait to work with her more in the future. That track came about after finding her Soundcloud right after listening to some Chief Keef song. I had this fever dream of her covering a Keef song with me, particularly with his melismatic singing style. I thought it would sound great. She killed it.
"She stayed at my place in London for about a week when she needed a place to stay. We planned to make it this dream studio session week and churn out an LP. We ended up staying up drinking wine and sharing our favorite movies, literature, life stories, and philosophies instead. I adore Diane to bits!
"So yeah, she had started dating Yung Sherman around then, so they would Skype a bunch. I was really into the Lemonade track he did for Lean, so I'd always to just jump into their chats and geek out with him, but I restrained myself. I'm actually going to get to hang with Little Cloud and Sherman in January – we'll mainly be having fun in London, but maybe something collab-wise will come out of it…
"Through Diane and Sherman I got introduced to Yung Gud, who has become one of my favorite producers out right now. Speaking of collabs, Gud and I have been talking about doing one for a while now, so keep watch.
"I'm not great with genres, so idk what else falls into sad rap. I fuck with Little Pain big time though. Also, I get sad a lot and like rap a lot, so let's go with 'Yes, I'm into it.' Final answer."
In your Twitter bio you say you're a comic book writer. The artwork for 'Uh Oh!' is in comic book style – did you draw it yourself? Do you want to combine your comic writing and music more?
Druture: "What's really awesome about Graeme [Sinden], is that with this release he gave me so much creative freedom as to the track listing, input on remixers, and even the artwork. I told him that I was okay with keeping with the sort of aesthetic of the last few releases, but he told me to pick something I really wanted to do. I've had a lifelong passion for comics – it predates my love for music, actually – and so I'm always trying to connect the two worlds.
"I pitched the idea of making the cover art look like an Issue #1. Sinden was totally down with the idea, being a comic fan himself, and suggested some sort of '50s horror vibe. I sketched out a really rough layout including the panel spacing, title font, speech bubbles, and the little Grizzly logo. The actual execution of the artwork is done by the ultra talented Jake Kazakos, whom Sinden had been taking to before.
"In terms of combining my work in comics and music, I feel like its something I already do in my creative process, but I'd like to make more concrete attempts at bridging the gap. The series that I am writing right now for 215 Ink, called Glitch, is co-created and co-written by Eugene Ward aka Dro Carey, and we have another project we're creating at the moment as well.
"There's a great writer by the name of Tim Daniel who's been a bit of mentor to us, and he has a book out called Skinned. While reading the series, I got really inspired and wrote two tracks based on the book and some of its characters. I sent them over to Tim and he asked if I'd like to have them be an official soundtrack of sorts to the comic, something you'd listen to while reading. It's a digital comic in a very technology-based setting, so it made a lot of sense. I'm not sure when that EP will come out, but it will be advertised in the book itself with an ad of myself as a character in that universe. To say that being drawn in comic form is a dream come true is an understatement, but to have it tie into my music as well is surreal to the fullest extent."
Dummy Mix 233 // Druture tracklist:
01. King100James 'DRUTURE' Intro
02. Yung Gleesh Sorry (Remix) (feat. Chief Keef & Fredo Santana)
03. Jacques Greene After Life After Party
04. WINNER 걔 세 (I'm Him) (Victoria Kim Edit)
05. Druture High Tide (Aquarian remix)
06. LYK Too Much/Too Many (feat. Lil Bibby)
07. Deebs Waves
08. Young Thug & Rich Homie Quan Tell Em (Lies)
09. Bobby Shmurda Hot N****
10. Druid Cloak The Battlecry
11. Z-Money Dope Boy Magic
12. Guy Akimoto So Far Away
13. Father Wrist (feat. ILOVEMAKONNEN)
14. LYK All The Drugs (feat. Johnny May Cash)
15. Future Move That Dope
16. Coris SPF6662NE1
17. Dance System RZ1
18. Young Chop Valley (feat. Chief Keef)
19. Dreamtrak Odysssey, Pt. 2 (A.G. Cook remix)
20. WINNER SMILE AGAIN (MR)
21. Kitty Miss U
Grizzly released the 'Uh Oh' EP on October 6th 2014 (buy).