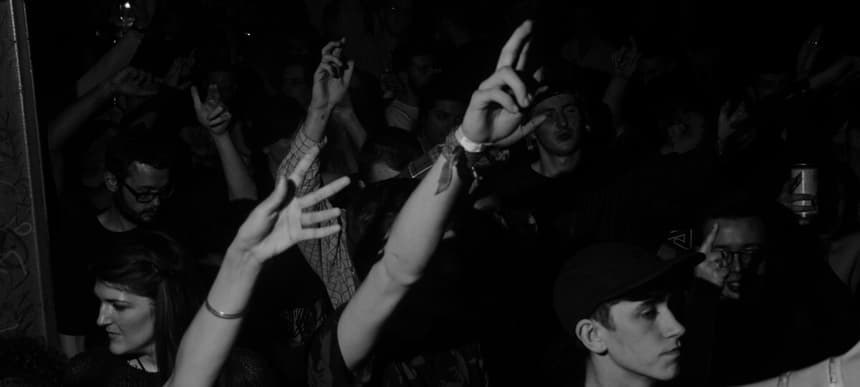 19.12.2014, Words by dummymag
Dummy Mix 238 // Swing Ting
Swing Ting is one of the best clubnights in Manchester, hosting a regular party at the Soup Kitchen dedicated to all things good 'n' bassy: garage, dancehall, funky, grime.
While bookings have included DJs like Zed Bias, DJ Q, and semi-regular guest Brackles, it's really the Swing Ting residents – Samrai, Joey B, Platt, Murlo, and MC Fox – that have made it one of the most reliable nights in the city.
Celebrating a full five years in the game, Swing Ting are now branching out into a record label – 'Skank', the label's first release comes from producer Brackles and Fox. They'll also be throwing a party at the Soup Kitchen to mark their sixth birthday tomorrow (December 20th), which is free if you RSVP at their website.
We tapped residents for a Dummy Mix before that date. Hosted by Fox – an essential requirement – the mix captures the general vibe and energy of their nights better than our words can. Listen below, and read on for a Q&A with Platt and Samrai.
Hey Swing Ting! What's the story behind this mix?
Platt: "We wanted to showcase a lot of forthcoming Swing Ting releases, alongside tracks we'd play with them in a club. I think it's a pretty strong representation of the kind of thing that goes down at Soup Kitchen, and also serves as a pretty nice wrap up of 2014, with one eye on 2015."
Samrai: "Also, Fox hosts the mix as he's our resident MC, who helps make it feel like being in a Swing Ting dance."
We're based in London, so not all that many people will have been to a Swing Ting night. So what's the deal?
Samrai: "Me and Platt started it so we could play rap, R&B, dancehall, funky, and bassline in the same set, and these days other 'street rave' sounds we're passionate about. We keep an open ear and the people that come down seem to appreciate what we're trying to do. The crowd are as integral in the party as the performers. Residents currently include Platt, Joey B, Murlo, Fox, and myself. Expect a healthy mix of people from all walks brukking loose catalysing vibes aplenty.
"We actually threw a party earlier this year in London; 'World Carnival' with our Hipsters Don't Dance family. Hopefully we'll throw a few more dances in the capital next year."
When did the record label arm of the clubnight come about?
Platt: "There were, and are, pockets of people doing similar things to us around the country – Hipsters Don't Dance and Brackles in particular. I think that set off a few ideas that we could maybe become a bit of an outlet for the producers we'd be airing over the years. There's definitely a mixture of influences that meet to create something that other labels aren't really doing, and I think that'll become apparent in 2015."
Given it's your Sixth Birthday Bashment on Saturday, what have been six highlights of Swing Ting over the years?
Samrai & Platt: "Six highlights:
December 2008: our first party. Hold tight anyone that made it out to that night – straight vibes!
July 2011: the launch party for our Mosca remixes 12" feat. Seiji – a bit of milestone.
August 2011, feat. the Wifey gang and xxxy: amazing crowd and selection all night
March 2012: the first time Murlo ever played for us, where we pretty much decided he had to be a resident on the spot.
January 2014: having Zed Bias play for over two-and-a-half hours because he was having so much fun was pretty special.
Last month: Trigganom and Fox over Famous Eno at the Skank launch."
What's your biggest tune right now?
Samrai: "Hard question – Reckon I'll go with Jawz by Famous Eno. It's got a mind of its own. 'Mad riddim' are Fox's words on this mix."
Swing Ting released 'Skank' by Brackles & Fox on November 17th 2014 (buy). Swing Ting's Sixth Birthday Bashment takes place at the Soup Kitchen, Manchester on December 20th 2014 (more information and tickets).