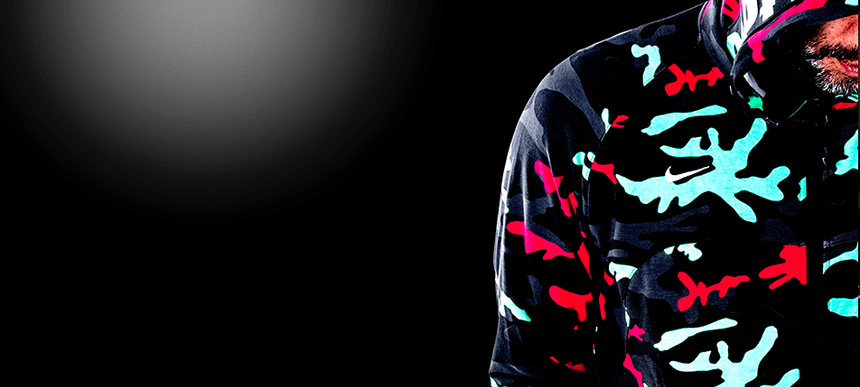 04.12.2015, Words by dummymag
Dummy Mix 294 // DJ Khalab
A close compadre of fellow Italian beatmaker Clap! Clap!, DJ Khalab has put us together a mix which showcases a similarly bombastic approach to both production and selection. Operating behind-the-scenes in different parts of the music industry over the past few years, it's only more recently that he's stepped out into the spotlight to make music himself. Releasing on the Black Acre label that's also been a home to Clap! Clap! and Romare, his music is a fit with the percussive freakouts that offer something of a common thread between artists on their roster.
With him sticking to a low-key profile with information scarce, we took the opportunity to quiz him on the ties between his work and the African continent. Audible in the rhythms and visible in the afrofuturist imagery that often crops up, associations with Africa are strongly felt in his music.
Firing some questions to him over e-mail, he told us about his affinity to Sun Ra, being a musician in Italy and a mysterious project which features at the tail end of the mix. Listen below and read a interview with DJ Khalab after the jump.
What was your approach in putting together the mix?
DJ Khalab: "When I'm working on a mix I always try to put something special or exclusive in it; like tracks I edit putting a little part of them in loop, then I add the voices, a bassline, and this is how I build a brand new track – let's say a remix. In the final part of this mix I also put a mini-mix of 15 minutes including a part of my field recordings catalogue, which is in anticipation of a project I'm working on. The mix also contains various tracks featuring Cristiano (Clap! Clap!) and me, and a pair of unpublished pieces of work, like the remix Cristiano made for the next single from the new album I made with Baba."
Your own productions that are in the mix show off an interest in African styles of percussion. What is it that attracts you to working with those?
DJ Khalab: "What fascinates me is the evolutionary process African music can have. Traditional music of different African populations and people has been prophetic for the contemporary sound and music, so the time to return the favour has come. We should explore that type of polyrhythm, synthesize the concept of "chorus", we should bring to the limit the way of thinking about repetition. Every one of these actions has to be related to a conceptual path which is not like just sampling because it's easier. I think this is the way of working the new producers should choose in the future. We're into rhythm, rhythm comes from Africa. Africa has been the past and will be the future of rhythm. I like thinking about the fact that I am an instrument in this path, like a lot of people have been before me."
It also features a few collabs with Clap! Clap! who's your labelmate on Black Acre. How did the relationship between the two of you come about?
DJ Khalab: "I've known Cristiano for at least ten years. We both love the same music, we come from the beatmaking scene, we've always been struggling to make music in Italy (I assure you that it's not easy). Cristiano has always been into, let's say "played music", while I was connected for a long period to the theoretical side. A lot of radio, musical consultation for big brands, big projects like festivals etc. In one of those festivals I invited Cristiano to play as Digi G'Alessio. Since then our relationship has got stronger and stronger. For three years now we talk everyday – we should have done it before!"
The mix features a Sun Ra track, whose afrofuturist ideas seem to be a big influence on the way you present yourself. Could you say why that those ideas interest you?
DJ Khalab: "The most interesting side of Sun Ra's approach is his vision. He has always been brave enough to support it. His vision is very lucid if we analyse it with the wisdom of hindsight: the African people as direct descendants of aliens. The African music that doesn't come from the past, but from the future of other people. His synths that helped him to recreate sounds from outer space. His very original use of traditional instruments. All of this helped him situate african music and afroamerican music in the right space-time position. It is not earth music from the past, it is alien music from the future. If this is not afrofuturist….
Khalab was born with the same vision. In my mental journeys Khalab is an alien that comes from the future and he has a quest: explain to earthlings from past which will be the music they'll meet in their oncoming future. Kind of a sociological enabler."
Where were the field recordings for the last 15 mins done taken and are they something you work with a lot?
DJ Khalab: "Yes, I'm working on a very stimulating project. I can't say more, except that it is commissioned by a big European cultural institution."
What have you got coming up in the near future?
DJ Khalab: "Besides what I told you, I'm working on two very concrete projects. The first one is the album featuring Clap! Clap! that maybe will be released by Black Acre. I'm hoping they will not pull me down after this revelation. The other one is a collective project that includes African musicians and italian jazz players. I cannot say much, again… but it will be certainly my last album, because they'll institutionalise me!"
DJ Khalab plays a free entry show at Shapes, Hackney Wick alongside Clap! Clap! on December 10th (tickets).