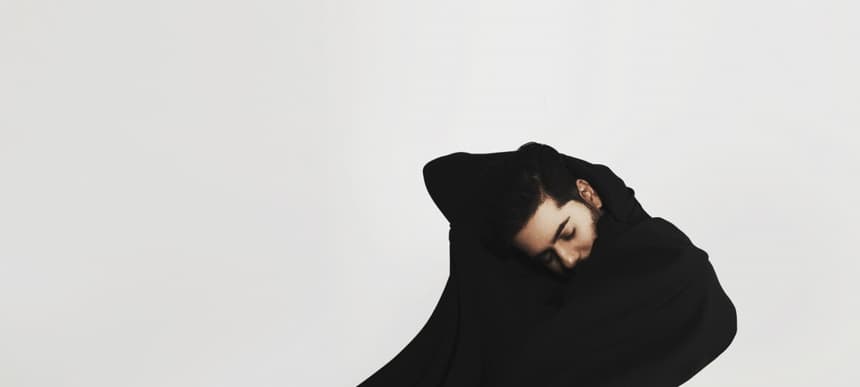 27.05.2016, Words by dummymag
Dummy Mix 332 // Ash Koosha
Following the release 'I AKA I' on Ninja Tune – which was possibly the world's first virtual reality album – Iranian-born, London-based electronic musician Ash Koosha could be labelled as many things: a synaesthete, virtual reality pioneer, software humanist, political cause celebre, former rock musician, student of classical music…and the list goes on.
Born Ashkan Kooshanejad, the producer isn't short of an interesting backstory. He split his early years between Tehran and Frankfurt, where his father worked in the printing industry. Music was difficult to obtain in Iran, but his parents made the most of their time working in Germany to stock up with cassettes, ranging from early Genesis to Japanese classical music. Moving back to Iran in the '90s, he secretly watched MTV by night and bought smuggled cassettes and copies of Rolling Stone on the black market.
Unveiling his live show for the very first time in London at ICA next week, Ash preps a blend of cutting edge visuals and stunning strands of technology, including a pioneering collaboration with Wave VR which sees him perform inside a virtual reality for the first time. Fascinated for many years by his own synaesthesia (the ability to 'see' sound), Ash has worked closely with long-time visual collaborators, Hirad Sab and Dalena Tran, to let people see as he sees – bringing his fractal sonics to life with stunning 3D visual art. Overlaying with his own field recordings, Koosha manipulates their form into original and often beautiful movements – a process he calls "finding geometry in sounds."
In advance of the live show at ICA on June 4th, Ash Koosha has recorded a rich and sublime Dummy mix for us. Ranging from urgently complex soundscapes through to Persian tinged Missy Elliot refixes, the mix is the perfect representation of Ash's insane levels of sheer competence.
Listen to Ash's mix below.
Dummy Mix 332 tracklist:
Hossein Alizadeh Jamedaran (Ash Koosha Rework)
Tim Hecker Castrati Stack
Kayhan Kalhor Avaz e Dashti
Amnesia Scanner Angels Rig Hook
Lafawndah Tan
Ash Koosha Kontrolled (Missy mix)
Sevdaliza Men of Glass (feat. Rome Fortune)
Kayhan Kalhor Chaharmezrab The First Encounter (Ash Koosha Rework)
Yo Yo Ma Legend Of Herlen (Ash Koosha Rework)
Ash Koosha Zambolie
Saeid Shanbezadeh Hajiuni Choupi Chaki
Samuel Barber Adagio For Strings
Lorn Acid Rain
Ash Koosha Romantic Automatic
Beyonce Best Thing I Never Had
Rihanna Same'Ol Mistake
Rebekar Del Rio Llorando
Hossein Alizadeh Aza
Ash Koosha In A Blink
Jim O'Rourke I'm Happy
Mahdyar Aghajani Gomrok
Ash Koosha plays ICA on June 4th alongside Brood Ma and LING (info).