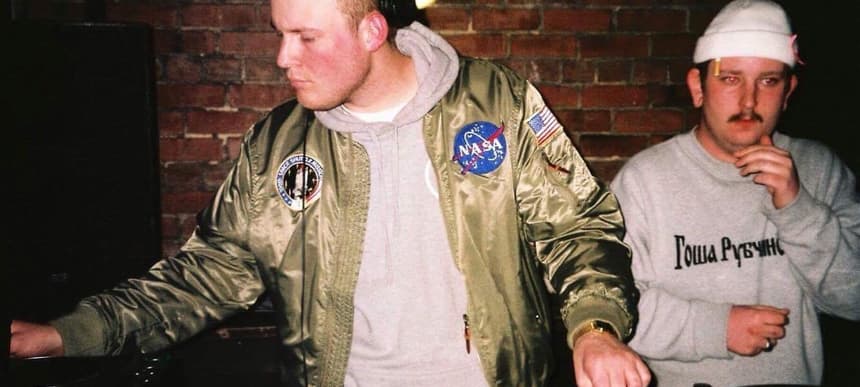 21.12.2016, Words by dummymag
Dummy Mix 475 // Sandboards
Sandboards, aka Eden Burns and Tom Krammer, are becoming an undeniable force in New Zeland's ever-growing electronic music scene.
Hailing from Dunedin, they've taken inspiration from the '80s do-it-yourself indie bands of Flying Nun Records fame the town is known for and instead, are riding a wave of synth-soaked house that's gained an amazing amount of DJ support in the last 12 months, first fuelled by their debut on Krystal Klear's Cold Tonic label with sexually charged club cut, Nothing But A Freak.
In the process, they also caught the eye of house royalty Bicep and found themselves being the first outsider act to release on the pair's Feel My Bicep imprint with 'Visa'. In fact, Shinra's remix of the title-track found its way into our list of best remixes from the past year, which means we'll be expected a whole host of audible magic from Sandboards in 2017.
For now, we tied them down to see out this year's mix series with a parting mix for 2016. Recorded during a long hot NZ summer full of house music and partying, it's the perfect primer to catching the boys on their first European tour, which is due to take place early next year.
Listen to Sandboards' sexed up mix below, and get ready for some no-holds-barred seasonal insanity.
So your hometown of Dunedin has an indie history with bands like The Chills on Flying Nun, but is there a house scene bubbling up at the moment?
Sandboards: "The Dunedin scene is pretty cool at the moment! House and techno wise there really isn't a lot going on, but that's going to change pretty soon we think. The whole "Dunedin Sound" thing, like The Chills and The Clean etc., is rad! I think we get a lot of inspiration from it… There are a bunch of people putting on DIY shows right now, which is very similar to the indie scene of the '80s."
How has the reaction to your releases on Cold Tonic and Feel My Bicep felt?
Sandboards: "Pretty unbelievable to be honest, we are very stoked!"
What's the vibration of this mix? Did you have any particular mood in mind, or was it just an off the cuff and heat of the moment recording?
Sandboards: "The mix is just a collection of tunes we have been playing out and listening to ourselves."
If you guys could go back in time to any musical era when would you choose, and who would you hang out with?
Eden: "I would check out the hardcore/punk scene of California in the '90s and hang out with the Cro-Mags, Dead Kennedys, and Black Flag."
Tom: "I would like to go back to the '00s hardstyle scene and hang out with bands like Angerfist, Speed Freak, and Radium."
What are your spirit animals?
Eden: "Wallabee."
Tom: "Fur seal."
What's next for Sandboards?
Sandboards: "We are touring Europe next year and have an EP coming out on Cold Tonic, plus a bunch more wicked shit we can't really say much about just yet…but we are very excited!"
Any closing words or shout outs?
Sandboards: "Thank you to all the people who helped us have a very successful 2016. Merry Christmas!"